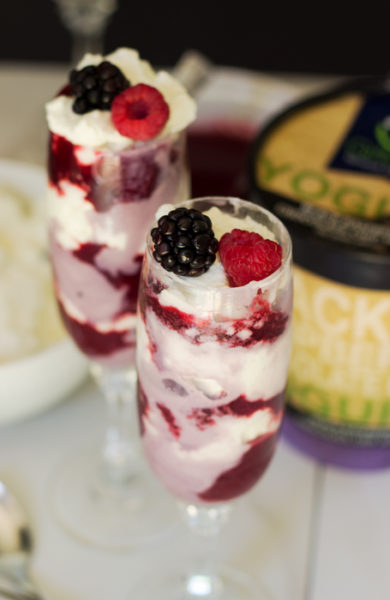 One of the best things about summer is Ice Cream! Of course the best kind of ice cream is one that is locally made.  If you really want to take things up a notch make a special treat using that local ice cream or in this case Frozen Yogurt. Hello Black Raspberry Chocolate Chip Yogurt Parfaits! Where have you been all my life?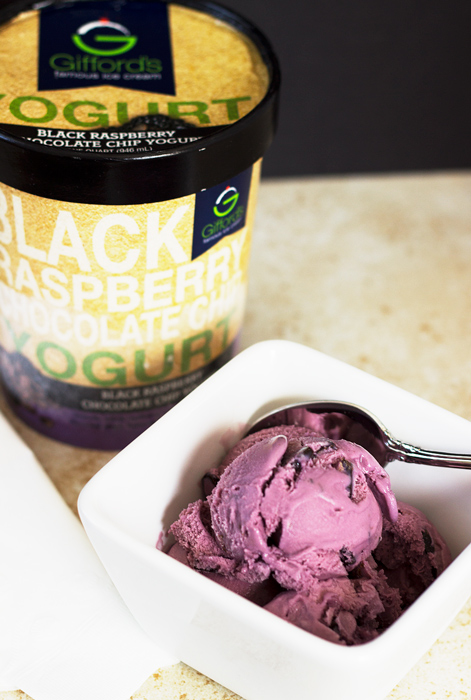 Gifford's Frozen Yogurt – Yes Please!
Gifford's has 5 flavors of creamy, delicious Frozen Yogurt in stores! During the writing of this post they have three additional flavors at their stands. (Be sure to click the links to view available flavors). Gotta love FroYO! 🙂 In fact if you'd didn't read the label you wouldn't know that they were "yogurt" at all!
Black Raspberry Chocolate Chip Yogurt Parfaits
To make Black Raspberry Chocolate Chip Yogurt Parfaits you need to start with Gifford's Black Raspberry Chocolate Chip Yogurt of course. 😉  Black Raspberry has always been my husband's favorite flavor so when we came to Maine and discovered this flavor by Gifford's he was extremely happy. In fact this may be one of his favorite posts because he had to do some taste testing for me – Haha!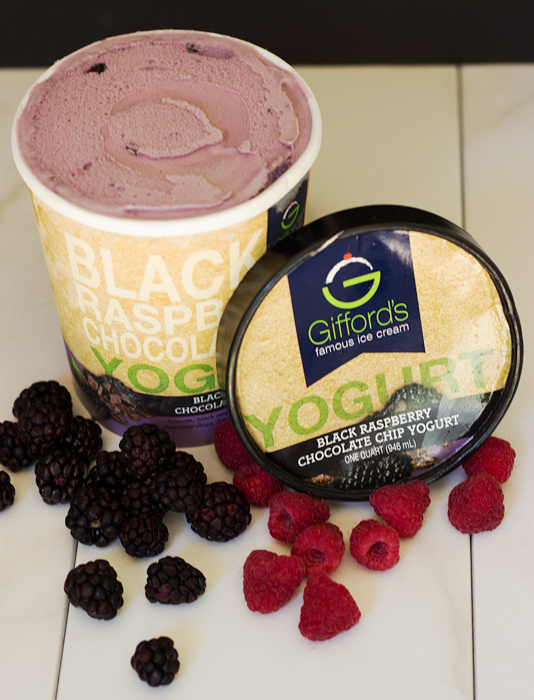 Blackberry vs. Black Raspberry
I always thought that black raspberry was just a combination of blackberries and raspberries, but, I have come to discover that there actually are Black Raspberries. Black raspberries are more similar to red raspberries in size and shape, they have a hollow center just like their red cousins and also have a more tart flavor compared to blackberries.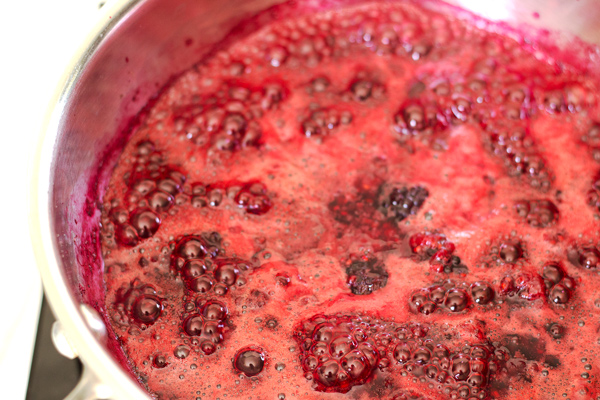 The Making of a Sauce
The Black Raspberry Chocolate Chip Yogurt Parfaits have three layers. First is the frozen yogurt. Second is the Black Raspberry Sauce. Black raspberries were not readily available so I used a mixture of blackberries and red raspberries to make the Black Raspberry Sauce. Sometimes you have to work with what you have. This is a very simple recipe using only three ingredients:
Berries
Sugar
Lemon Juice
It doesn't get any easier than that!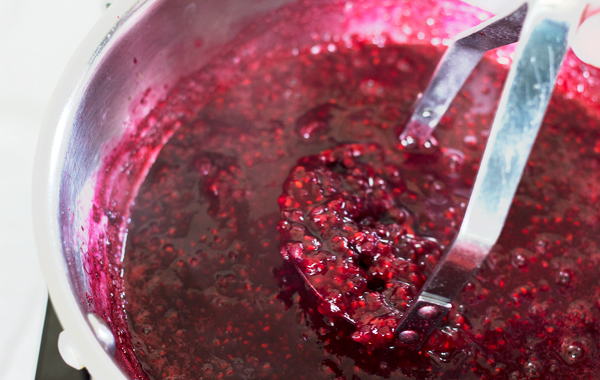 Berry Crush
The berries get simmered with the sugar until they release their juices and start to burst. A potato masher can help speed this process along.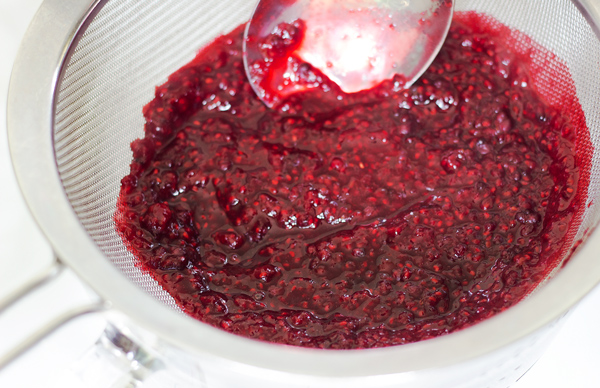 Get Ready to Sieve
The cooked and crushed berries are then put into a fine sieve to remove the seeds and create the sauce. Be sure to use a spoon and really press on that berry puree.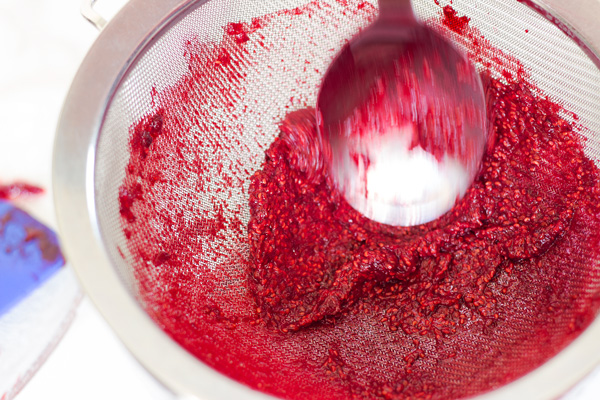 Extractly What To Do
Make sure to really work the puree against the sides of the sieve. As you do this it will release more of the solids leaving the seeds behind and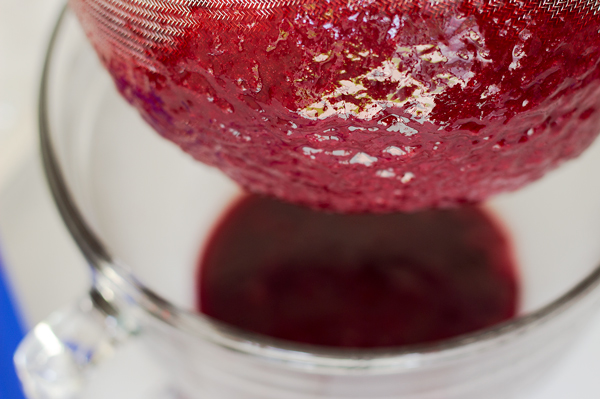 forcing the puree through the bottom of the sieve.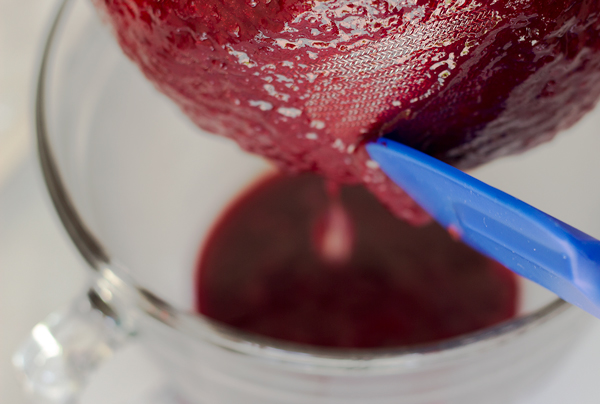 Use a spatula to scrape the puree into the bowl.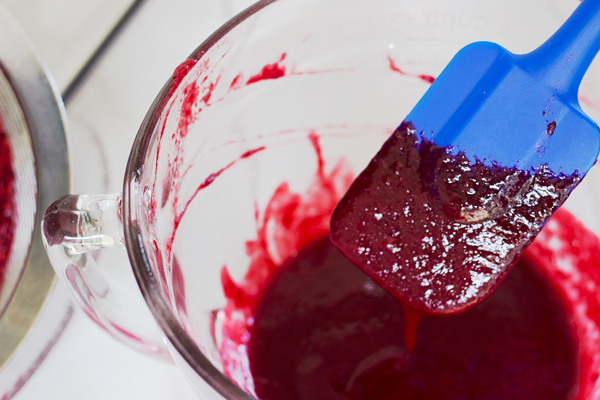 The Queen of Coulis
Voila! Black Raspberry Sauce in all of it's glory! This sauce is not too sweet and not too tart. In fact you could use it on just about anything! It goes really great with pancakes! M-m-m-m Lavender Blueberry Pancakes. Have to try it with those 😉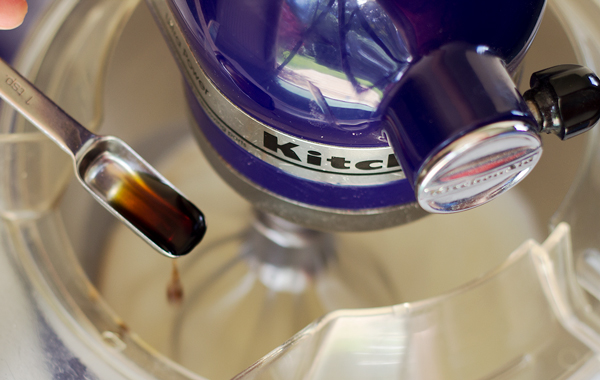 Whip It Good!
Fresh whipped cream is the third layer of the parfait. We are going all out here! If you want to short cut and use canned you can. 😉 Pun intended.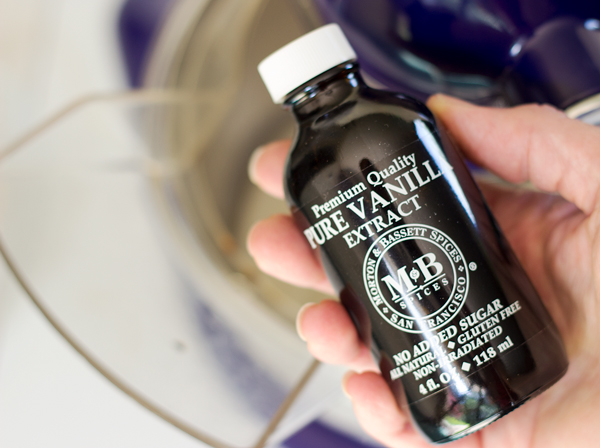 Pure is Best
When you go to the trouble of making fresh whipped cream be sure to use pure vanilla extract. It makes a difference.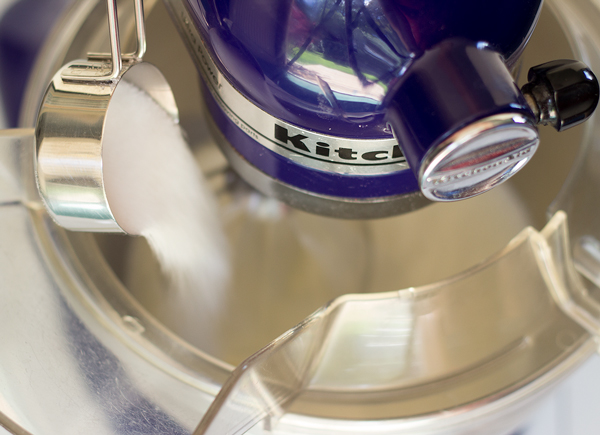 Gradually add the sugar. I have tried both granulated and powdered and prefer the flavor of the granulated.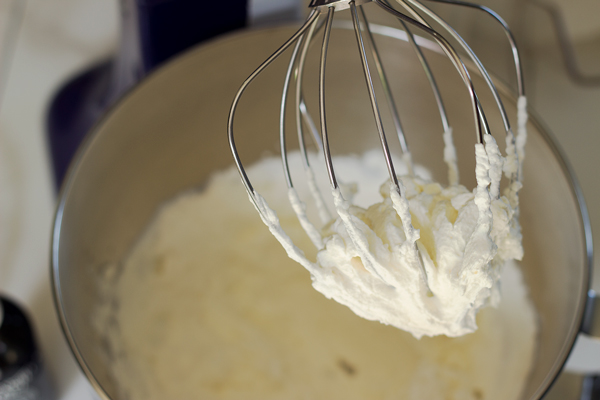 Stiff Peaks
For the parfaits to hold their layers it is important that the cream be whipped enough to hold stiff peaks.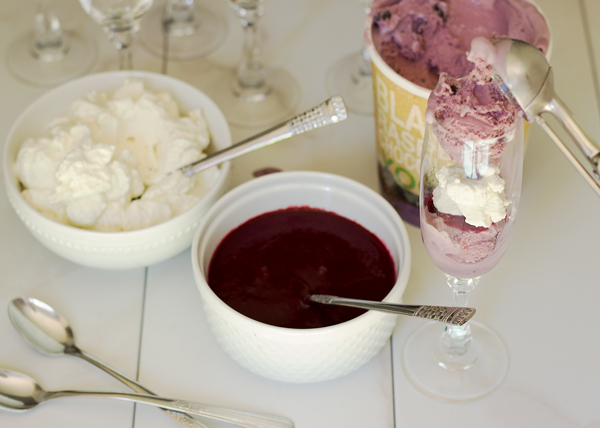 Layer and Enjoy!
Get a tall glass (this makes the parfaits look more dramatic), put in a scoop of Gifford's Black Raspberry Chocolate Chip Yogurt, spoon some of the Black Raspberry Sauce over the yogurt, put in a dollop of that freshly made Whipped Cream and repeat two more times to build the parfait. Make a few. You will want to share.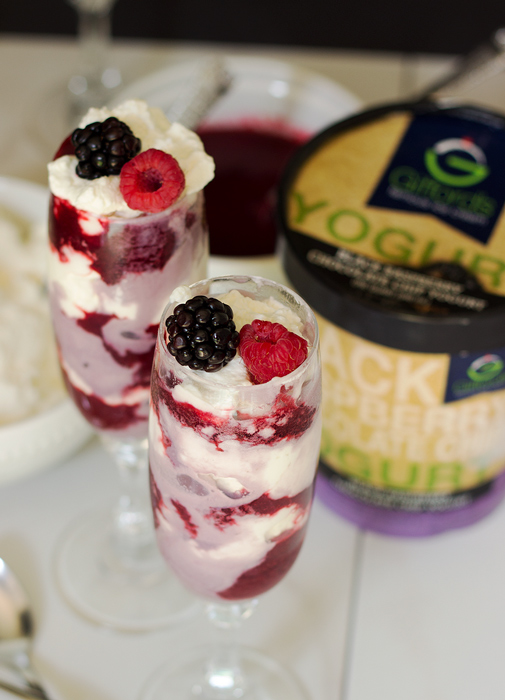 Garnish with fresh blackberries and raspberries or Black Raspberries if you can get them, then serve.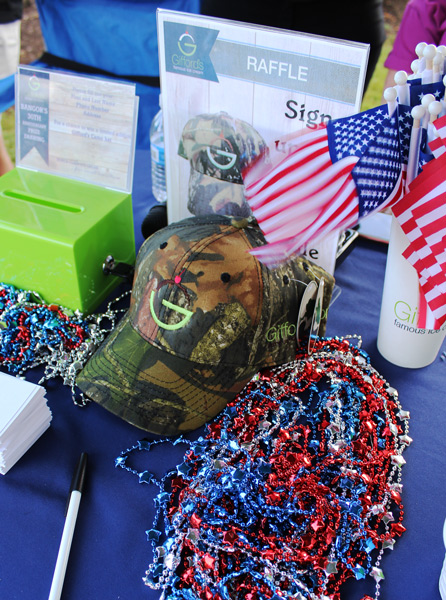 While We Are On The Subject of Serving
I was fortunate to be invited to the Gifford's Ice Cream Stand in Bangor, Maine to celebrate their 30 year Anniversary. While there I got to meet Travis Mills, retired United States Army Staff Sergeant and recalibrated warrior.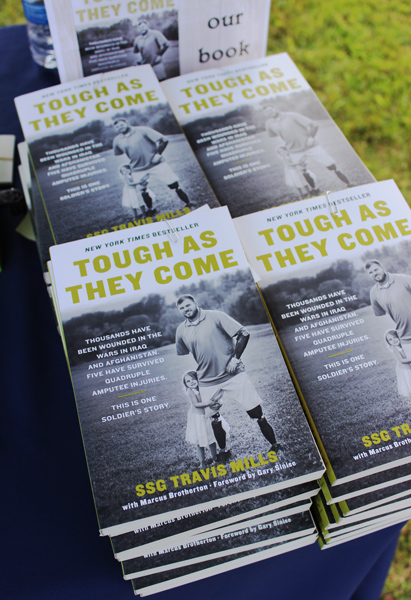 Travis is a real inspiration and he is fundraising with help from Gifford's to renovate a retreat house in Maine for combat-injured veterans and their families. For more information check out This Link.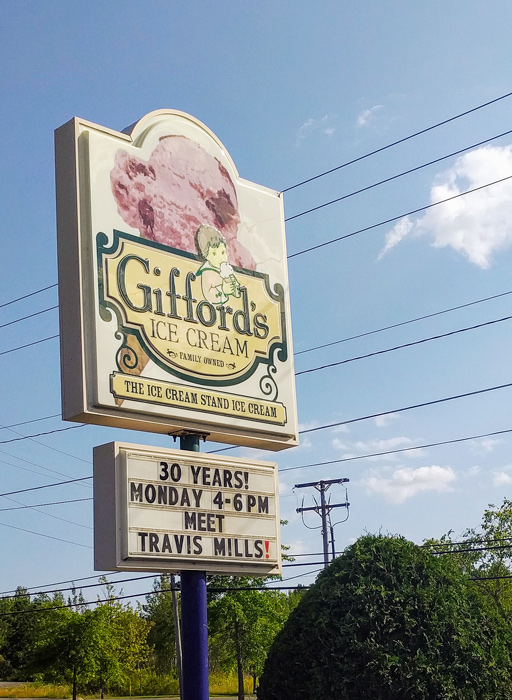 Happy Anniversary Gifford's!
We are fortunate to live close to a stand and have our local stores stocked with Gifford's goodness! If you don't live in Maine you may still be able to get your hands on some of this amazing collection of Ice Creams and Frozen Yogurts! Check the link Here to see if your local stores carry Gifford's.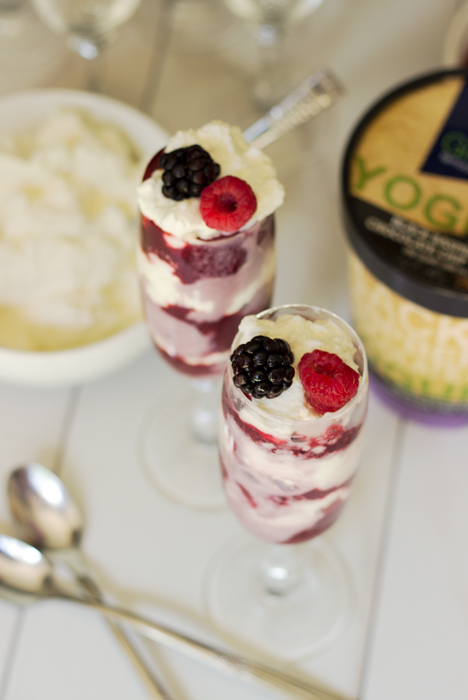 Be sure to visit the Gifford's website for the Parfait Recipe!
Happy Summer Everyone!
Related posts: