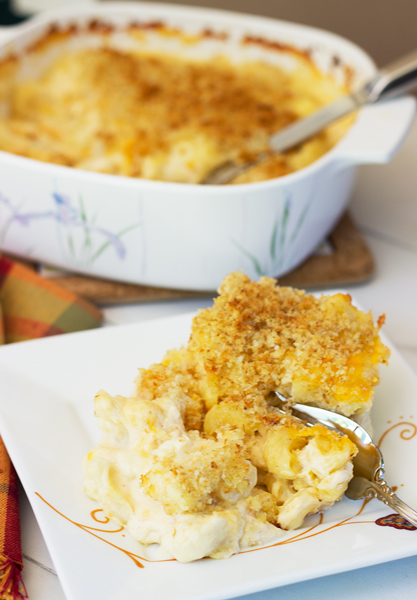 It's All About The Cheese!
Creamy Mac-N-Cheese Two Ways is a recipe for a traditional Mac-N-Cheese that can easily be made into an alternative Ketogenic Cauliflower Mac-N-Cheese.
Being on a Ketogenic Diet makes you realize that you can have a lot of cauliflower! In fact if you check out a Ketogenic plan you'll see that cauliflower is used to make recipes for pizza dough, mashed potatoes, bread slices, tater tots and rice just to name a few. One of the most difficult things to give up on a Ketogenic diet in my opinion is pasta. Of course that could be my Italian heritage speaking, but, I believe most people would agree.

Thank You Kerrygold for Dubliner!
The one thing that really helped us through our Ketogenic days was Kerrygold's Dubliner Cheese. This cheese has zero carbs along with much needed protein and fat. It was the perfect thing to have around when making a meal or just having a snack. Dubliner has a slightly sweet, nutty flavor and when it melts in a cheese sauce it creates the most luxurious, creamy texture.  It works perfectly in Mac-N-Cheese! You NEED to try this cheese if you haven't yet. I promise – You will be hooked!

Pasta or Cauliflower – It's up to You!
We compared both the Mac-N-Cheese and the Caul-N-Cheese and there were some noticeable differences.
Mac-N-Cheese really allowed the cheese flavor to shine through and the pasta, especially Cellentani, gave a nice spring and bite to the dish. The finished dish set up nice and thick.
Caul-N-Cheese had a slight sweetness and depth of flavor due to the cauliflower. The cheese wasn't as pronounced, but, still held it's own and the Cauliflower added a little extra moisture so the finished dish was a bit looser. It had a more creamy consistency.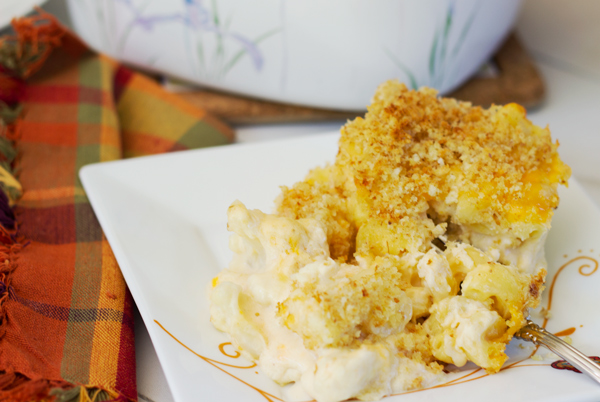 Both dishes were Excellent and we liked each for different reasons. The one thing they did have in common was the gooey, cheesy, crunchy topping. If you really want to keep the carbs down then leave the Panko topping off. Of course you'll be missing that Crunch part so the splurge might be worth it.
I do have to say that it was difficult to decide which one we liked better so we may have to make both up again.
Or even better, next time we're going to be daring and combine the Macaroni with the Cauliflower tossed with the creamy sauce and finished with the gooey, cheesy, crunchy topping.
Uh-YUM!!!
Macaflower-N-Cheese?
Maybe the name needs a bit more work 😉
Print
Creamy Mac-N-Cheese Two Ways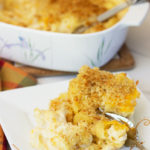 Creamy Mac-N-Cheese can be made with Macaroni or Cauliflower for a more carbohydrate friendly dish.
Ingredients
8 oz. Cellentani (Cavatappi) pasta or 1 large head of cauliflower trimmed and cut into small pieces (about 5 cups)

4 Tbsp. unsalted butter

4 Tbsp. flour

2 cups whole milk, warmed

2 tsp. Dijon Mustard

1/2 tsp. kosher salt

Scant 1/8 tsp. ground white pepper

8 oz. cream cheese, room temperature

4 oz. sharp Cheddar Cheese, grated

4 oz. Dubliner Cheese, grated

1/2 cup Panko Breadcrumbs

2 Tbsp. wheat germ

1 Tbsp. unsalted butter
Instructions
Preheat oven to 400°F.

Cook pasta according to directions in salted water until al dente. If using cauliflower cook in boiling, salted water until just tender about 10 to 12 minutes. Set aside.

In a medium saucepan melt the 4 Tbsp. of butter over medium-low heat until starting to bubble.

All at once add the flour and cook stirring for at least one minute until the mixture starts to turn golden in color.

Add the warmed milk stirring constantly  until mixture is smooth.

Then add the softened cream cheese and stir until melted and well combined.

Stir in the Dijon mustard, salt and white pepper.

Reserve 3/4 cup of the grated cheese and set aside. Stir the remaining cheese into the milk mixture until melted and smooth.

Add the cooked pasta or cauliflower to the cheese sauce and toss to coat completely.

Pour into a large, buttered casserole dish.

Over low heat melt the 1 Tbsp. of butter.

Remove from heat and add the Panko and wheat germ. Stir to coat the crumbs well.

Top the casserole with reserved 3/4 grated cheese and then the buttered crumbs.

Place into the center of preheated oven and cook for 10 minutes until the top is golden and the sauce if bubbling.

Remove dish from oven and allow to cool for a few minutes before serving.
BTW this dish would make an excellent side to The Ultimate Cheeseburger!
Related posts: