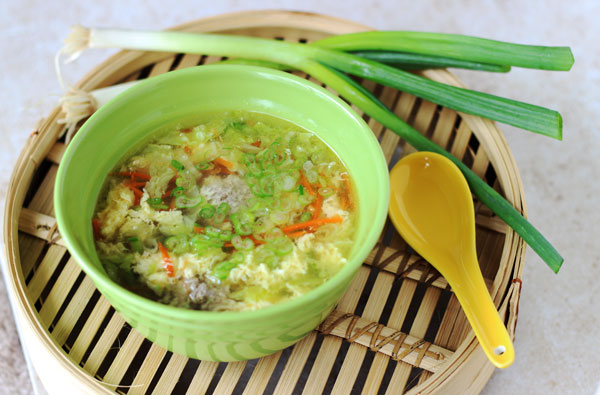 Egg Drop Meatball Soup has to be one of the quickest soups that you can put together! And not only is it easy and quick, it is also Ketogenic friendly! 🙂 A real win-win for anyone who goes Keto.
I do believe that we are in week 5 of this insanely Low-Carb diet. I can almost smell the fresh baked Easter bread that I will be making next week for our church fundraiser. The funny and ironic thing is that we will not be able to eat it! Next week we start a Vegan diet for Holy Week. Where is that small violin? And someone hand me the box of Kleenex, PLEASE! Oh well, we've made it this far, LOL.
But seriously, I have learned a lot about Low-Carb eating and recipes so I am very grateful for that. We plan on getting back to a more normalized diet. I do have to vow that we will never look at carbs the same way again. Between myself and my two children (actually young adults) we have lost a total of over 30 lbs.! Just goes to show that carbohydrates are way more fattening than meat, cheese and fats.
The reasoning behind this is that carbohydrates turn into sugar when you eat them and excess sugar causes you to store fat. True story! If you are interested in the Ketogenic diet plan there are many great sources available on the web. Here is just one example, a Low-Carb Diet Plan and Menu by Authority Nutrition.
As a takeaway we have actually enjoyed some of the Ketogenic recipes that we have tried and I have been inspired to create a few of my own. I will definitely be creating more and posting them. Be on the lookout!
Low-Carb has become sort of a way of life for us now and we plan on cutting down on processed and high carbohydrate foods in the future. Sorry sugary treats, you will be reserved for just special occasions. Soda, you're outta here! Not to worry though. There are so many amazing foods that are actually good for you! Like Eggdrop Meatball Soup.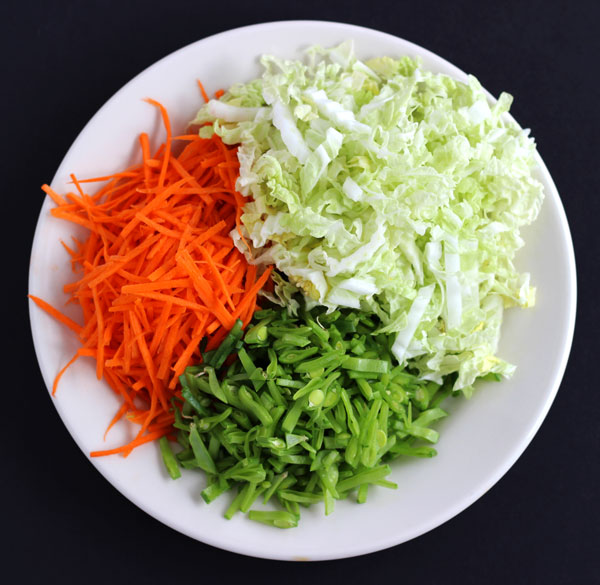 Developing an appreciation for fresh, wholesome foods is delicious and rewarding. Not only that, there are so many different ways that you can prepare ingredients to change up a dish. The plate above contains an ingredient that you may not recognize. Do you see it?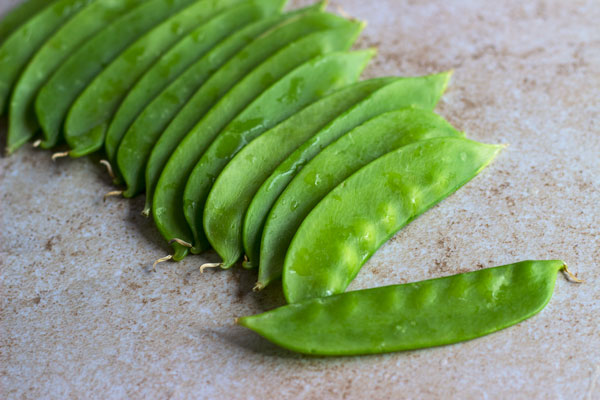 Its Snow Peas – Julienned  Snow Peas! Now I've had snow peas many different ways, but, never julienned widthwise. I had to come up with some way to have them make sense in the Egg Drop Meatball Soup. They had to be small enough to fit on a spoon so, voila!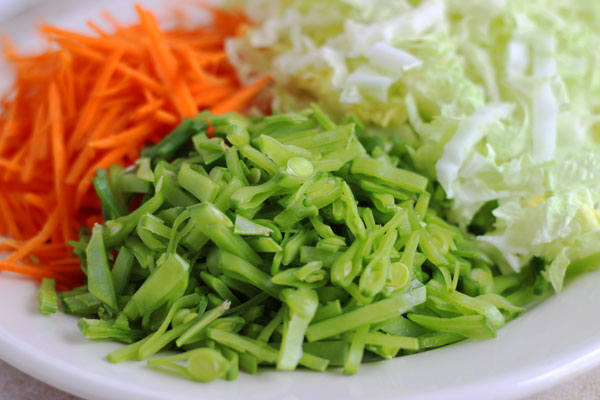 Not only are they cute prepared this way, but, they cook up quick as well!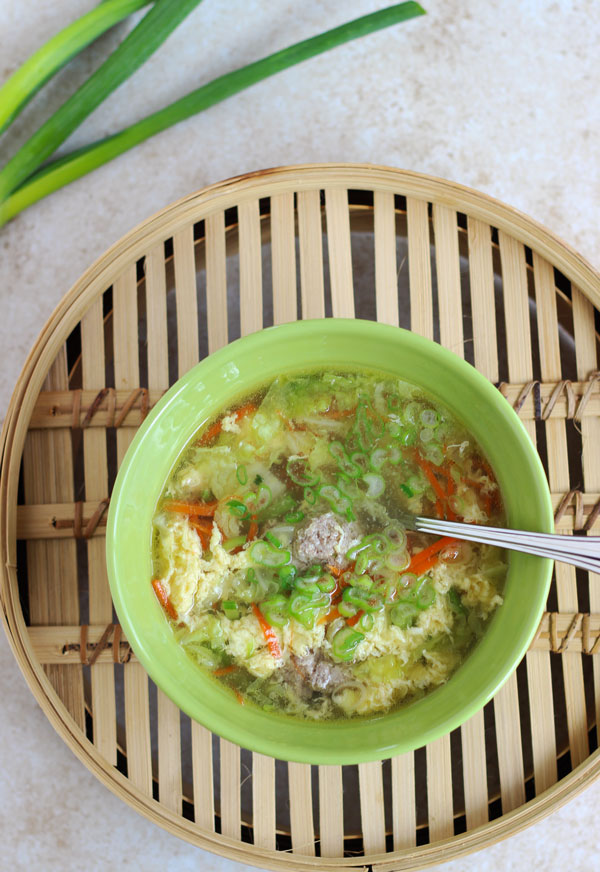 I do have to say – "Thank you Ketogenic Diet for helping me see food in a new light."
Now, to sit down to a warm, comforting bowl of Egg Drop Meatball Soup and it's tasty, delicious, Low-Carb awesomeness!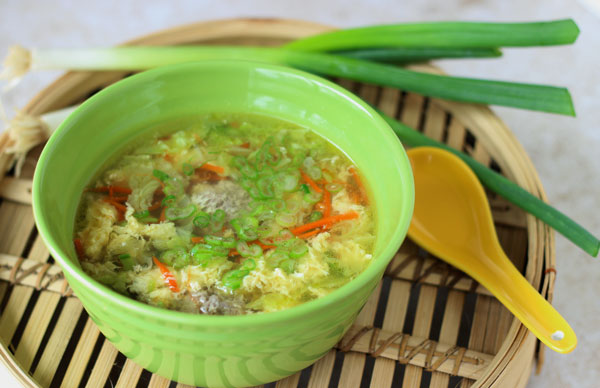 Print
Egg Drop Meatball Soup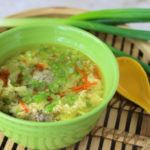 A quick and easy Low-Carb Asian inspired soup.
Ingredients
8 cups College Inn Chicken Broth

1 large carrot, peeled and julienned

1 cup shredded Napa cabbage

1/2 cup snow peas, julienned width wise

3 large eggs, scrambled

3 Tbsp. thinly sliced green onions, for garnish

For the meatballs:
8 oz. ground pork

8 oz. ground beef

2 Tbsp. thinly sliced green onion

1 tsp. grated fresh ginger

2 garlic cloves, pressed

1 tsp. sesame oil

1 tsp. fish sauce

1 tsp. kosher salt
Instructions
Put the chicken broth in a large pot over medium-high heat.

Meanwhile, combine all meatball ingredients in a medium bowl. Form about twenty 1 1/2″ meatballs.

When broth comes to a boil, drop in the meatballs. Bring back to a boil, lower heat and cover. Simmer meatballs for about 8 minutes, until the internal temperature of the meatballs reaches 165 degrees F.

Add prepared carrots, cabbage and snow peas. Cook for 1 minute.

Raise heat and bring to a boil again.

Quickly pour in the scrambled eggs and turn off the heat. Use a fork to stir and break the eggs up.

Serve immediately with reserved sliced green onions.
Related posts: