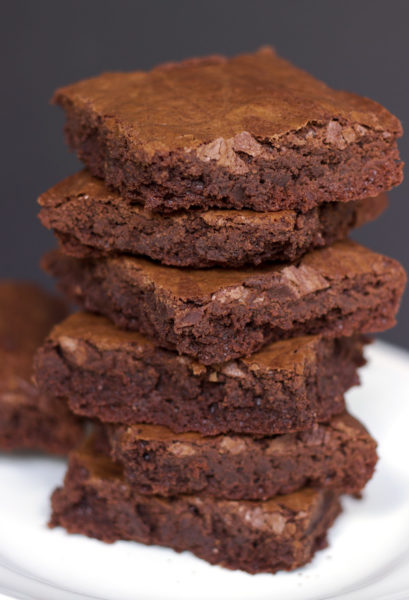 These Fudge Brownies aren't your average fudge brownies!
I remember when I was a kid, our Mom would always make fudge brownies using the Duncan Hines Brownie Mix.  She followed the recipe on the back of the box and used the "fudge" version instead of the "cake" version.  We always preferred the fudge version because they were so intensely chocolate flavored and super moist.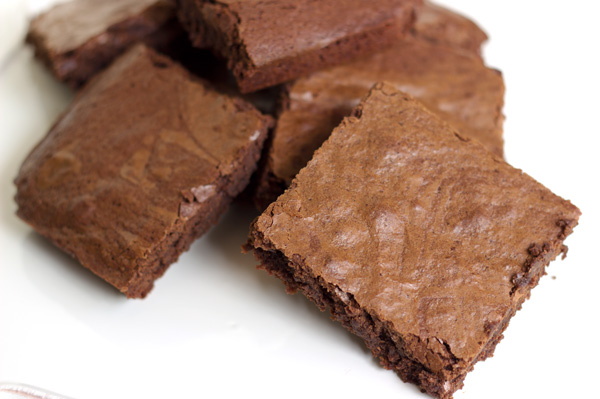 And as moist as those brownies were they always had a nice crisp exterior which provided a contrasting crunch. This made them especially enjoyable with a big glass of cold milk! Now after years of being a professional baker I've become sort of a brownie snob. 😉 Now don't get me wrong, a boxed version is great in a pinch, but, when you are used to making and having brownies from scratch it's kind of hard to justify using a boxed mix.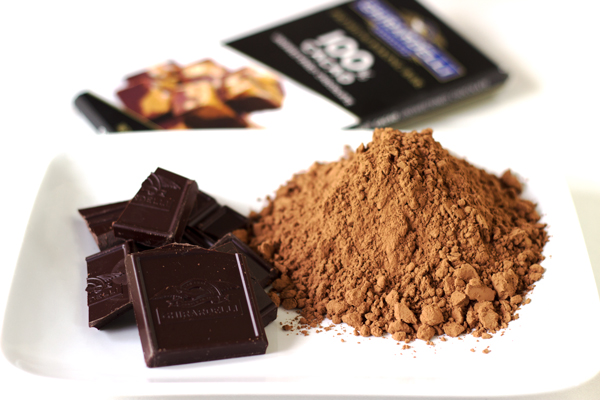 How to get the perfect Fudge Brownie
Of course in order to get the brownies to come out perfect and worth the extra effort there are a few rules that you'll need to follow:
Use powdered cocoa along with chocolate.
Be sure to use unsweetened chocolate.
Choose a quality brand of chocolate.
It's all about the chocolate.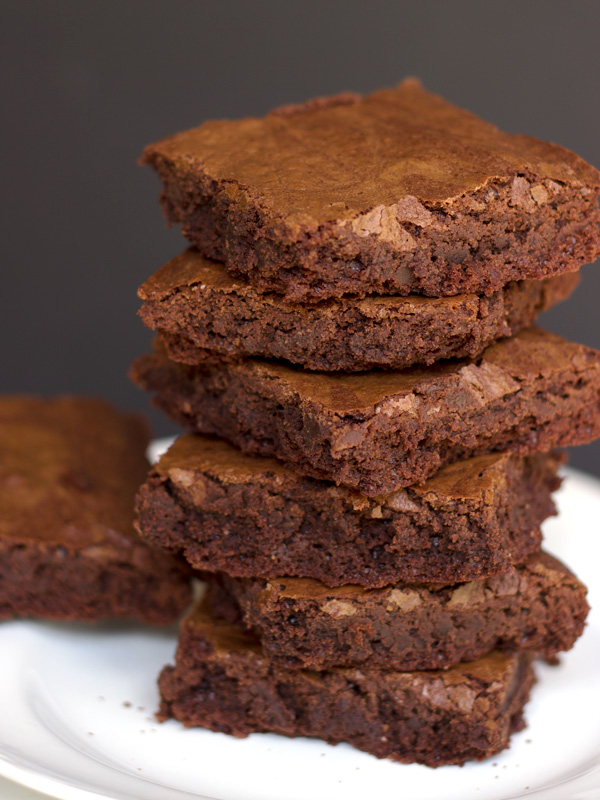 Brand Matters
One of the most important things you need to do to ensure intense chocolate flavor is to use the right type and ratio of chocolate. When I developed this recipe I did a bit of research and found out that cocoa powder provides a deeper chocolate flavor than chocolate. Hershey's is my hands down favorite.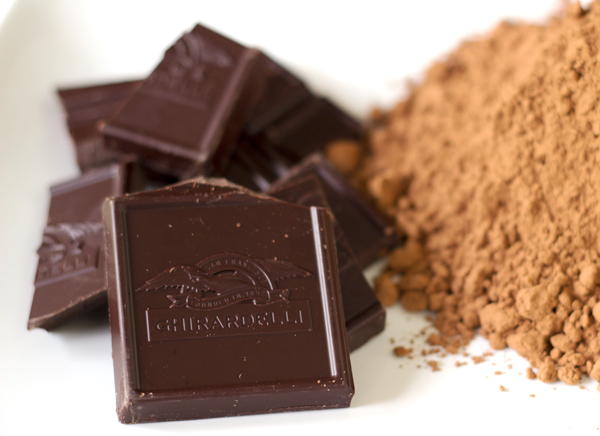 Chocolate on the other hand is what gives the brownies moisture and a chewy texture. Just a little warning: do not substitute semi-sweet chocolate for unsweetened chocolate. The emulsifier in semi-sweet (aka soy lecithin) will compromise the texture. Not only should the chocolate be UN-sweetened, but, it should be a good quality chocolate as well. I prefer Ghirardelli chocolate for it's fantastic quality and value.
When you have the chocolate measured and ready all you will have to do is add a few other ingredients – unsalted butter, oil, cake flour, baking powder, salt, sugar, eggs and vanilla. Mix until the batter is smooth, turn it into a prepared pan and bake.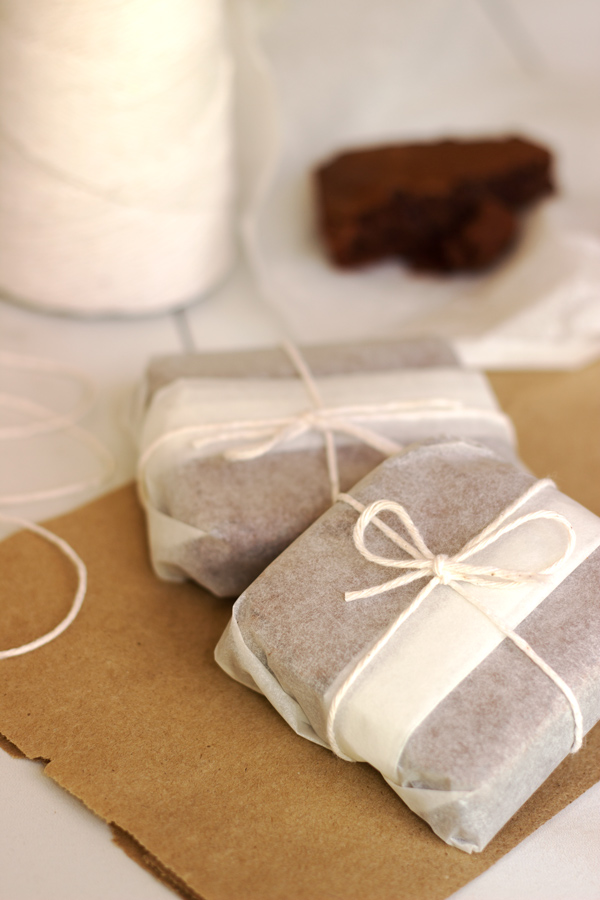 Once cooled you can cut the brownies and wrap them in little parchment to go packages or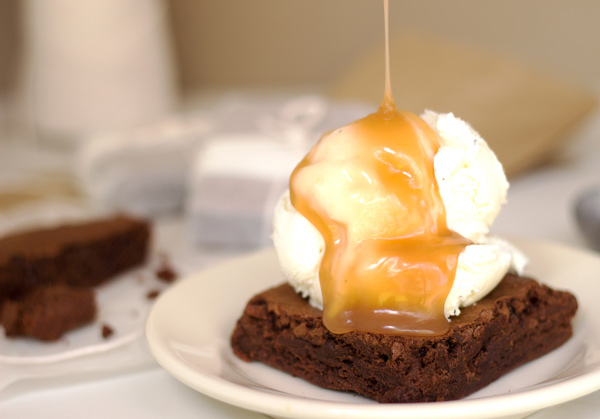 serve them warm topped with good quality ice cream and drizzled with a topping of your choice (Homemade Caramel Sauce pictured here.)
Either way you'll be enjoying a delicious treat of super, intense, moist, chocolate, fudge brownie goodness!

Note: For another intensely chocolate recipe be sure to check out Maine Mud Cake.
Print
Fudge Brownies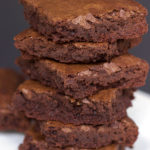 Intense, Chewy, Chocolate, Fudge Brownies are easy to make and delicious alone or topped with your favorite ice cream!
Author:

Cathy Speronis

Prep Time:

15 minutes

Cook Time:

28 minutes

Total Time:

43 minutes

Yield:

12 - 16

Category:

Dessert
Ingredients
5 oz. cake flour

3/4 tsp. baking powder

1/2 tsp. salt

2 oz. unsweetened chocolate

6 oz. unsalted butter

2 oz. vegetable oil

2.25 oz. unsweetened cocoa powder

15.75 oz. granulated sugar

1 Tbsp. vanilla extract

4 eggs, lightly beaten
Instructions
Prepare a 13″ x 9″ inch cake pan by greasing it with vegetable shortening, lining with parchment paper, and greasing it again; set aside.

Sift together the cake flour, baking powder and salt; set aside.

In the top of a double boiler melt the unsweetened chocolate, butter and vegetable oil whisking until smooth.

Add in the cocoa powder and whisk until fully incorporated.

Pour in the sugar and mix until well combined. The batter will seem a bit grainy.

Add the vanilla and then the beaten eggs. Mix until smooth.

Add the flour mixture in two additions mixing well after each.

Mix batter until completely smooth and then pour into prepared pan.

Bake at 325°F for 28 minutes.

Cool completely on wire rack.

Score into 12 or 16 pieces. Remove brownies from pan using the parchment to lift. Cut pieces and serve.

Store uneaten brownies in a sealed container.
Related posts: