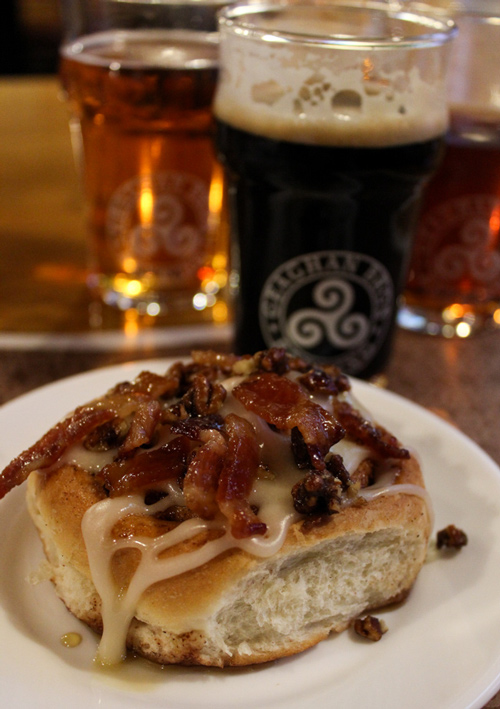 I love blogging about food and I love blogging about beer.  You know what's even better??  Blogging about food AND beer!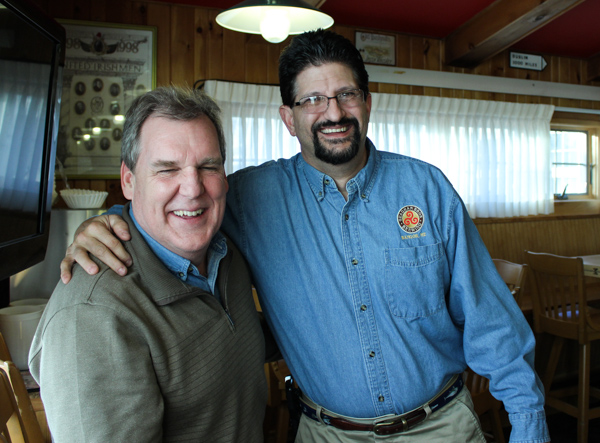 My husband and I recently attended a Beer Dinner hosted by Geaghan's Pub & Craft Brewery.  (That's Lee on the right with Larry Geaghan/Owner – Notice the cool "Geaghan's" Shirt.)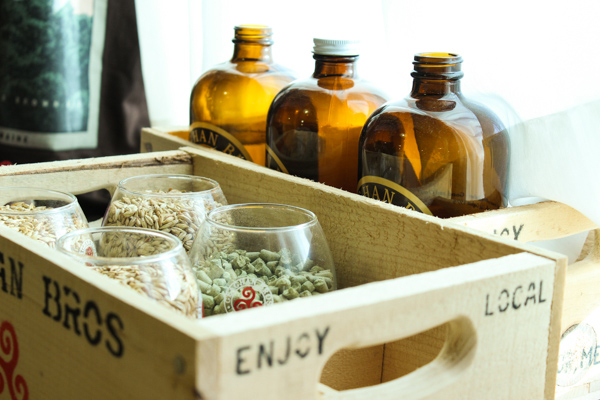 Okay, "Macro" breweries may have their following, but, there is something so unique and special about "Micro" brewed craft beer.  Not only that, it's nice knowing where your beer comes from, that your beer was recently brewed for you with the heart and soul of a craft brewer, and that you are supporting your local brewery!  And the beer…IT'S JUST BETTER!!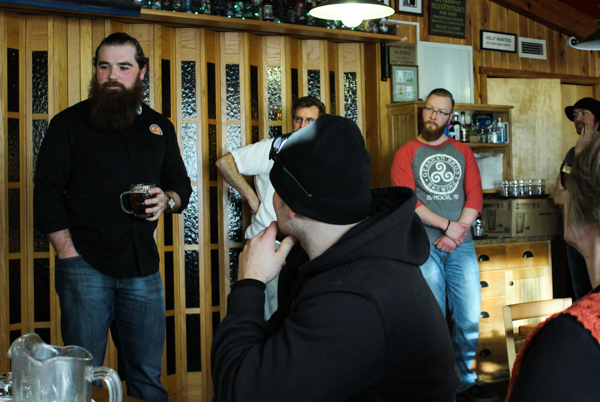 Andy Geaghan, Owner/Brewer talks about the brewing process for some of their most popular beers and explains some of the pairings we would be having for the evening.  It was so interesting learning a bit about the beer and the different flavor profiles that each process produces.  It was also bittersweet as we would be having a meal that was planned by chef Matthew Rideout.  Chef Rideout passed away on March 29th – "May His Memory be Eternal."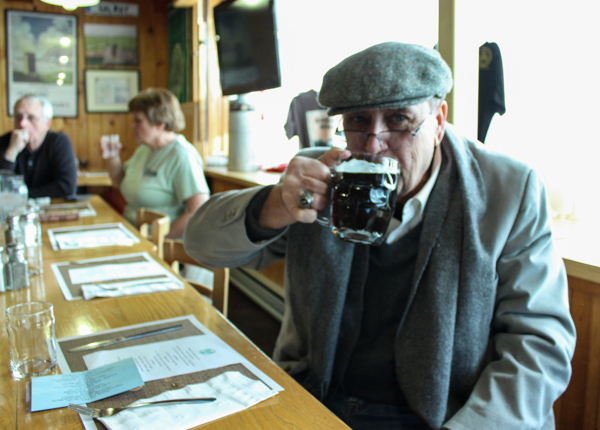 We enjoyed some beer with friends before beginning the pairing.  It's 5 o'clock somewhere! 😉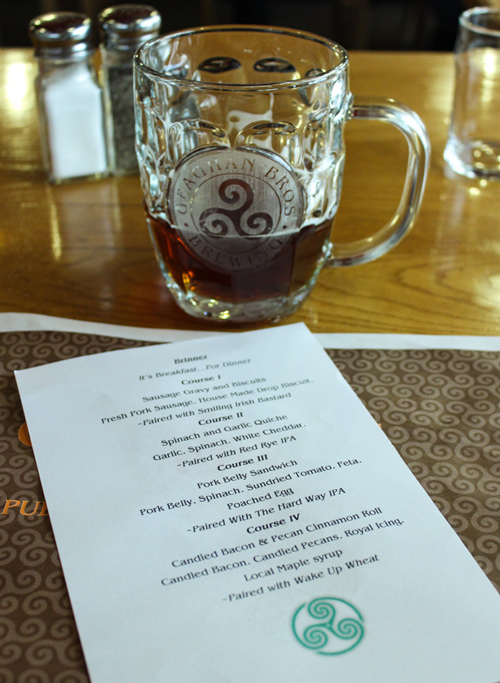 Four courses…ready…set…go!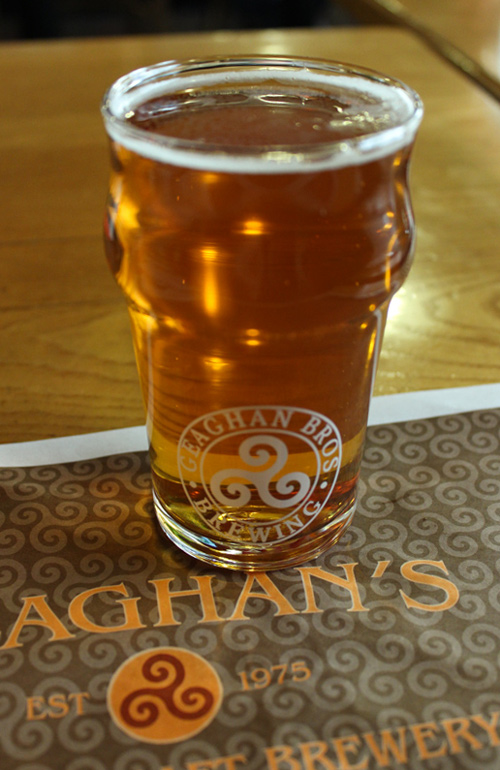 Smiling Irish Bastard – gotta love that name – paired with…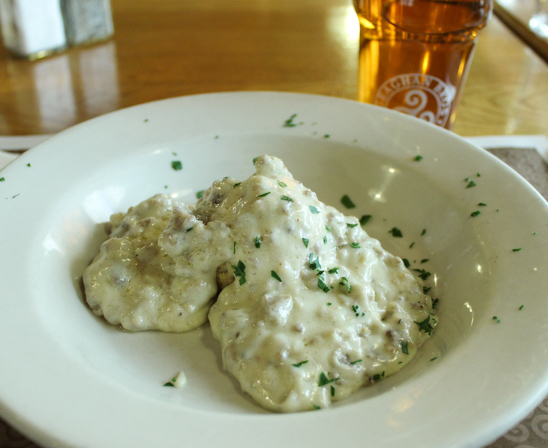 Sausage Gravy and Biscuits.  Need I say more?  The smooth "hoppy" ale with it's citrus notes cut through the richness of the gravy.  The gravy – smooth and creamy loaded with sausage over a homemade biscuit – Wow!  "Better pace myself."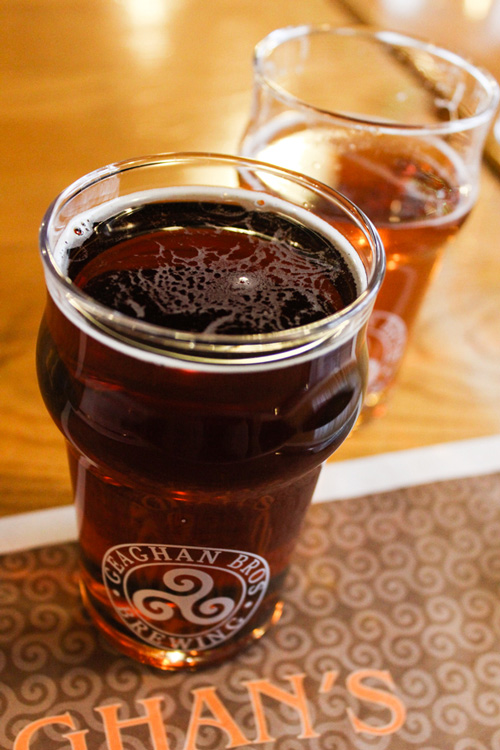 Red Rye IPA paired with…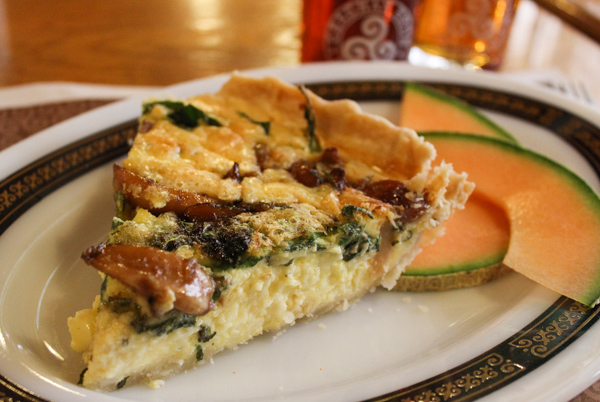 Spinach and Garlic Quiche.  "The ultimate pairing!" Yes, those are whole cloves of garlic in the quiche.  They were roasted and caramelized so they were super sweet and oh-so-delicious.  The Red Rye IPA with it's malty character and caramel notes complimented it perfectly! "Okay, now I am in such trouble.  I can't stop eating this quiche!"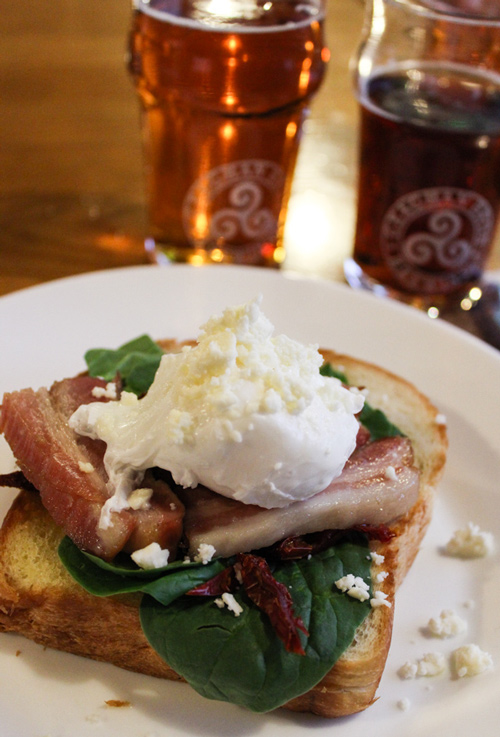 Halfway there.  "I can do this!"  The Hard Way IPA paired with Pork Belly Sandwich.  Yes, that is a poached egg sitting on top of the sandwich  sprinkled with some nice, salty Feta cheese accompanied by spinach, sun-dried tomatoes and a nice slice of Geaghan's homemade bread.  Have you tried Geaghan's homemade bread?  If there is a chance you haven't then YOU MUST!  It's Crazy good!!  The double hopped Hard Way IPA balances out all of that richness beautifully.  "Phew, one more course.  Time to loosen that top button! (I feel some sit-ups coming on tonight.)"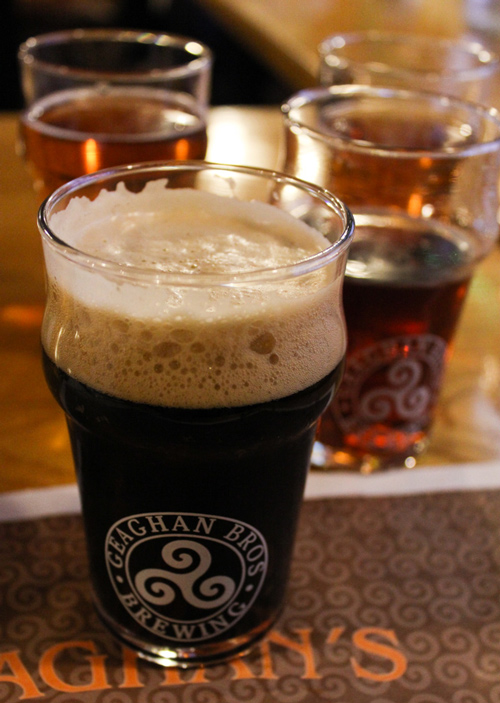 Ah-h-h, rich beautiful Wake Up Wheat paired with…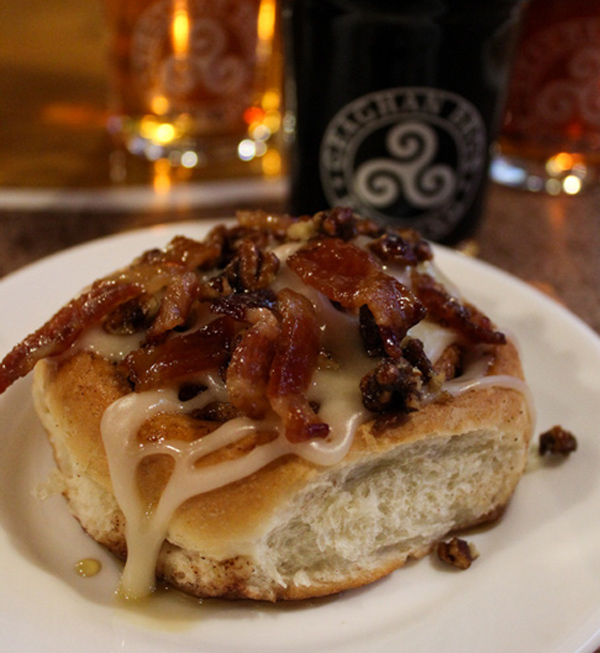 CANDIED BACON & PECAN CINNAMON ROLL!  Okay, I have to say that again…
CANDIED BACON & PECAN CINNAMON ROLL!
YES!! Rich, salty, sweet – this roll has is all and then some.  The "coffee" notes from the Wake Up Wheat give that little bit of bitterness to round this course out completely.  The perfect ending to this meal.  "Phew – I did it!"  Of course I asked for a take-away box for the remains of my quiche.  Lunch tomorrow!!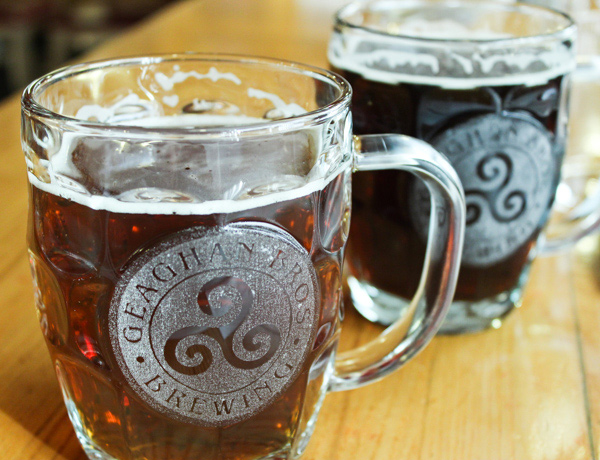 If you live near Bangor, lucky you! (and me 😉 )  Be sure to stop by Geaghan's Pub and Craft Brewery for a drink, a bite and an experience like no other.
Geaghan's is conveniently located in downtown Bangor next to the Hollywood Slots and across from the Cross Insurance Center.
And some great news!! …Geaghan's is going to be bottling some of it's beer.
It should be out this summer!  So Exciting!!
Be sure to check out the cool video below.  Slainte!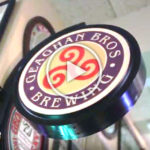 Related posts: