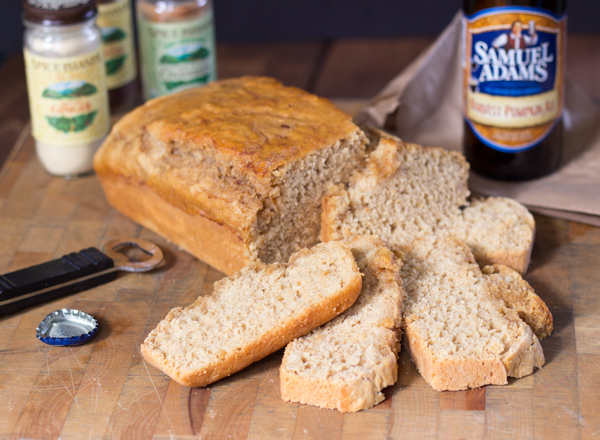 Oh how I love Fall-Themed Beer!  And anything with "Pumpkin" in it!  My husband recently purchased one of those variety packs of beer.  You know, the ones that have about four flavors of deliciousness.  Well, at least I think so!  There were a few bottles of pumpkin flavored ale.  He's not so crazy about the whole "Pumpkin" thing so I figured there had to be a way to change his mind.  Welcome Harvest Pumpkin Ale Bread!  Beer is an amazing leavening agent for a quick bread.  It reacts with the baking soda, bubbles up and starts it's hoppy magic.  Be sure to have all of your other ingredients ready to go, your oven preheated and most importantly your pan prepared because this is a snap to put together!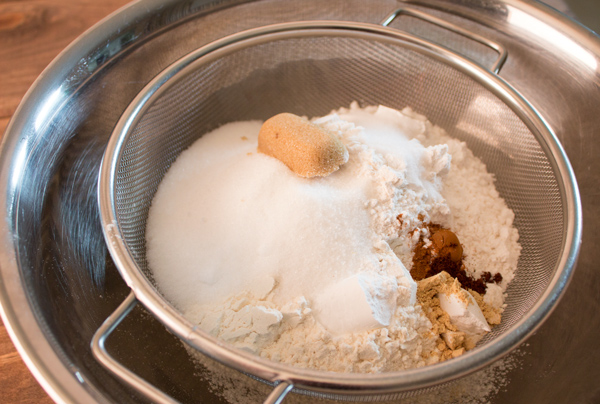 First sift those dry ingredients together.  Some nice, warm spices have been added to make it more – well – "Fall-ish!"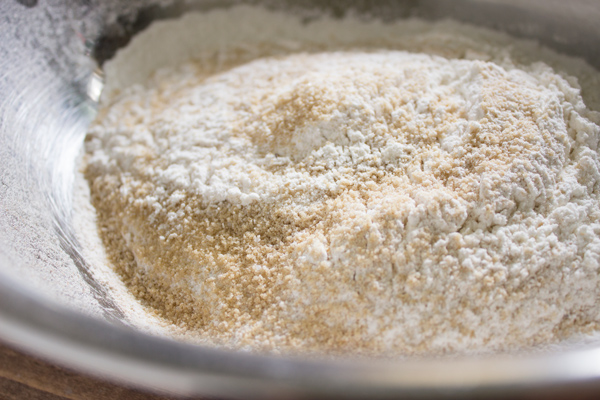 No lumpy brown sugar here!
Want to add nutty flavor without the nuts?  Brown Butter Baby!!  This stuff is crazy good and adds such great flavor.  It seems to be making an appearance in a lot of my recipes lately 😉  When you brown the butter be sure to keep an eye on it.  Once it starts to turn golden it browns pretty quickly.  Take it off of the heat when it reaches a nice golden color (like the photo in bottom right hand corner.)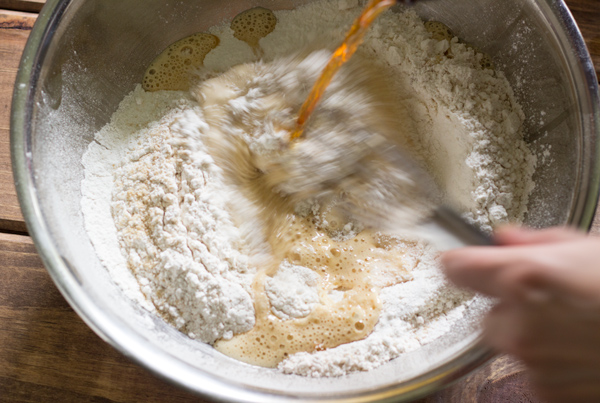 Oven is ready and all of the ingredients are ready.  Time to crack that ale open so we can get the bread in the oven.  When you stir the ale into the dry ingredients you can see it starting to leaven as it bubbles up.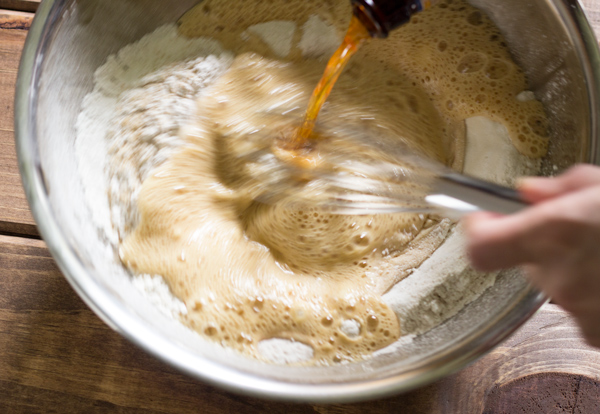 Whisk it in quickly then…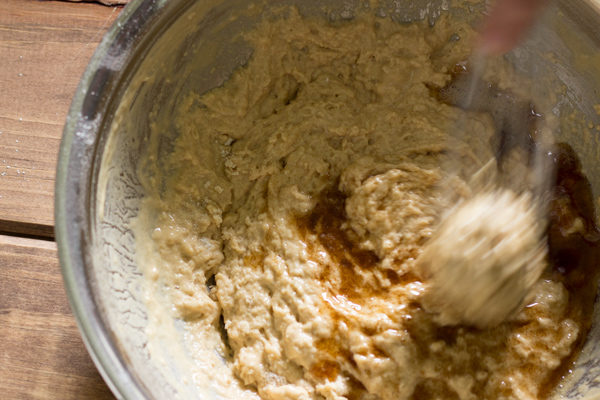 …add the brown butter.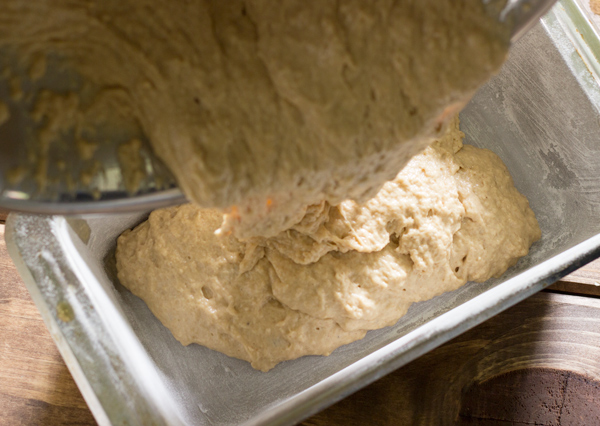 Pour the batter into your prepared pan and bake in the center of the oven.  While it's baking, brown up a bit more butter for the top.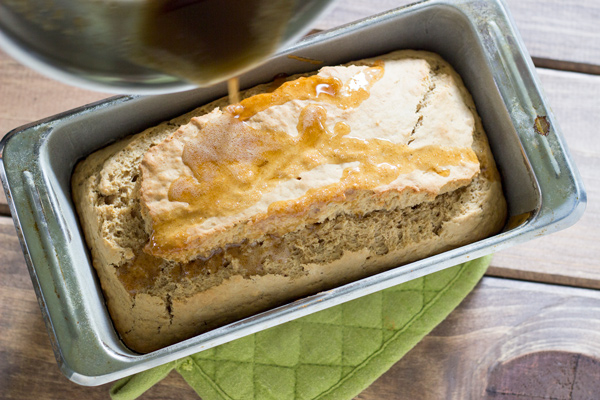 Warm, melted, brown butter poured over Harvest Pumpkin Ale Bread…This just keep getting better by the minute!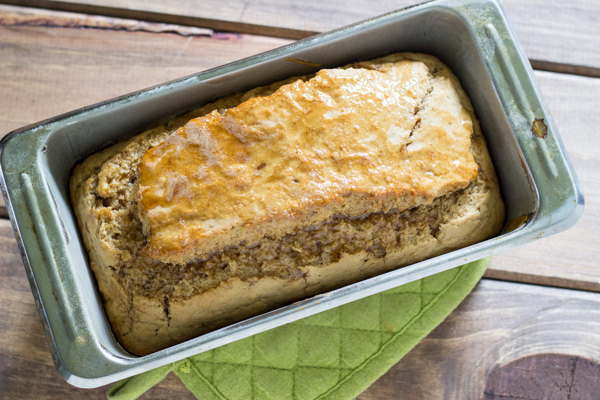 Let that brown butter seep in and allow the bread to cool – if you can wait that long!  This smells so good you may not be able to!  And do you know what's even better then eating it warm with that melty, brown butter?  Slicing it up the next morning, toasting it up and adding some more…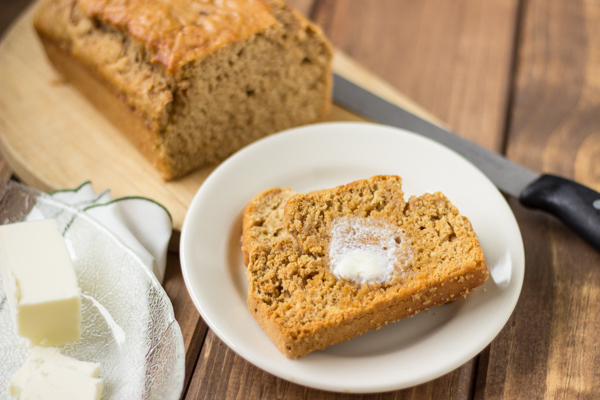 …yep, you guessed it!  Just a piece of advice…don't go using up all of your husband's beer in the bread and don't say I didn't warn you! 😉
Print
Harvest Pumpkin Ale Bread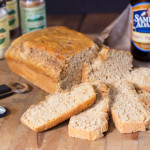 Harvest Pumpkin Ale adds great flavor to this easy to make quick bread
Ingredients
2 cups all-purpose flour
1 cup cake flour
1 Tbsp. baking powder
1/4 cup & 2 Tbsp. granulated sugar
1 Tbsp. firmly packed light brown sugar
1 tsp. salt
1/2 tsp. ground cinnamon
1/2 tsp. ground ginger
1/8 tsp. ground cloves
1 bottle (12 oz.) Harvest Pumpkin Ale
3 Tbsp. unsalted butter, browned & 2 Tbsp. unsalted butter, browned
Instructions
Preheat oven to 375 degrees F.
Grease and flour a 9″ x 5″ x 3″ loaf pan.
Sift the dry ingredients (flour through cloves) over a large bowl; set aside.
Add the ale and 3 Tbsp. browned butter to the dry ingredients. Whisk together until incorporated. Do not over mix. Mixture will be very thick.
Pour into the prepared pan.
Bake in the center of the oven for 40 to 45 minutes, until a toothpick inserted in the center comes out clean.
Remove from oven, pour over the remaining 2 Tbsp. browned butter and allow to cool completely before slicing.
Related posts: