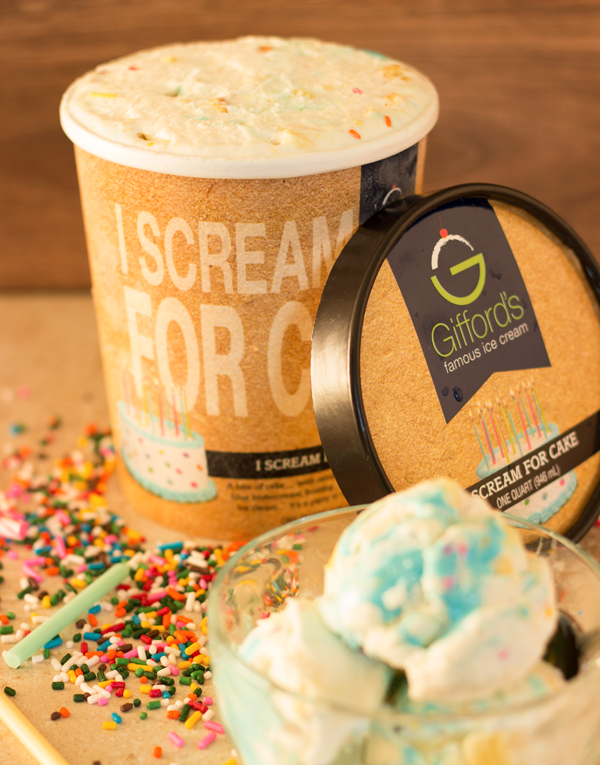 Gifford's Ice Cream has reopened it's stands for the season!
Oh YEAH!! There is nothing like some cold, creamy Gifford's Ice Cream! And wanna know what's even more exciting?! They've come out with a cool new flavor "I Scream for Cake!"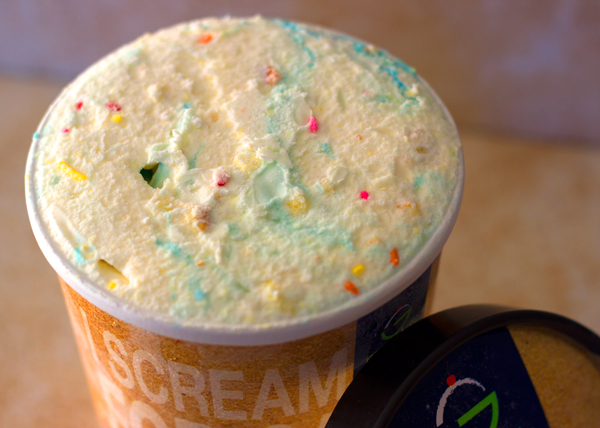 After all, what's better than Gifford's Ice Cream? Not much except maybe
Gifford's Ice Cream loaded with Sprinkles, Blue Buttercream Frosting and bits of Vanilla Cake Batter!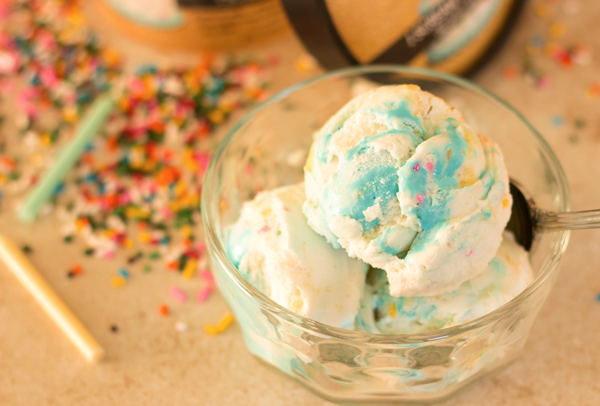 Now, if you just want to pick up a quart, tuck right in with a spoon, a bowl or a cone that is perfectly fine and all good! But, want to take that Scream up another level?!
Roll that "I Scream" into a vanilla sponge, top with some fresh whipped cream and sprinkles, add a few candles and you've got a true CELEBRATION ON A PLATE!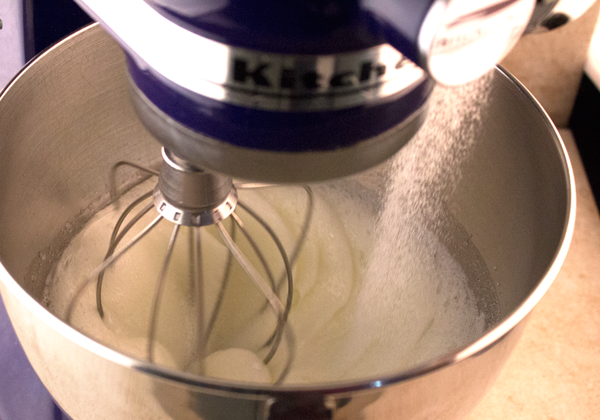 Let's start with a really great vanilla sponge.  This is a cake lightened and leavened by sweetened, whipped egg whites.  Always be sure to carefully separate your eggs.  One little microscopic speck of egg yolk in the whites and you will never get them to achieve their full volume.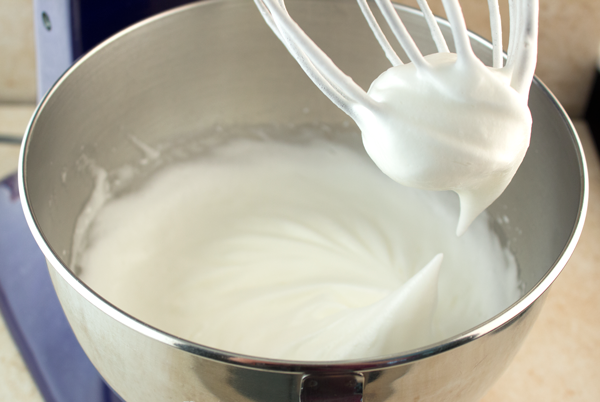 When your whites are whipped up properly they will be thick and glossy.  Keep an eye on them, you don't want to over mix or they will dry out and be almost impossible to fold into the rest of the cake batter.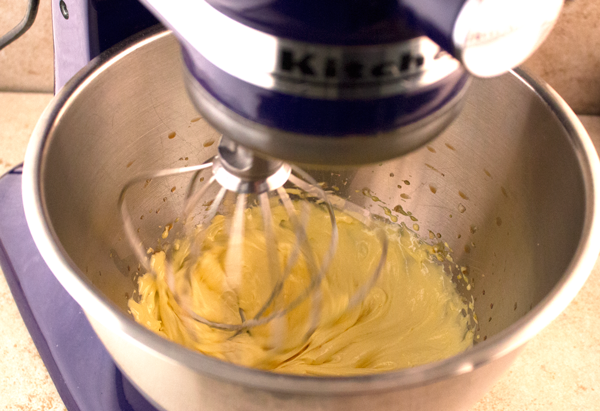 The yolks are beaten separately with some vanilla extract and sugar until they are light and fluffy.  Remember to add the vanilla.  I only use "PURE" vanilla extract.  This ensures the best flavor!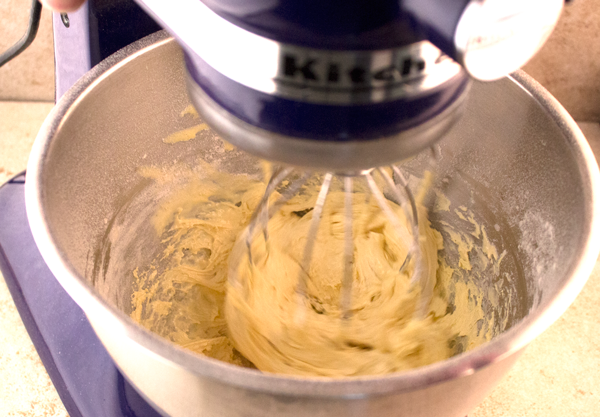 The flour is added to the beaten yolk just until incorporated.  Don't over mix here either.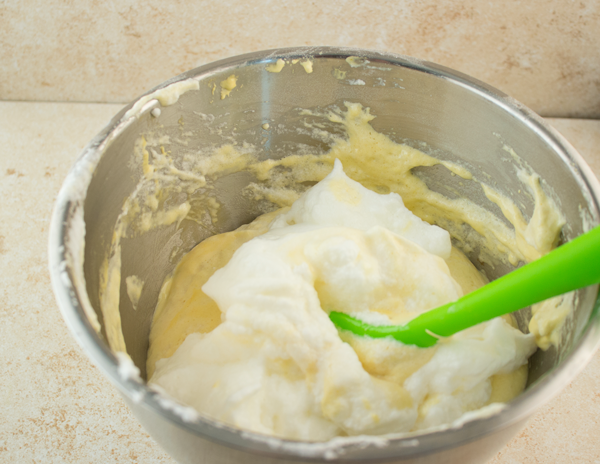 Then the whites are carefully folded in.  I start with just about a quarter of the whites to get it started then continue adding a quarter at at time until it is all folded in.  It is really important to go easy so that you don't deflate those whipped eggs.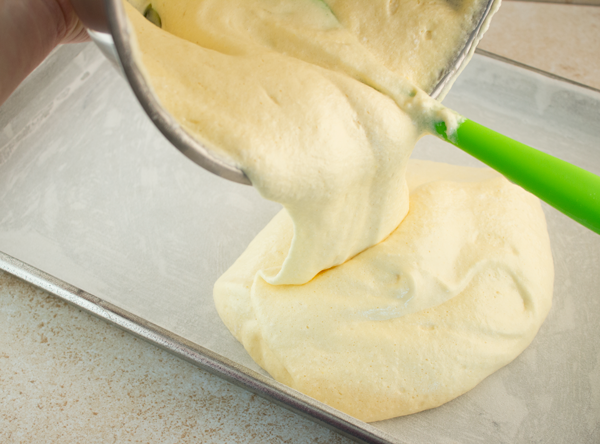 The finished cake batter gets poured into a prepared 15.5″ x 10.5″ jelly roll pan.  See how light and fluffy it is?  The pan has been greased with shortening, lined with parchment paper, greased again and then lightly floured.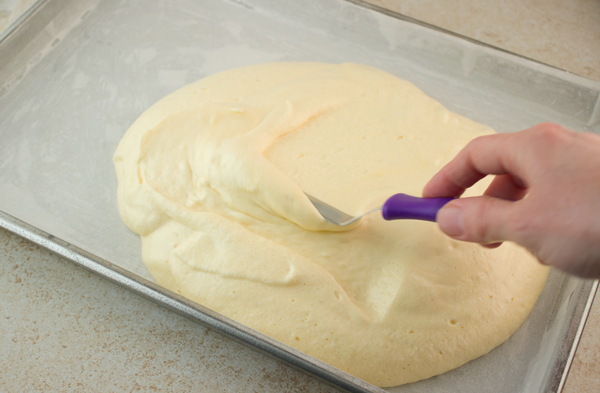 Spread the batter nice and even getting it into the sides and corners of the pan.  Then place in a preheated 350 degree F. oven until…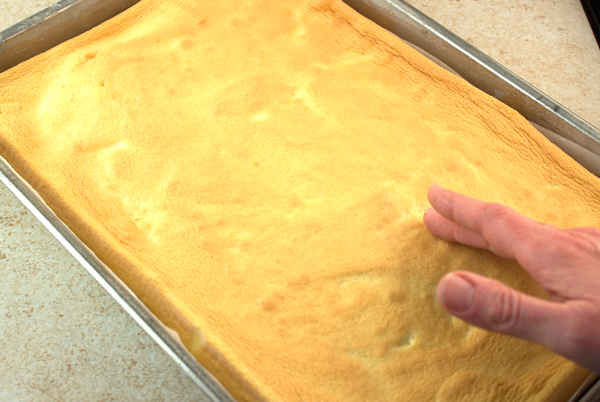 …it is golden and springs back when lightly touched.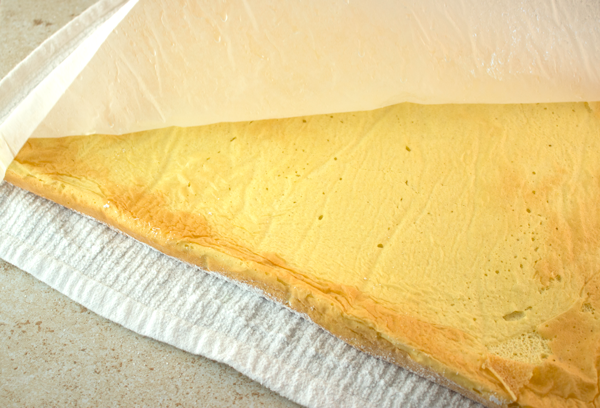 Make sure the sides are loosened then invert onto a clean towel that has been dusted with powdered sugar.  Remove the parchment paper then…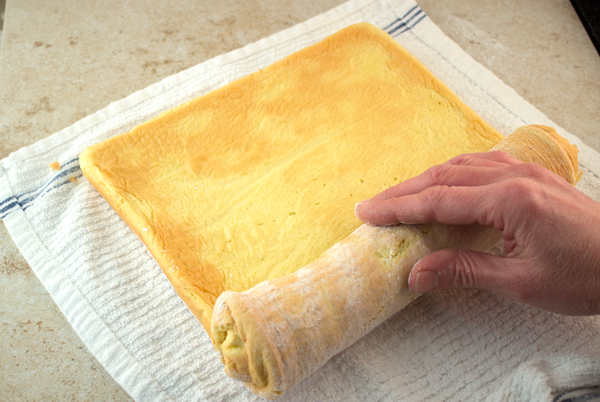 …roll the warm sponge.  This will make it easier to re-roll it without any breakage latter on.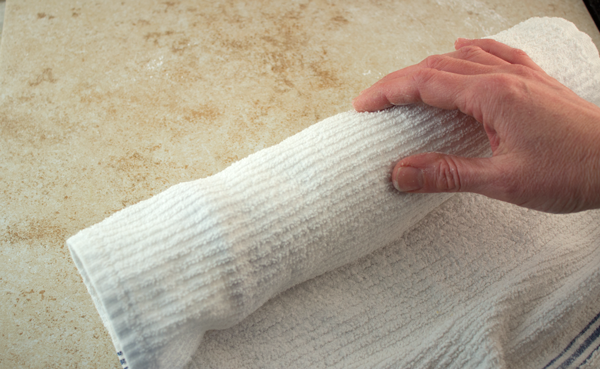 Wrap it completely in the towel and…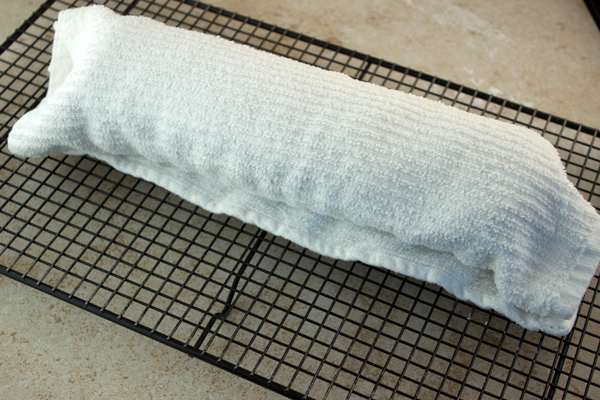 …allow it to cool completely on a cooling rack.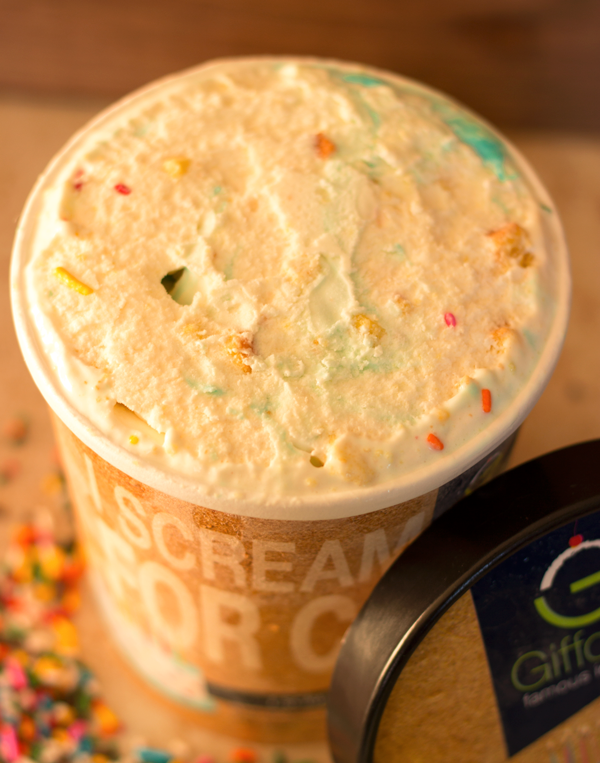 Meanwhile, place that Gifford's I Scream for Cake Ice Cream in the refrigerator to soften a little.  This will make spreading it way easier, trust me! 😉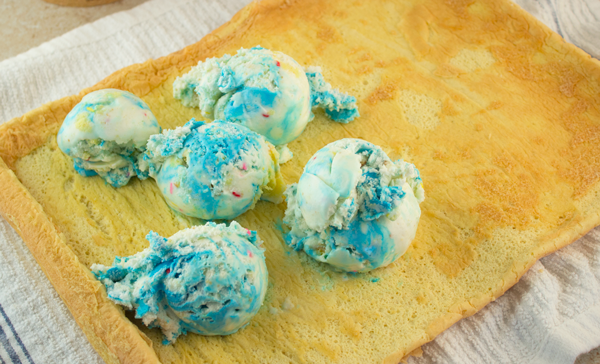 When the cake is completely cooled, about 1/2 hour, unroll it and scoop some of the softened ice cream onto it.  I used just about a whole quart in order to fill it.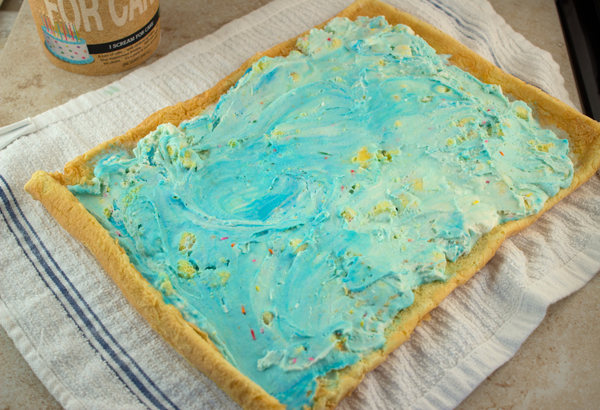 Spread it out evenly, almost to the edges.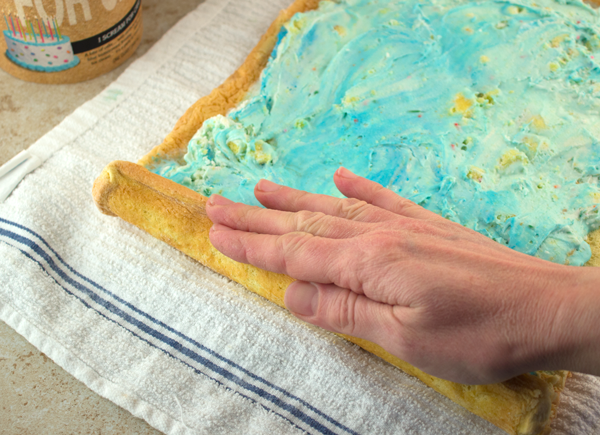 From the short end begin rolling the cake.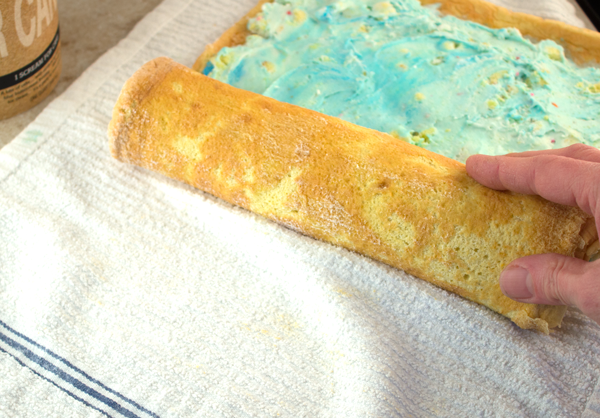 Continue rolling until you have encased all of that creamy ice cream.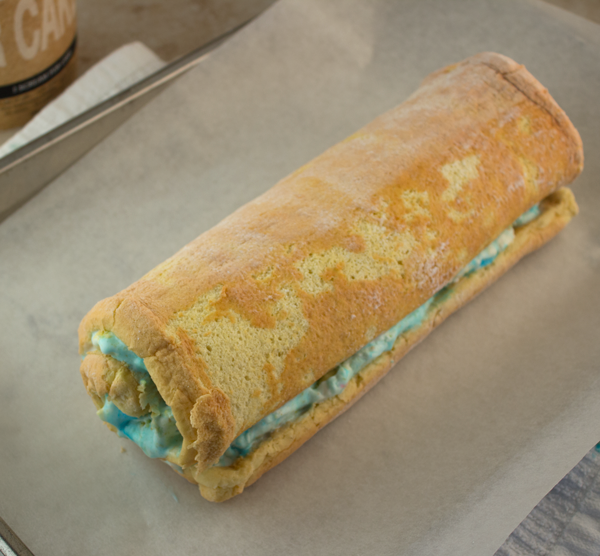 Now, place the filled sponge onto a piece of parchment and place the roll into the freezer.  The ice cream needs to set so that it can be sliced.
Trim the ends of the roll and place on a decorative serving platter.  Whip up a quick batch of fresh, sweetened, vanilla whipped cream, pipe the whipped cream onto the roll and then decorate with colored sprinkles.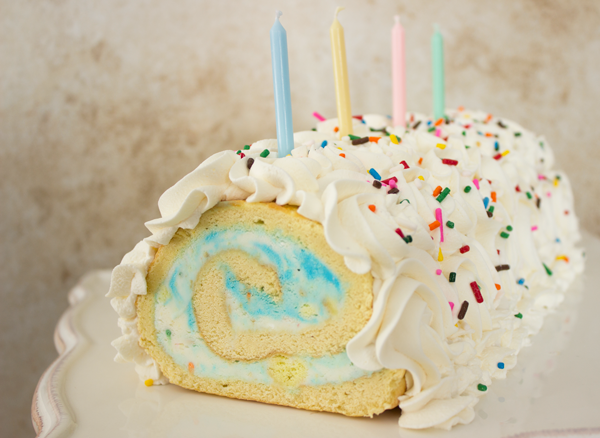 If you are celebrating a birthday, add a few candles!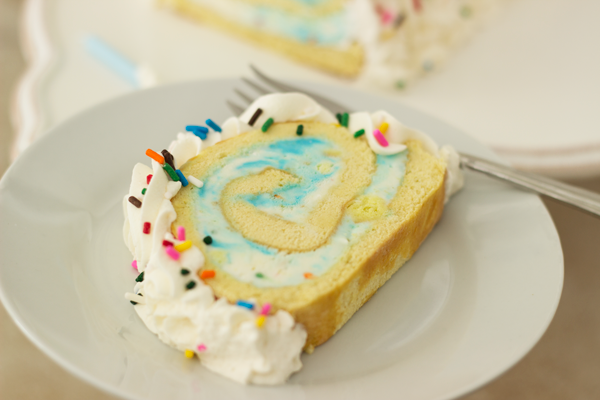 What a way to celebrate the start of spring!
Print
I Scream for Cake Roll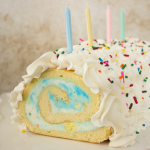 A light, vanilla sponge filled with top quality Gifford's I Scream for Cake Ice Cream and finished with whipped cream.
Author:

Cathy Speronis

Prep Time:

20 mins

Cook Time:

12 mins

Total Time:

32 minutes

Yield:

12 slices
Ingredients
1 quart Gifford's I Scream for Cake Ice Cream
5 large eggs, room temperature, separated
1/2 cup granulated sugar, divided in half
1 tsp. pure vanilla extract
1/2 cup all-purpose flour
confectioner's sugar
Instructions
Preheat oven to 350 degrees F. Grease a 15.5″ x 10.5″ jelly roll pan. Line it with parchment paper, grease the paper and lightly dust with flour shaking off excess; set aside.
In the bowl of a mixer with the whisk attachment, beat the egg whites until soft peaks form. Gradually add 1/4 cup of granulated sugar and continue beating until the egg whites are glossy and hold a stiff peak. Do not over beat; set aside.
In another bowl beat the egg yolks on high with the remaining 1/4 cup sugar and the vanilla until lightened in color and thick, about 5 minutes.
Add the flour to the thickened egg yolk mixture and mix on low until combined, scraping down the sides of the bowl.
Using a large spatula, fold in 1/4 of the whipped egg whites until there are no white streaks. Continue adding the egg whites 1/4 at a time and gently folding in until you have incorporated all of the egg whites. Do not overmix.
Pour into the prepared jelly roll pan and spread evenly into the sides and corners of the pan.
Bake at 350 degrees F. for 10 – 12 minutes until golden and when the cake springs back lightly when touched.
Prepare a clean towel by dusting it with powdered sugar.
When the cake is done, remove it from the oven, loosen the sides and invert onto to prepared towel.
Lift off the parchment paper and while the cake is still warm roll it from the short end to form a cylinder.
Wrap the cake in the towel and place on a cooling rack. Allow to cool for 30 minutes.
Meanwhile place the ice cream in the refrigerator.
When the cake is cooled, unroll and scoop some of the ice cream onto it.
Using an offset spatula, smooth the ice cream out and spread to within a 1/2″ from the edges.
Starting from the short end, roll the sponge up to form the roll and encase the ice cream.
Place the filled roll into the freezer to set up. 2 hours or overnight.
Before serving the cake, make a batch of sweetened whipped cream – *recipe to follow.
Remove the cake from the freezer, trim the ends and place on a decorative platter.
Pipe the whipped cream onto the outside, sprinkle with colored jimmies and serve.
Print
Sweetened Vanilla Whipped Cream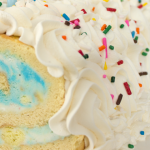 A lightly sweetened, fresh, vanilla whipped cream. Perfect for desserts.
Author:

Cathy Speronis

Prep Time:

5 mins

Total Time:

5 mins

Yield:

2 cups
Ingredients
1 cup heavy whipping cream
1/4 cup granulated sugar
1/2 tsp. pure vanilla extract
Instructions
Place cream and vanilla in the bowl of an electric mixer.
With a whisk attachment, beat the cream while gradually adding the sugar.
Continue beating until the cream forms stiff peaks.
Use to decorate cakes or serve with a variety of desserts or fruit.
Related posts: