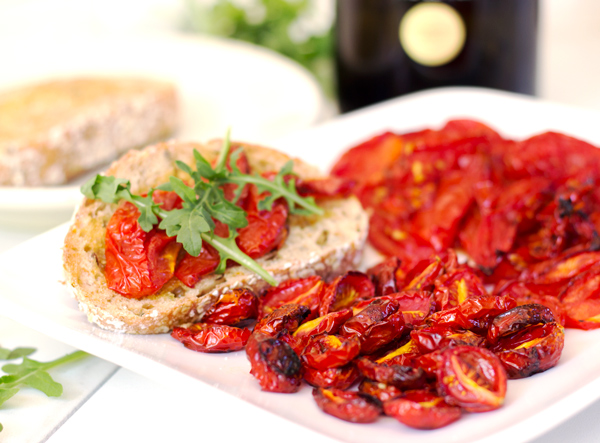 Did you ever buy a large box of beautiful fragrant, ripe, red tomatoes and not use them up quickly enough? Don't waste tomatoes just make Roasted Tomatoes!
Roasted Tomatoes – The Best Topping Yet!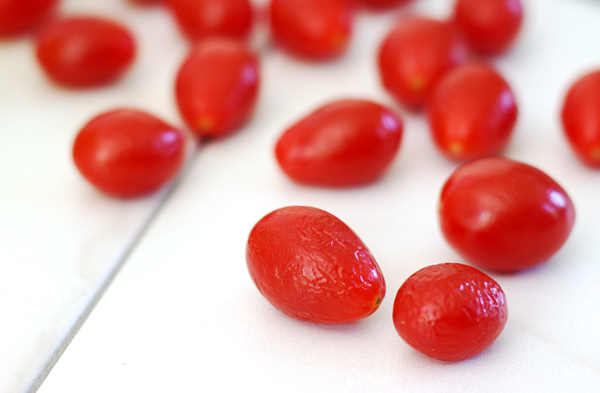 I grew up in a florist and nursery business and one of the things we loved most about spring was planting tomatoes. Something about those little green seedlings and the way they smelled would always remind us of what summer would inevitably bring. We spent many, and I mean MANY hours planting thousands of seedlings by hand. Seeing perfectly good tomatoes go to waste is almost unbearable to my family! Insert sad face here: 🙁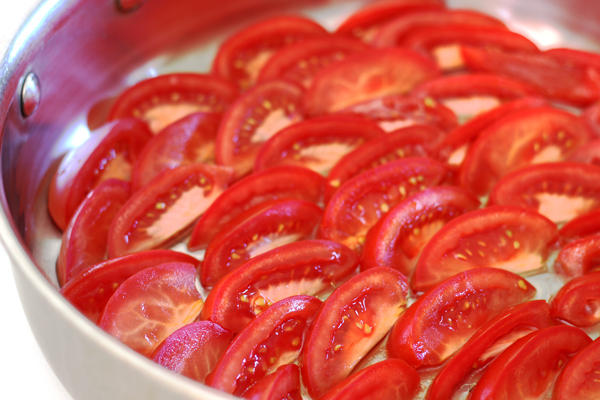 Save the Tomato!
Now if your tomatoes have gone way past – and by that I mean they are soft, badly misshapen, and are growing something dark and fuzzy – PLEASE throw them out and don't take chances! On the other hand, if they are just starting to look a bit wrinkly and sad no worries! They can be rescued! 🙂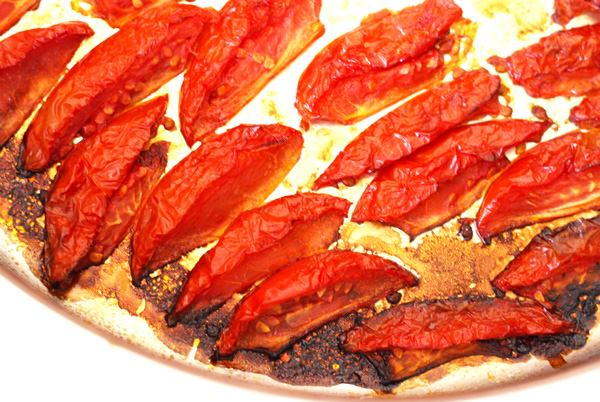 Turn Up The Heat!
As the title "Roasted Tomatoes" implies "roasted" means cooking in a high temperature oven. Crank your oven up to 400°F or 375°F for convection. This will ensure that your tomatoes will start to caramelize and deepen in flavor.  As you can see they soften and break down quite a bit so it is important to slice before roasting.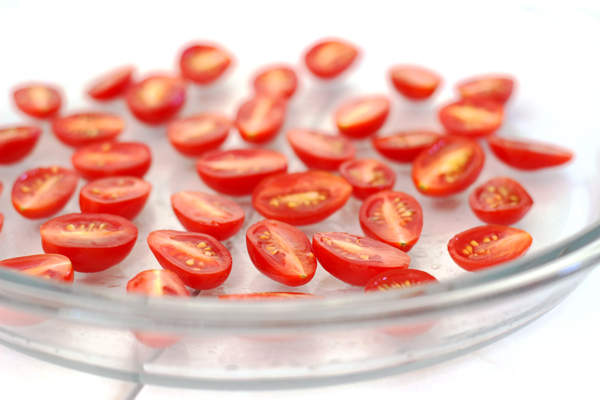 When prepping make sure to use a good sharp knife to slice the tomatoes. They are a bit more difficult to slice if they are starting to soften. I like to slice Plum Tomatoes in eighths and grape tomatoes in halves. Ever try to slice a grape tomato into eighths? Good luck with that!
Your New Favorite Topping!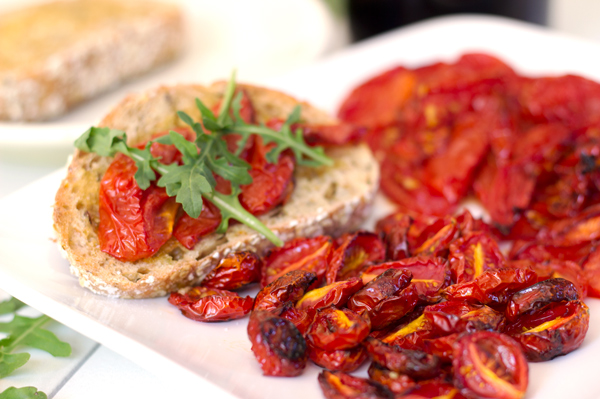 Roasted Plum Tomatoes make a fantastic Bruschetta! I learned this technique from friend and Chef Josh MacKay. Thanks Josh! Tomatoes have taken on a whole new meaning. 🙂
Josh has a fantastic spice company called The Old New England Spice Mill right here in Maine. I'm going to do a post using some of his amazing spice blends soon!
Salad Anyone? Or maybe just something to snack on?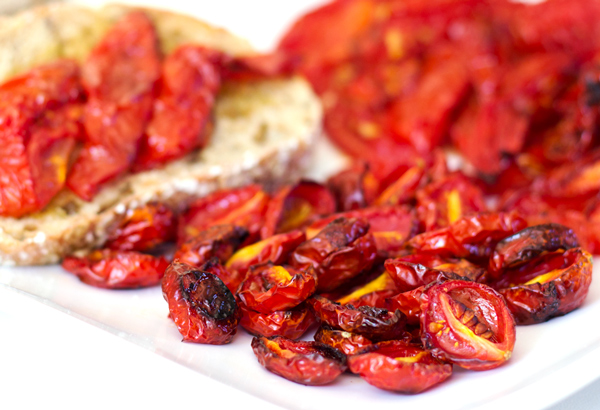 As for those sweet, pungent, cute, little roasted grape tomatoes – well there just aren't enough words!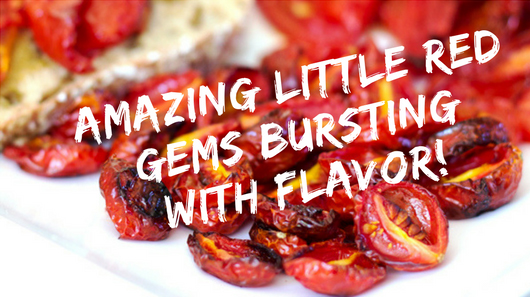 Okay, well maybe a few! 😉
Print
Roasted Tomatoes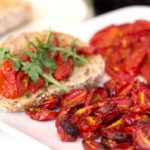 Roasted Tomatoes make the perfect topping for appetizers and salads!
Ingredients
8 Ripe Plum Tomatoes or 20 Ripe Grape Tomatoes

Olive Oil
Instructions
Preheat oven to 400°F (375°F if using a convection oven.)

Core and slice plum tomatoes into eighths. Slice grape tomatoes into halves.

Lightly oil a large stainless steel, glass or ceramic roasting pan. Place the sliced tomatoes in the pan evenly spacing them. Plum tomatoes can be placed on their sides, grape tomatoes skin side down.

Roast tomatoes until softened and beginning to caramelize, about 15 to 20 minutes.

Cool and then move into a storage container until ready to use. Use to top Bruschetta or salads, as a garnish or as a snack.

Refrigerated, roasted tomatoes will keep up to one week.
Related posts: