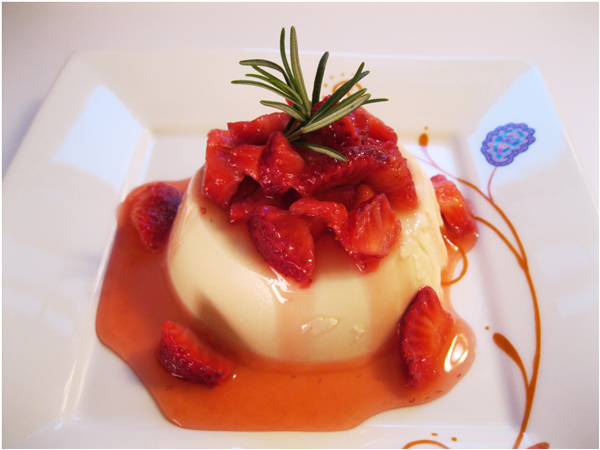 The cooking classes at Bangor Adult Ed are going great and we are having our last class next Wednesday.  We will be making Italian dessert, specifically – Tiramisu – my absolute favorite!  Can't wait!
Talking about my favorite Italian desserts and cooking classes, I came across an old post on my facebook from March 4, 2011.  Seemed like perfect content for TBT, but, looking at the time it's actually FBF.  Oh well, so much for going to bed early.
Pictured above is a Rosemary-Infused Panna Cotta with Strawberries.  The strawberries are macerated with sugar and a bit of Cointreau.  It is a light, creamy dessert which is easy to make and looks very impressive when it's plated (pinkies up.)
I thought I'd share the old post.  It gave me a much needed laugh.  Be sure to scroll down to the bottom of the post for the recipe and enjoy!
Oh, and here is the link for the video of the segment 🙂
Italian Desserts on the news! – March 4, 2011
For my WABI news segment yesterday I made Baba Rum, Panna Cotta and Zuppa Inglese.  If you have never had these desserts you must give them a try! 
Crazy Cathy and her Cooking Classes
So the news segment went great, but, my cooking class – not so much.  We began the Italian pastry class last night.  I got there at 6 pm, right when the class was supposed to start.  I had to lug in 5 bags of stuff plus my mixer – luckily some wonderful ladies helped me.  (Do they allow golf carts in schools?)  When I went to start the first recipe, I realized that I had forgotten my batter, the butter and my muffin tins!  Luckily for me I had the rest of my ingredients (and that my head it attached at the neck – cause I would have forgotten that as well.)  As the night went on my students kept me on track.  I set the temp for the ovens, but, forgot to turn them on!  I shared my knowledge, tips and witty comments to keep the class lively and everyone had a blast!  One of my students threatened to bring in a HazMat suit next week – we'll be working with cinnamon oil.  😉  It was definitely one for the books!
Print
Rosemary-Infused Panna Cotta with Strawberries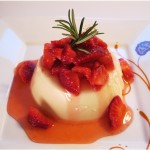 Creamy, Rosemary-Infused Panna Cotta goes perfect with macerated strawberries and is an easy way to impress your guests.
Author:

Cathy Speronis

Prep Time:

10 mins

Cook Time:

10 mins

Total Time:

20 minutes

Yield:

6 servings

Category:

Dessert

Cuisine:

Italian
Ingredients
2 tsp. unflavored gelatin
1/2 cup milk
2 heavy cream
1/2 cup sour cream
1/2 cup granulated sugar
1 medium sprig of fresh rosemary
Pinch of salt
1/2 tsp. pure vanilla extract
1 cup fresh Strawberries sliced
1/4 cup granulated sugar
2 tsp. orange liqueur (optional)
Fresh rosemary to garnish
Instructions
In a small bowl, sprinkle the gelatin over 1/2 cup milk; let stand until the gelatin is softened, about 5 minutes.
In a medium saucepan, combine heavy cream, sour cream, sugar, rosemary sprig and salt. Bring cream mixture to a simmer stirring until the sugar is dissolved and the mixture continues simmering while stirring. Do not boil. Remove from heat and add vanilla extract. Add the softened gelatin mixture and whisk to completely dissolve the gelatin.
Strain hot cream mixture into a large glass measuring cup with a pouring spout. Divide mixture evenly among 6 custard cups.
Refrigerate for at least 3 hours or overnight.
To unmold and serve, carefully dip bottom of each ramekin in a baking pan of hot water briefly. Run a thin knife around edge of each ramekin to loosen it from the inside of the bowl. Wipe the outside of the mold dry and place on individual chilled serving plate (topside down). Invert the custard onto the plate and carefully lift off ramekin (shake gently to release). Combine strawberries with sugar and liqueur. Garnish with berries and sprig of rosemary.
Related posts: