"Don't be saucy with me Bearnaise!"
Gotta love Mel Brooks!  The first time that I made this sauce was when I was living down in the Florida Keys with my parents.  I was about 20 years old and we had moved down there because it was my Dad's dream to live in a tropical paradise.  Of course he loved boating, fishing and diving so we did quite a bit of that.  He actually caught a 69 lb. dolphin and made the paper.  (For all of you who aren't from the Keys – by "dolphin" I mean the fish.  Mahi Mahi is the other name for it.)
When you have that much fish to work with you have to come up with creative ways to cook it.  One of our favorite ways was blackened with Bearnaise Sauce.  OMG!  If you haven't tried that, someday you must!!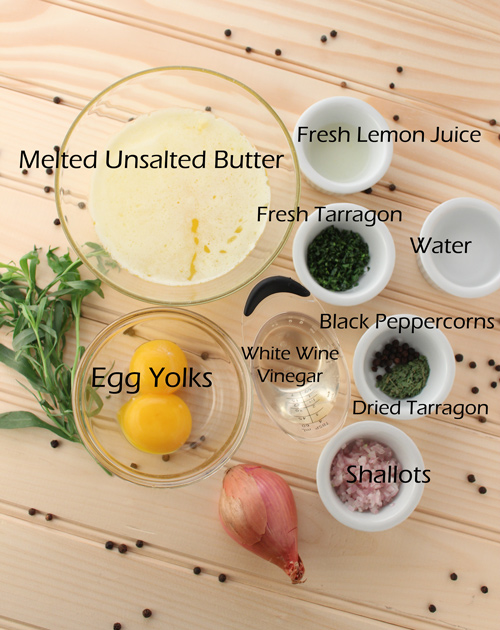 I was on my way to becoming an accomplished cook so I knew that this recipe was something I just had to get down.  Unfortunately for me, it took a little longer than I expected.  Extremely determined, after three tries ending in broken sauce and a lot of wasted butter, 🙁 I finally got it! 🙂
On the fourth try I had the sauce that I was looking for.  Creamy, savory and luscious!  The perfect accompaniment to our blackened fish.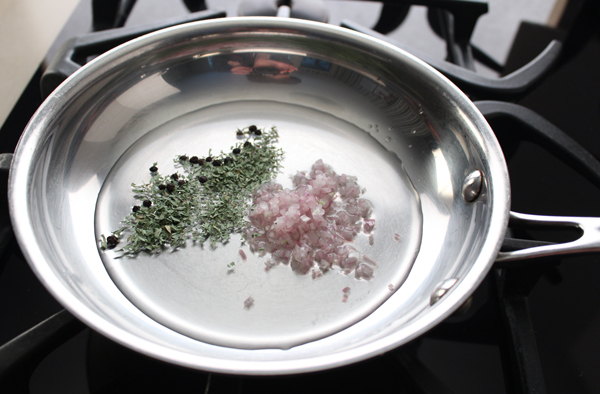 It starts with a reduction of white wine vinegar, shallots, dried tarragon and black peppercorns.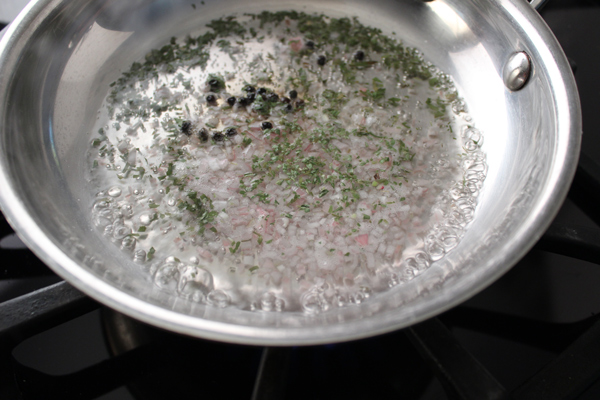 Be sure to get it simmering pretty quickly, but, keep an eye on it.  The idea is to get it au sec or "nearly dry."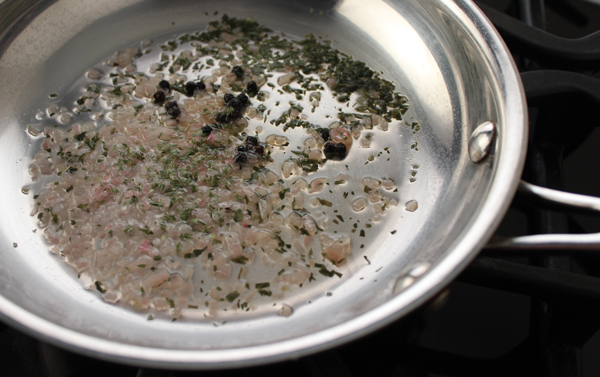 This really concentrates the flavors and make a great base for the sauce.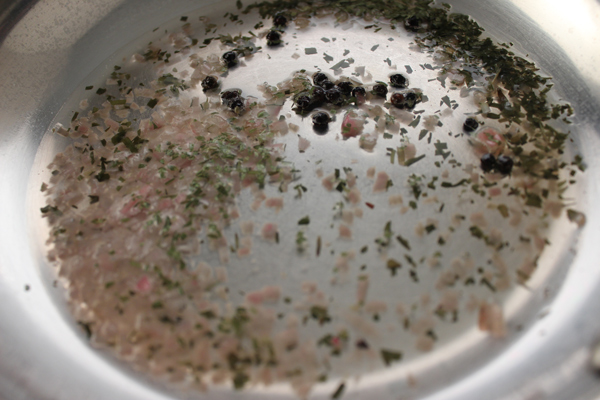 Water is added to reconstitute the reduction and…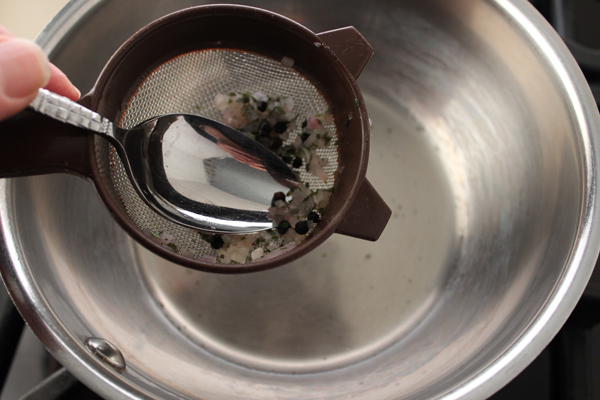 …then it gets strained through a fine mesh strainer to remove the solids.  Solids – especially black peppercorns do not a creamy sauce make.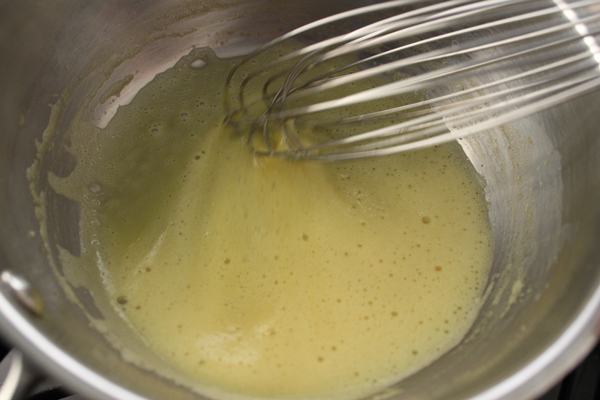 Next you need to whisk in the egg yolks and place over a double boiler.  Please DO NOT put this directly on the heat of the stove.  You'll definitely end up with scrambled eggs.  Another tip is – keep whisking and watch your heat.  The water in the pan below should be simmering NOT boiling or else the eggs could seize up – (try #1 for me.)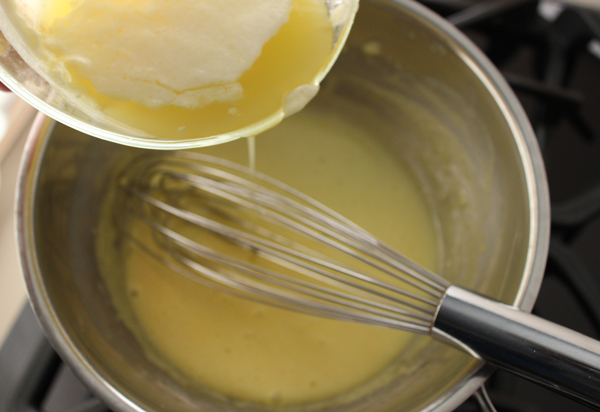 Once the yolks have thickened up a bit you can begin adding the butter.  Be sure to add it slowly while constantly whisking.  Too much at once and the sauce will begin to separate (try #2 for me.)
When all of the butter is incorporated and the sauce is thickened and smooth be sure to turn off the heat.  You can keep the sauce warm over the double boiler, however, if you keep the water simmering for too long and the pan gets too hot the sauce will break (try #3 for me) so be sure to use the smallest burner you have.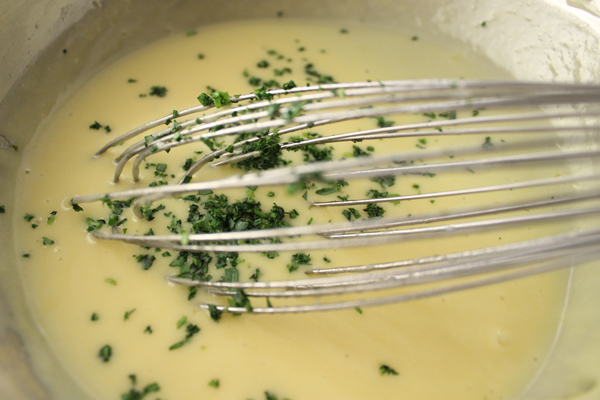 Now you can add in the fresh tarragon.  It's always a good idea to add the fresh herbs at the end so that they keep their color and taste.  Also, add the fresh lemon juice to brighten the sauce and some salt and pepper to taste.  M-m-m-m!!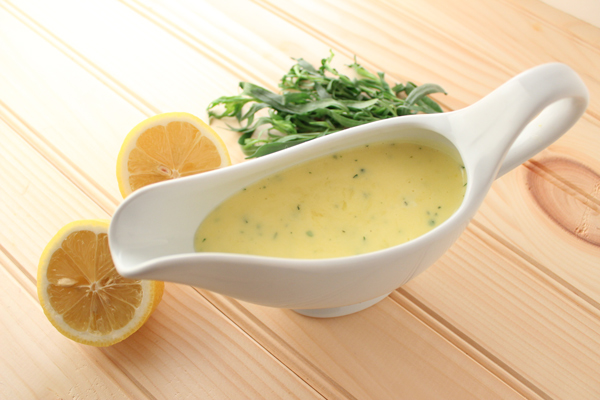 Finally!  A smooth, creamy, savory, luscious sauce that would be a brilliant accompaniment to any fish, or meat, or vegetable, or rice, or…
…You get the picture 😉  A sauce that would make any King happy – "It's good to be the king."  I think Mel would approve.
Just be sure to use it all up though.  It doesn't do well as a leftover.  Like there would ever be any leftover, LOL!
Print
Bearnaise Sauce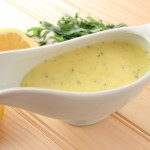 A creamy, savory, luscious sauce to accompany meats and vegetables.
Author:

Cathy Speronis

Prep Time:

10 mins

Cook Time:

15 mins

Total Time:

25 minutes

Yield:

1 cup

Cuisine:

French
Ingredients
1/4 cup white wine vinegar
1 Tbsp. minced shallot
1/2 tsp. dried tarragon
1/4 tsp. black peppercorns
2 Tbsp. water
2 egg yolks
12 Tbsp. unsalted butter, melted and slightly cooled
2 tsp. chopped fresh tarragon
1 tsp. fresh lemon juice
salt and pepper to taste
Instructions
Place the white wine vinegar, shallot, dried tarragon and black peppercorns in a small saute pan. Bring to a fast simmer over medium heat and cook until the vinegar is reduced and pan is almost dry. There should be about a teaspoon of liquid left.
Remove from the heat, add the water and strain through a fine mesh strainer over the top part of a double boiler pressing on the solids to remove all liquid.
Add the egg yolks and whisk to combine.
Bring an inch of water in a double boiler to a boil and reduce heat to low keeping at a low simmer.
Place the pan with the yolk mixture over the bottom part of the double boiler and whisk constantly until the mixture begins to thicken. Keep an eye on the heat to be sure that the water in the bottom does not boil. If it seems to be getting too hot, remove from the heat for a moment to cool down.
When the mixture has started to thicken slowly add the melted butter constantly whisking to keep the sauce in suspension.
After all of the butter has been added and the sauce is smooth and thick turn off the heat.
Add the fresh tarragon, lemon juice and salt & pepper to taste.
Notes
The sauce can be held in the double boiler over low heat preferably over the smallest burner.
Related posts: