Certain things can always take us back to childhood. Chocolate Frosted Vanilla Cupcakes are one of those things for me and my family.

Vanilla and Chocolate
This cake brings back memories from when I was a kid. Moist, golden, tender cake layered and frosted with a rich, creamy, dark chocolate frosting. A classic that was always the star of someone's birthday every year. A cold glass of milk on the side was always a must!

Fast Forward but Still Looking Back
It is truly amazing how smelling and tasting something from the past can bring back vivid memories. Classic Yellow Cake Mix by Duncan Hines was always a staple in our cupboard. When there was a special occasion to be celebrated our Mom was always prepared to bake a cake. She always and still does in fact have quality chocolate on hand as well. To make a Good Chocolate Frosting you need Good Chocolate.

Chocolate Frosted Vanilla Cupcakes
Now that I am married (almost 25 years) with two children (who are, and about to be college bound) I have put my own spin on the recipe. The cake is made from scratch and adding just a bit of chocolate enhancer (aka salt) to the frosting intensifies the chocolate flavor. Making cupcakes instead of cake makes the whole process a little easier and quicker too.  Who wants to wait for an entire cake to cool? Not Me! LOL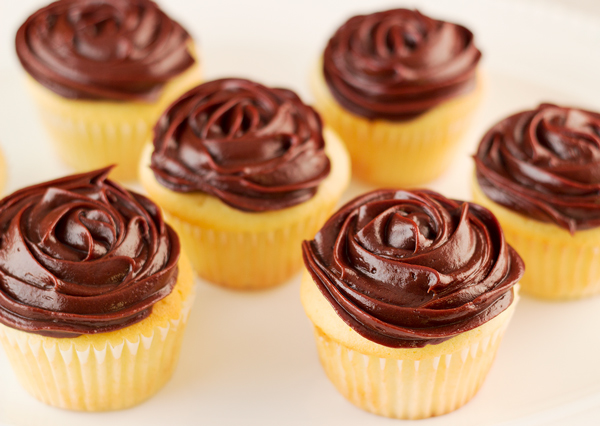 The Best Memories
Happy childhood memories are truly special. One bite of these Chocolate Frosted Vanilla Cupcakes instantly transports me back. I even recall asking my Mom for the candles from the cake so that I could lick the frosting off of the bottoms. That frosting! OH THAT FROSTING!
If you really want to go into chocolate overload then be sure to check out this recipe for Fudge Brownies!
Print
Chocolate Frosted Vanilla Cupcakes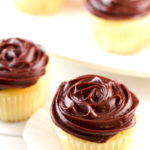 Tender, Golden Cupcakes with a Rich & Creamy Chocolate Frosting
Ingredients
For the Cupcakes:
2 cups cake flour

1/2 cup all-purpose flour

1 3/4 tsp. baking powder

3/4 & 1/8 tsp. salt

6 Tbsp. unsalted butter, softened

2 Tbsp. vegetable oil

1 1/4 cups granulated sugar

3 large eggs at room temperature

1 1/2 tsp. pure vanilla extract

1 cup milk

For the Chocolate Frosting:
1 cup heavy cream

1 1/4 cups granulated sugar

5 oz. unsweetened chocolate, chopped

8 Tbsp. unsalted butter

1 tsp. pure vanilla extract

pinch of sea salt
Instructions
Preheat oven to 350°F.

Line 19 standard cupcake holders with cupcake liners; set aside.

In the bowl of a stand mixer cream the butter, oil and sugar until light and fluffy. About 5 minutes.

Sift the flours, baking powder and salt into a medium bowl and set aside.

When sugar and fats are creamed scrape down the bowl, put the mixer on low speed and add the eggs one at a time. Scrape down bowl as needed.

Add the vanilla extract and mix briefly.

Add in the flour mixture and the milk alternately starting and ending with the flour.

Scrape down bowl.

Beat batter on medium for about 1 1/2 minutes.

Divide batter evenly among the 19 cupcake liners.

Bake in center of oven until toothpick inserted in centers of cupcakes comes out clean.

Remove cupcakes from oven and allow to cool completely before frosting.

Meanwhile prepare the frosting:
In a 2 quart saucepan pour the heavy cream.

Pour the sugar directly in the center of the cream. Use a knife or spatula to mix the sugar into the cream starting from the center and being careful not to allow any sugar granules to get on the sides of the pan.

Once the sugar is all moistened, place pan over medium-high heat and bring mixture to a boil.

Lower heat and allow to simmer for 6 minutes without stirring. Keep an eye on the cream mixture to prevent it from boiling over.

When the 6 minutes is up use a clean spatula to scrape down the sides and ensure that all of the sugar is dissolved.

Remove from heat, add in the chocolate and the butter.

Add in the pure vanilla extract.

Mix with a whisk until smooth.

Frosting can be placed in a bowl set over ice so that frosting will cool quicker. Be sure to scrape the frosting up from the bottom and mix every so often.

Allow frosting to cool enough to be spreadable and hold a shape.

Frost the cooled cupcakes and serve.

Refrigerate any remaining frosting.
Related posts: