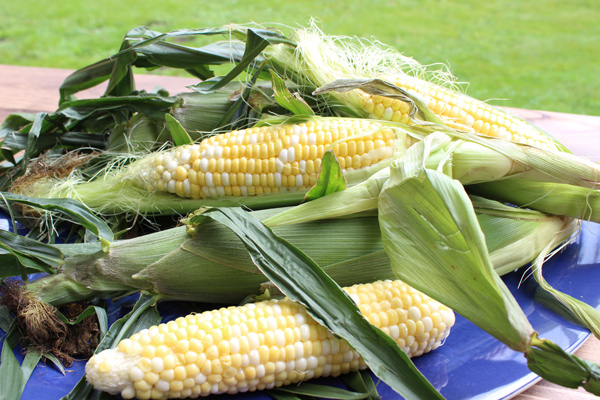 It's time for some "Sweet Corn".  Oh Yeah!!  Nothing says summer like sweet, freshly picked corn on the cob!  But why stop there??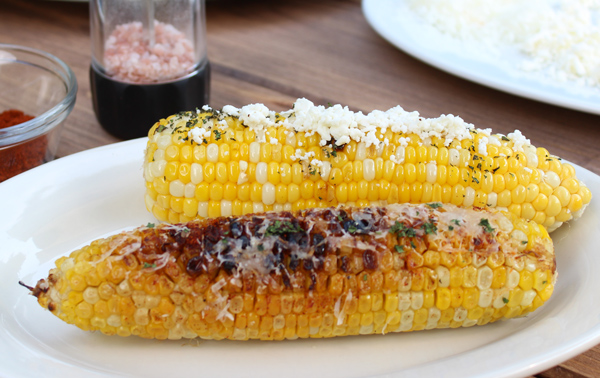 Turn that corn into something even more tasty – Gourmet Grilled Corn!  Grilling corn really brings out it's sweetness.  Adding salty/savory toppings adds contrast to that sweetness.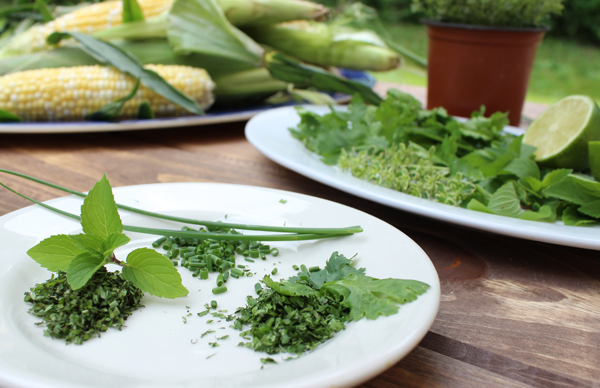 And, don't forget those fresh herbs growing in your garden.  That bit of freshness takes it over the edge.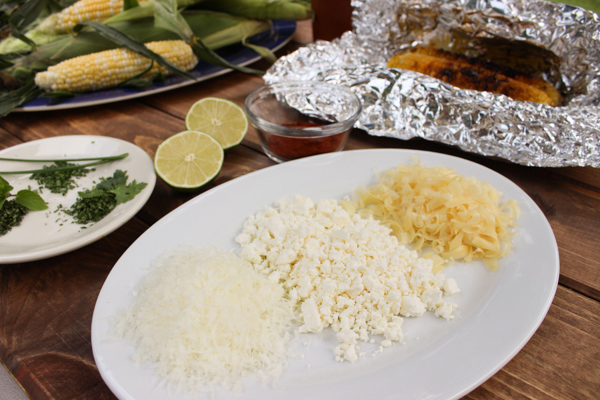 I love using different herbs, spices and cheeses to top corn on the cob.  But, I never toss the butter aside!
I melt the butter and brush the cobs with it!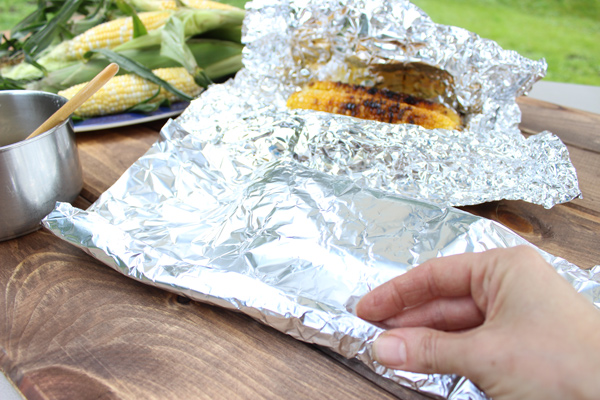 The buttered cobs get wrapped in heavy duty aluminum foil.  Be sure to keep the folds on the sides as it will be flipped a few times during cooking.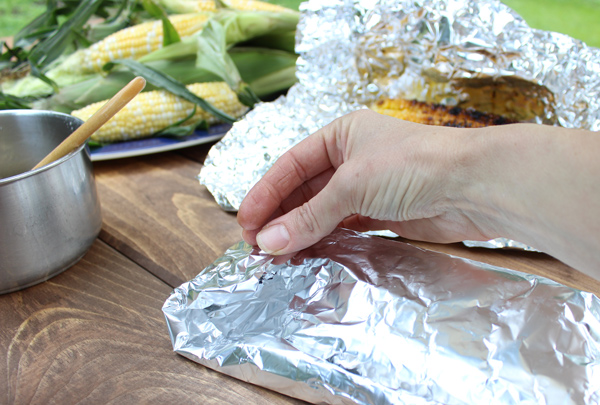 Be sure to wrap and seal well.  This prevents the butter from running out and traps the juices from the corn which will turn to steam and keep the corn from drying out.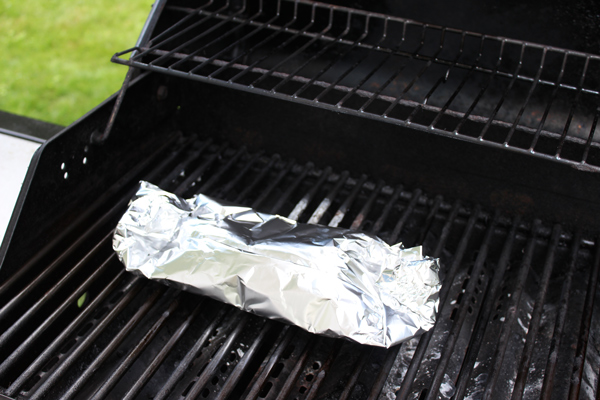 The grill is preheated to medium and the packet is placed on the grates.  The packet is flipped during cooking to ensure even cooking and charring of the kernels.  When the corn is tender and the kernels are beginning to char it's time to add the toppings.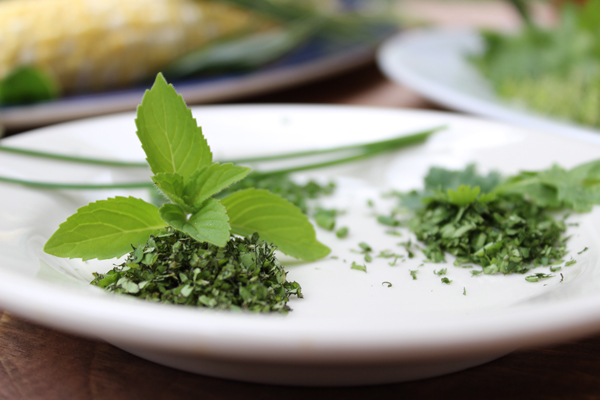 Use fresh herbs such as oregano, cilantro, and chives.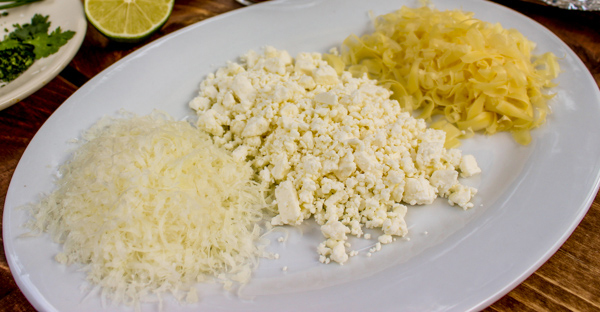 Cheese toppings can be whatever you prefer.  Just remember that if you are using a very salty cheese, hold back on the salt at the end.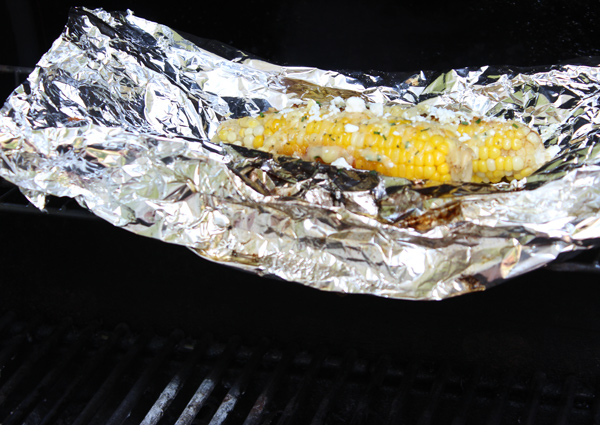 After topping the corn with herbs and cheese, place the open packet on the cooler part of the grill until the cheese is melted.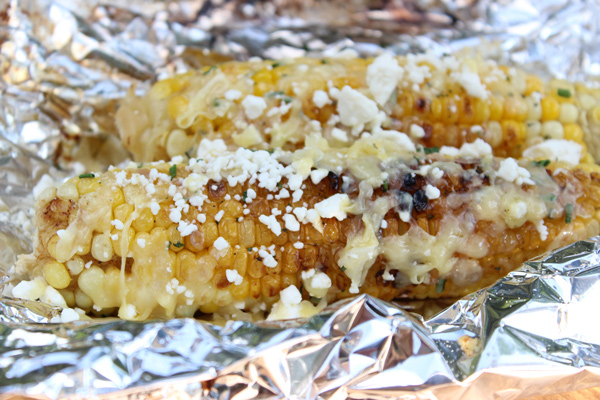 Season with salt if needed and enjoy!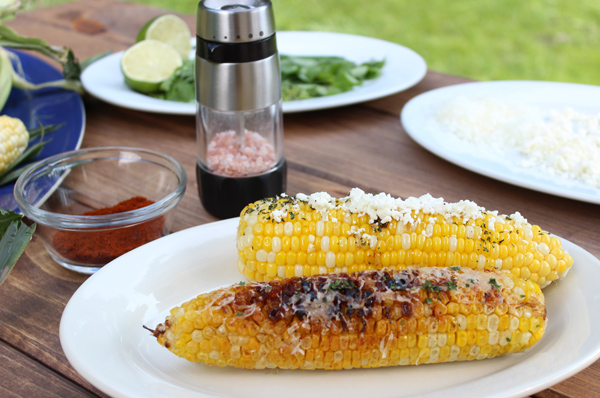 Corn on the cob transformed into Gourmet Grilled Corn.  Now that's some Tasty Sweet Corn!
Print
Gourmet Grilled Corn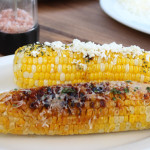 Grilled Sweet Corn with Savory Toppings
Author:

Cathy Speronis

Prep Time:

10 mins

Cook Time:

10 mins

Total Time:

20 minutes

Yield:

8 servings
Ingredients
8 ears of fresh sweet corn, cleaned
4 Tbsp. unsalted butter
Chili powder to taste (optional)
Fresh oregano, cilantro and/or chives, finely chopped
Crumbled Feta, grated Parmesan and/or Manchego cheese
Himalayan Sea Salt to season
Instructions
Preheat outdoor gas grill on medium for 10 minutes.
Place two cleaned corn cobs on a piece of heavy duty aluminum foil.
Brush the cobs completely with some of the melted butter.
Seal all sides of the packets.
Place packets on preheated grill.
Cover and cook for 10 – 15 minutes, turning every 5 minutes until kernels are tender and starting to char.
Open packet, top with chili powder, herbs and cheese, then place opened packet on cool side of grill to melt the cheese.
Serve with salt to season if needed.
Related posts: