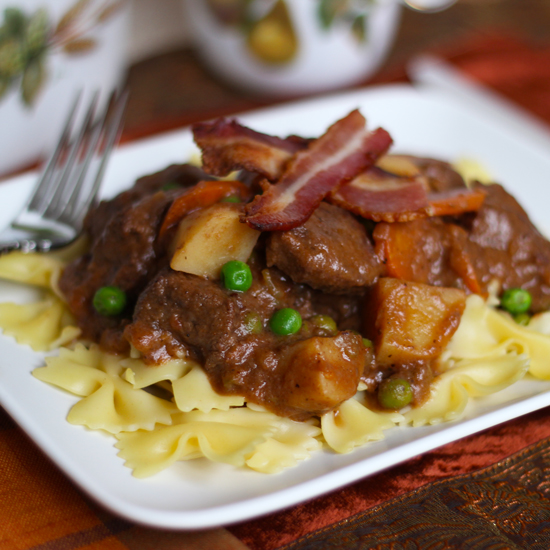 Nothing says fall like Hearty Beef Stew!
Last week my friend Lourdes and I visited a dairy farm in Charleston, Maine.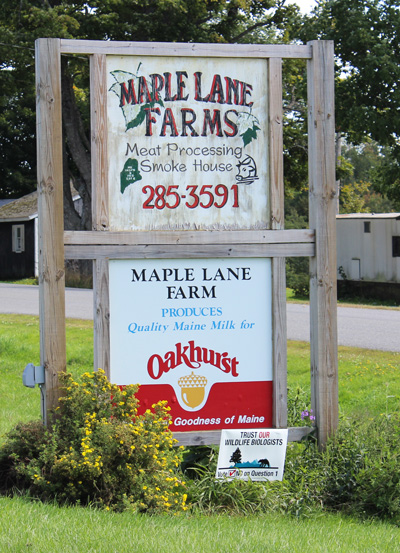 Maple Lane Farms offers a wide range of top-quality natural meats.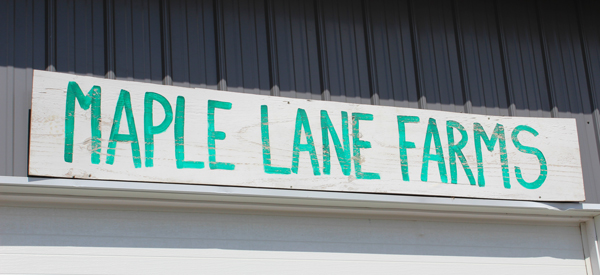 They are family-owned-and-operated and have been at the same location since 1935!  Not only can you get some of the best aged beef in the state, but, they carry an assortment of pork in a wide variety of cuts.  They also offer meat and game processing if you are in the need.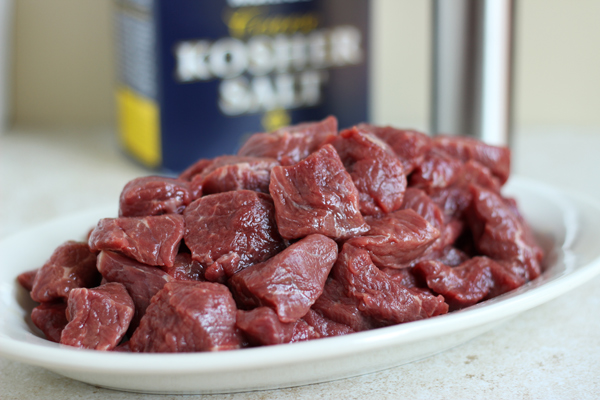 I purchased a few pounds of beautiful stew meat.  It had been freshly packaged and I could tell by looking at it that it was high-quality and just the thing I needed for a tasty stew.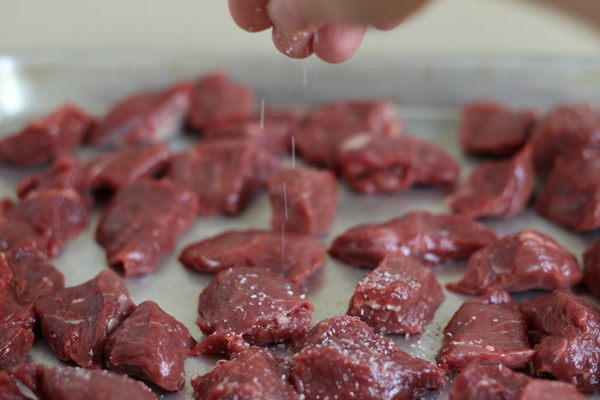 Seasoning the meat before flouring is important because it ensures that you will get just the right amount.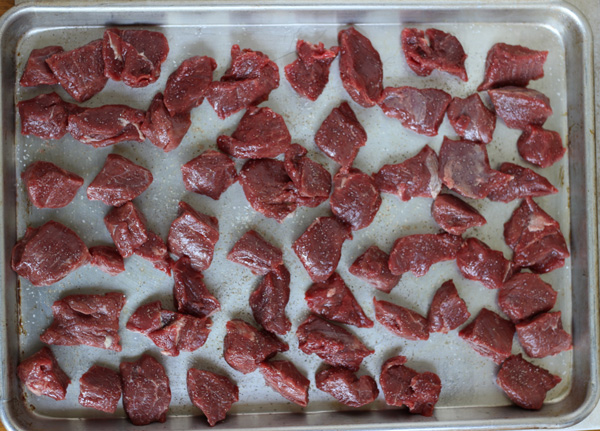 I find that laying it out on a rimmed baking sheet makes the job a lot easier and less messy on my counter.  Not saying that I don't get messy in the kitchen sometimes.  Hey!  It happens to the best of us.  😉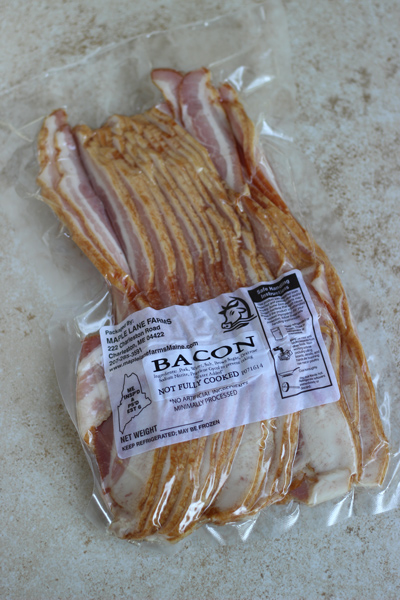 The bacon at Maple Lane Farms is also incredible.  They have their own state of the art smoking facility where they Hickory smoke their products.  "Not too salty, mildly smoked and sweet to the pallet."  I would strongly agree with that statement.  YUM!!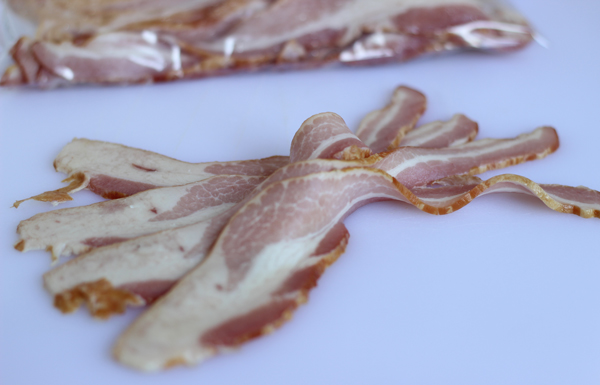 Bacon anyone?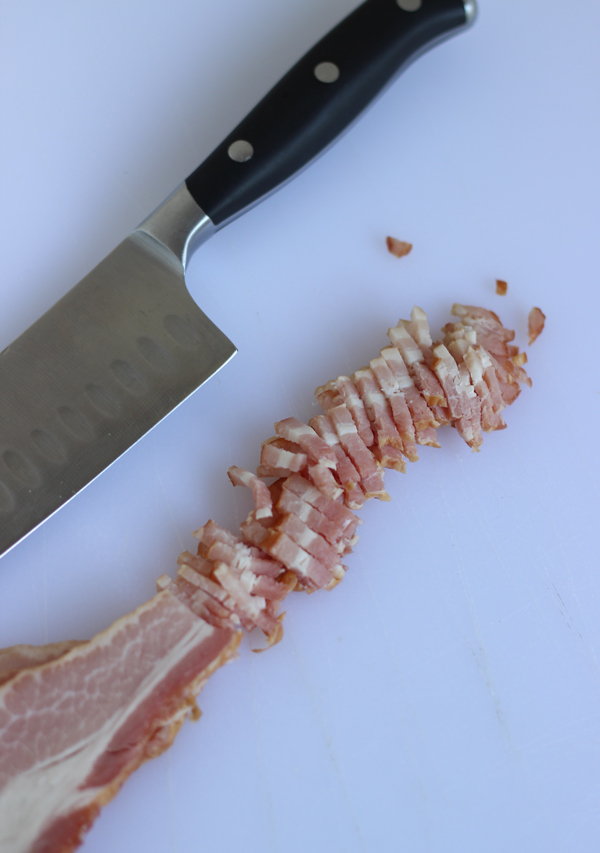 You'll need just 4 strips for the recipe and julienne them with a good sharp knife.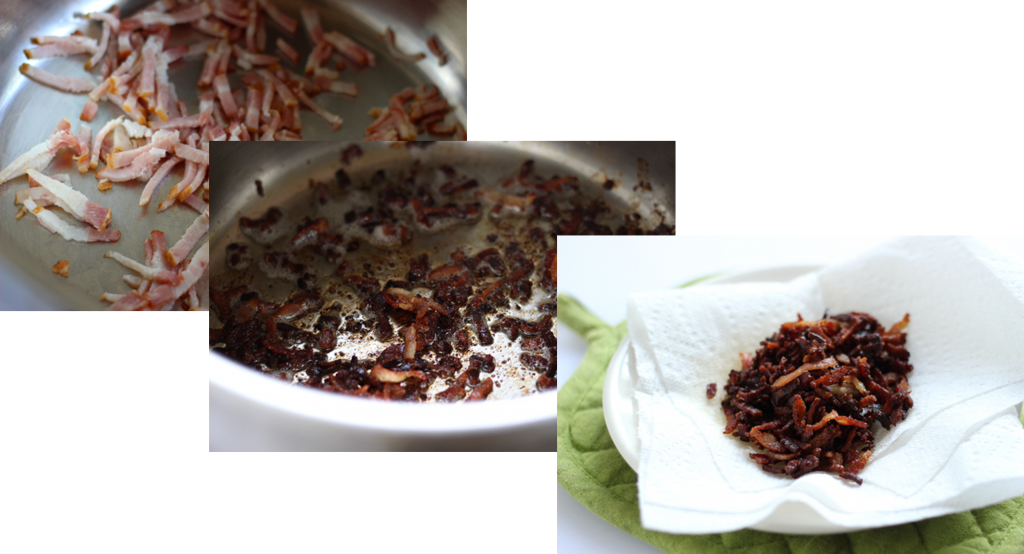 The bacon is used to add some fat and flavor.  It also creates a base for the "fond" – all those tasty bits at the bottom of the pan, and some crunchy add-ins to serve the stew with.  This recipe just keeps getting tastier by the minute! 🙂
Rimmed baking sheets are good for flouring and allow you to spread the pieces out.  Also, keeps the flour off the floor- oops!
A bit of olive oil can be added to the pan if you don't have enough bacon fat.  Be sure to use regular, EVOO has a low smoking point.  Brown the stew meat on both sides flipping them when they have color.  This adds so much flavor!  It also helps build up the fond – TA-STEE.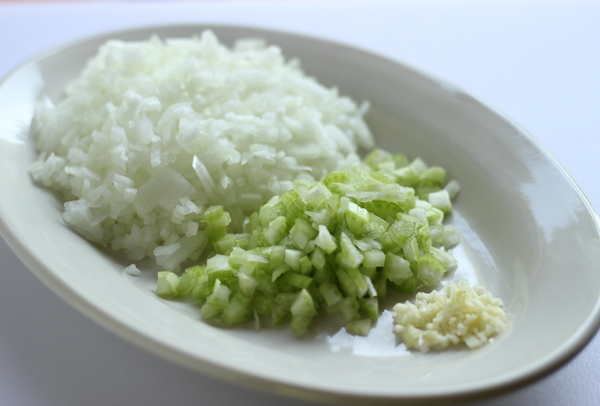 Here the aromatics (onion, celery and garlic) are finely chopped.  The garlic gets added to the pot after the onion and celery have softened a bit.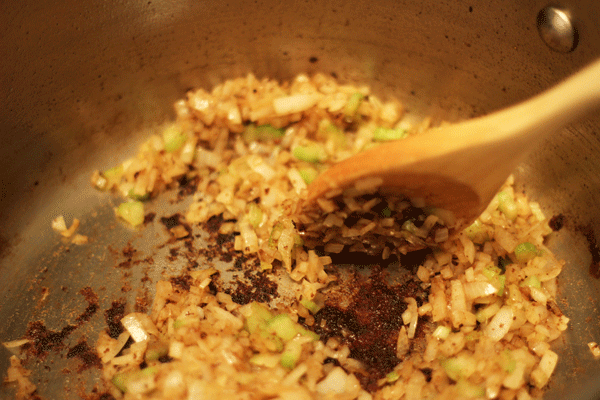 Garlic cooks faster and you don't want it to get too dark or it will turn bitter.  The aromatics are a nice way to deglaze the pot.
Know what's even nicer to use for deglazing?…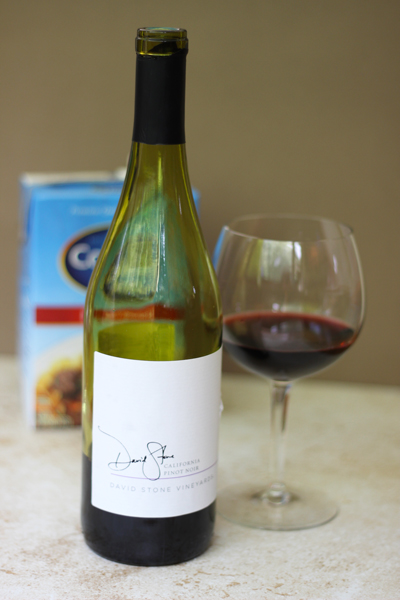 Red Wine of course!  Make sure you use a good one.  One that you would drink from a stemmed glass.  No screw tops please!  (Looks like I may need to get some more.)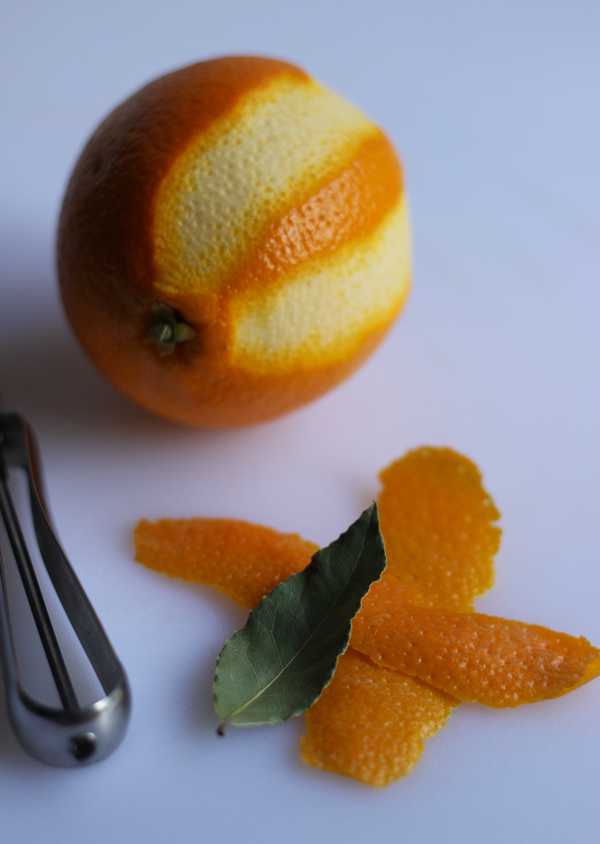 The flavors just keep coming.  Orange peel and bay leaves.  Unusual – maybe.  Tasty – Oh Yeah!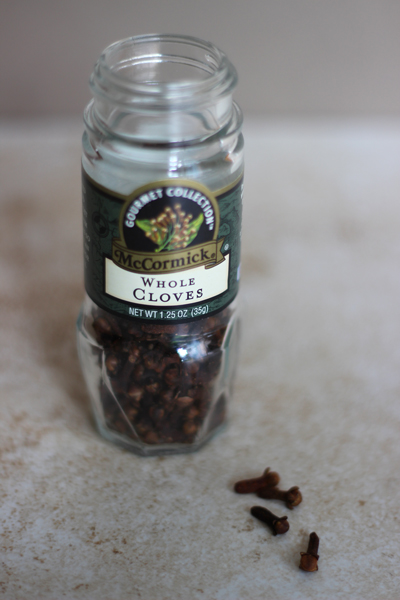 And whole cloves.  Can't forget the cloves!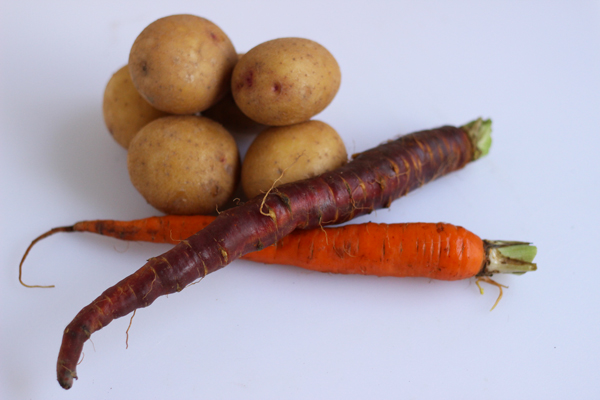 I had picked up some stunning organic rainbow carrots and potatoes from Fail Better Farm during my last trip to the Bangor Farmers' Market.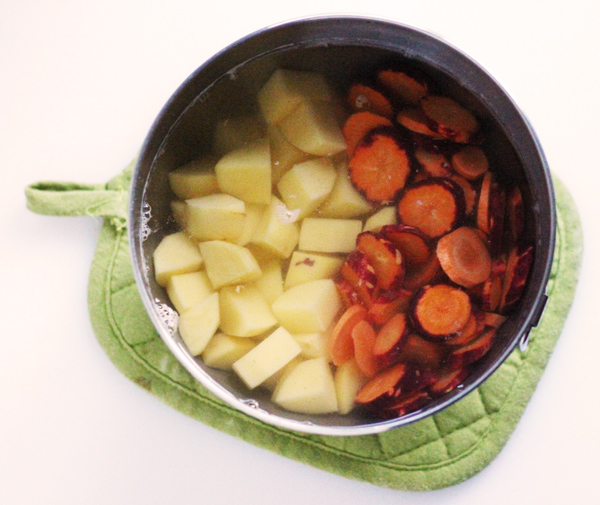 What better roots to add to the stew?  If you  prep them ahead, which I highly suggest, just put them in a bowl and cover with cold water.  It will keep them from drying out and turning brown.  I know, I know – the stew is brown anyway, but, it's all about quality here.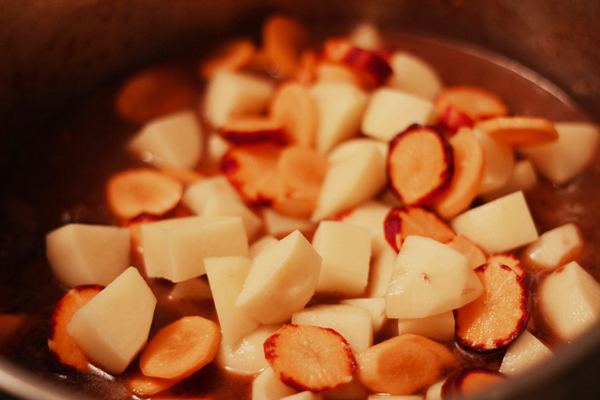 Those get added towards the last half hour of cooking and the peas last.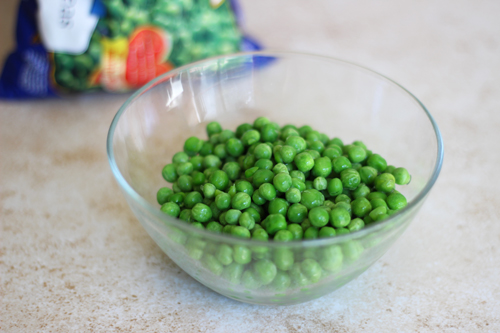 Just enough to cook them a bit and heat them through.  You'll want to preserve that bright green hue!  Pretty!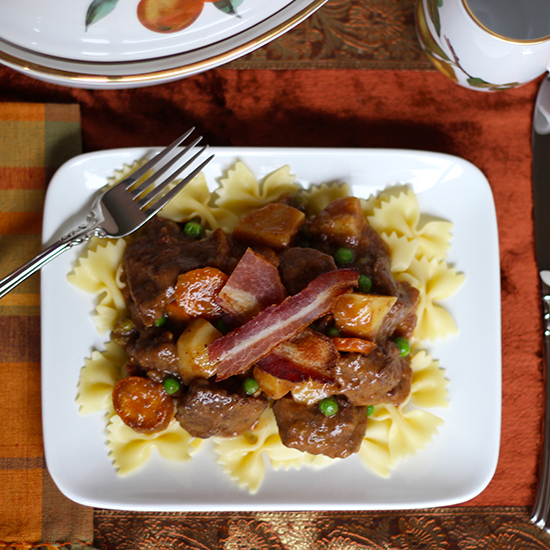 Voila!  Hearty Beef Stew.  Warm, comforting, DELICIOUS!  Serve it over some broad egg noodles or Farfalle (pictured here) and then top it with some of that fantastic bacon.
Oh Fall, how I love thee!  Time to eat!!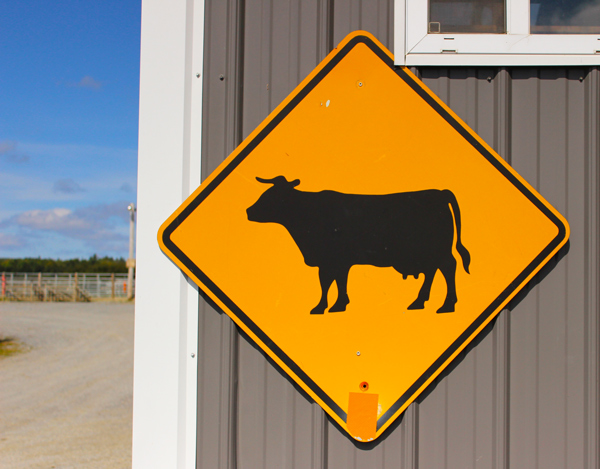 If you are looking for some top quality meat make sure to search out a meat farm near you.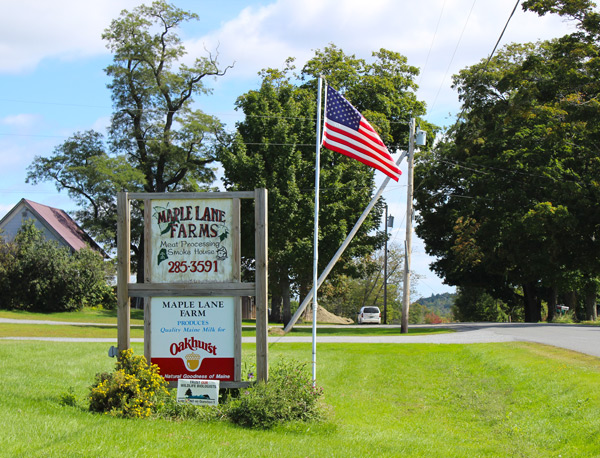 If you're in Maine and close enough, take a trip to Maple Lane Farms in Charleston.  It is well worth it.
H-m-m-m,  I think I need to go make some of my Coconut Cream Pie for dessert.  😉
Print
Hearty Beef Stew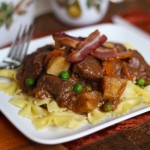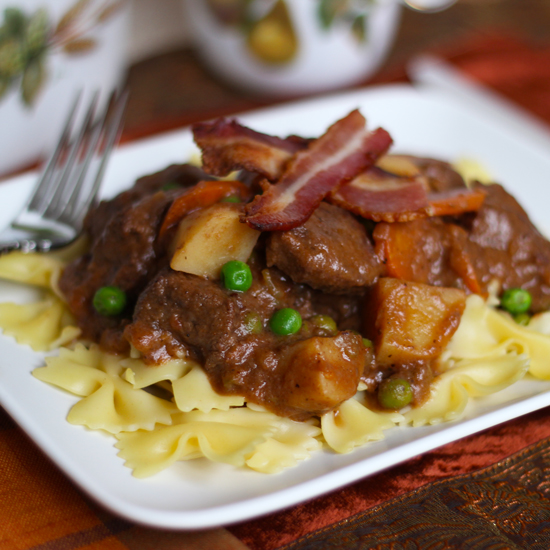 Warm, hearty Beef Stew is the perfect dish for a fall day. Serve with some pasta and a slice of crusty whole-grain bread.
Author:

Cathy Speronis

Prep Time:

20 mins

Cook Time:

3 hours

Total Time:

3 hours 20 minutes

Yield:

8 servings

Category:

Supper

Cuisine:

American
Ingredients
2 lbs. boneless beef round or stew meat
2 tsp. kosher salt
1/4 tsp. fresh ground black pepper
1/2 cup all-purpose flour
4 slices bacon, julienned
2 Tbsp. olive oil
1 1/2 cups chopped onion
1/4 cup chopped celery
2 medium garlic cloves, minced
1 cup dry red wine
1 1/2 cups beef broth
1 cup tomato sauce
2 1″ strips orange peel
1 bay leaf
4 whole cloves
2 carrots coarsely chopped
2 large (or 6 small) yellow potatoes, peeled and cubed
1 cup frozen green peas, thawed
1/2 lb. farfalle or egg noodles cooked according to directions
Instructions
On a large rimmed baking sheet season the beef with kosher salt and pepper. Flour well, shaking off excess and set aside.
In a large dutch oven cook the bacon pieces over medium-high heat until well browned and crisp. Remove and drain on paper towels.
Add 1 Tbsp. of olive oil to the pot if dry. Add floured beef and cook on all sides until browned. Remove from pot, set aside and continue cooking the remaining beef in batches adding more olive oil if necessary.
After all the beef has been browned and set aside, add the onion and celery to the pot. Lower heat and cook stirring and lifting the browned bits off the bottom of the pot.
When the onion and celery are softened add the garlic and cook for 1 minute.
Add the red wine, beef broth, tomato sauce, orange peels, bay leaf and cloves to the pot.
Add the beef back to the pot. Set over a low flame, cover and cook stirring occasionally until meat is fork tender, about 2 – 2 1/2 hours.
When meat is tender add the carrots and potatoes to the pot.
Cook for 20 – 30 minutes until vegetables are tender.
Add the peas and cook for 5 minutes more until peas are cooked and heated through.
Serve over pasta with a slice of crusty whole-grain bread.
Related posts: