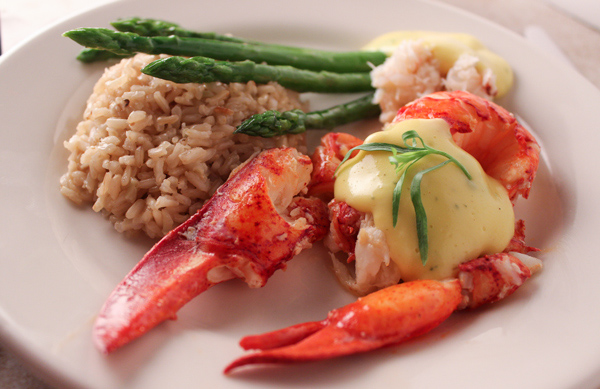 This is one of those dishes that has an amazing WOW factor when served.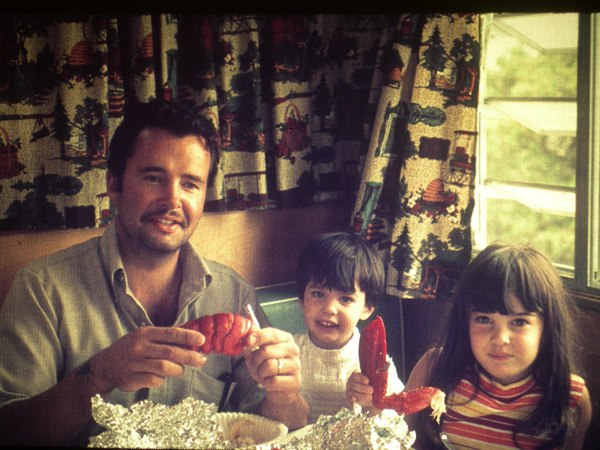 Ever since I was a little girl I can remember coming to Maine on family vacations.  My parents had one of those old truck campers and we traveled everywhere in it.  Whenever they said that we were going to Maine I would get so excited because I knew something very special there was waiting for me – LOBSTER!
When we would stay in Boothbay Harbor we would go to the Lobsterman's Co-op.  When we were on our way to Bar Harbor – Trenton Bridge Lobster Pound.  I loved sitting outside on picnic benches, taking in the scenery, scaring off seagulls and enjoying freshly boiled lobster with melted butter.  Honestly, is there anything better?
You can only imagine my excitement when (many years later) I was able to move to Maine with my husband and two children.  Oh the lobster I would have!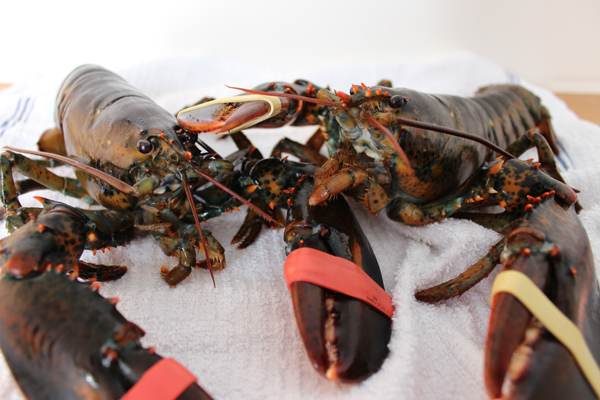 Now, I have heard stories of people "from away" ordering lobsters, having them shipped, and then once receiving them thinking that they have gone bad because they are all blue and green.  Well folks, I'm here to tell you – that IS their natural color (most of them anyways.)  It is not until they are fully cooked that they turn that vivid red color that they are known for.  So please don't be mistaken and tempted to throw them out!  (That has actually happened!) Oh the waste!!!
To fully cook them you will need a large pot of boiling water.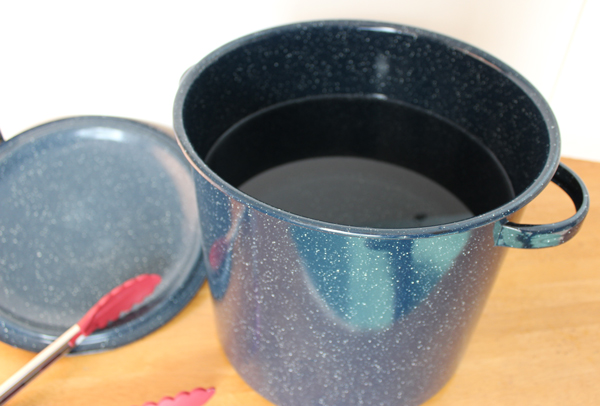 It is really best to have a pot that you use for this purpose only.  It gets a bit "lobstery" after a while.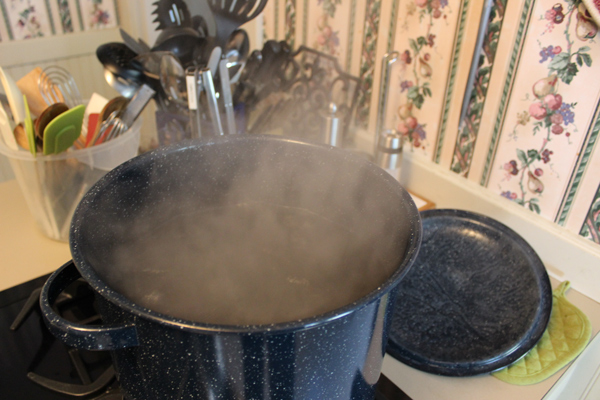 Make sure that it is a full pot of boiling water.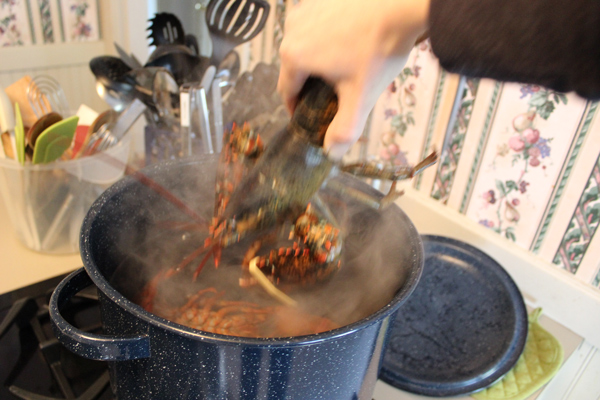 Lobster can be steamed, but, it is a lot faster for them if they are dropped in boiling water quickly.  (You can put them in the freezer for a few minutes to anesthetize them if that makes is easier for you.)
Pop the lid on and set the timer for about 8 minutes per pound. There is a helpful cooking guide on the Maine Lobster Marketing Collaborative's website.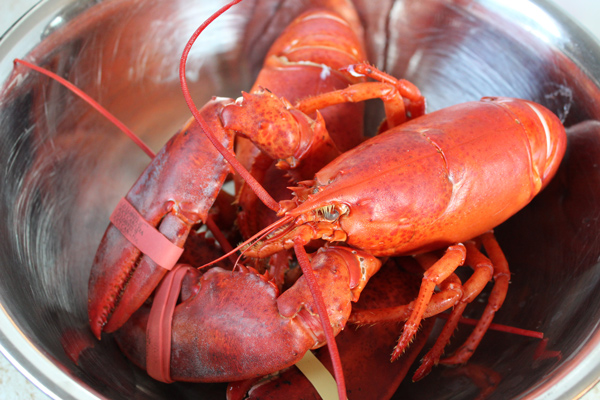 Here they are fully cooked and ready to serve.  Make sure you've got your melted butter ready.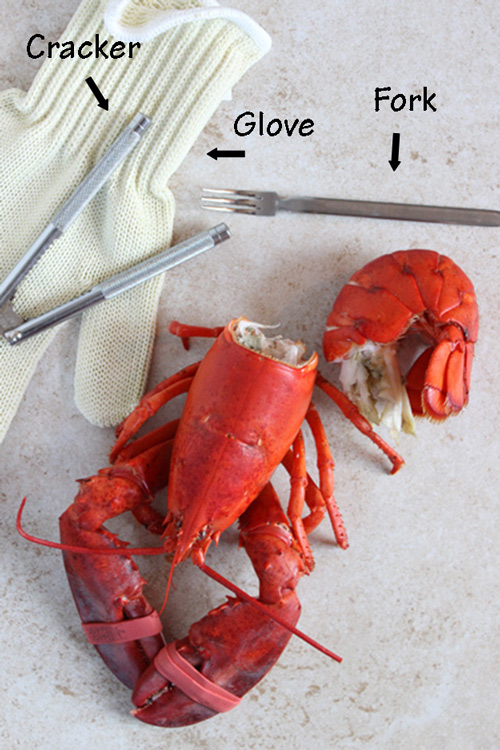 It also helps to have the right tools for the job.  I find a glove makes it a bit more manageable.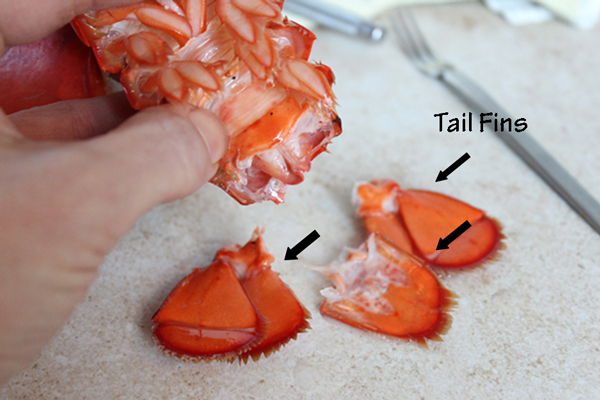 1.  Twist the tail off and remove the tail fins.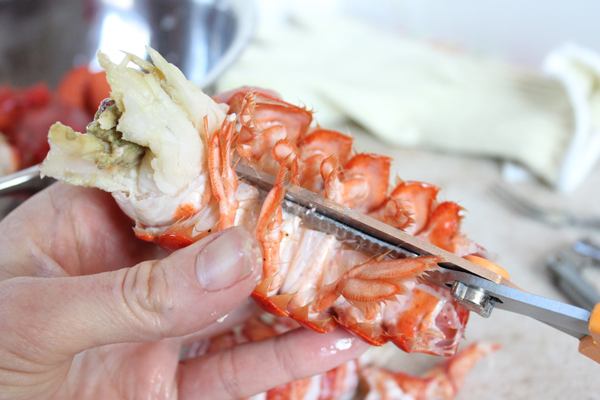 2.  Sometimes you can just push the meat through with your fingers, but, if it is a hard shell use a pair of scissors to cut through the bottom of the tail to release it.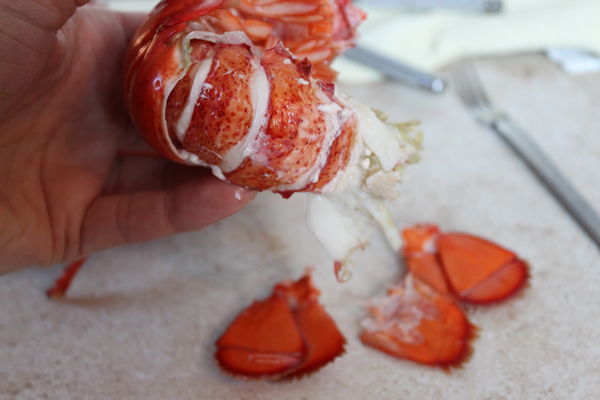 Then it should just slide right out.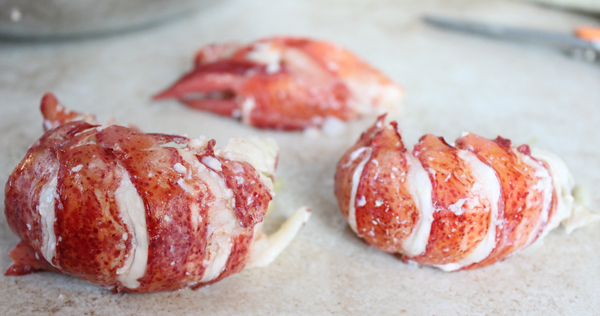 The intestinal tract runs along the back of the tail so…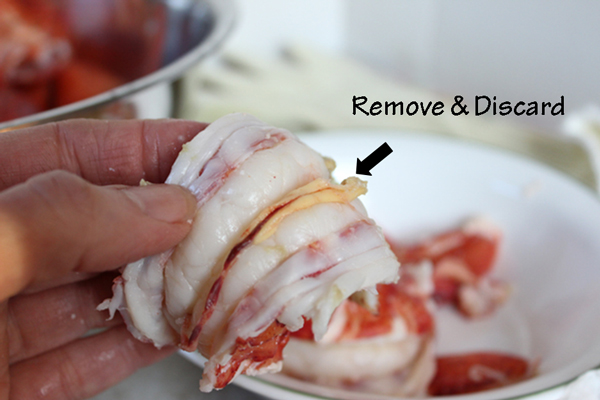 … 3.  Use a knife to cut through the back of the tail and remove it.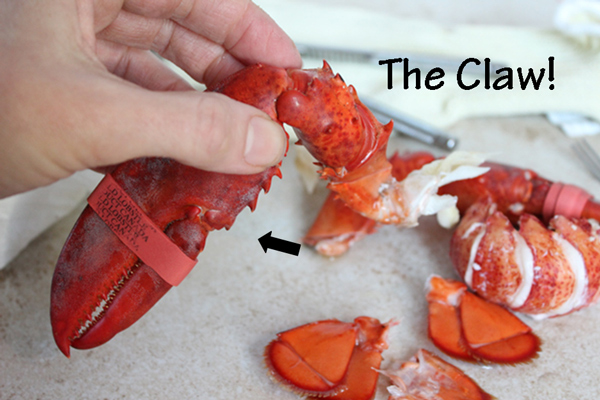 4.  Twist the claws off and drain them.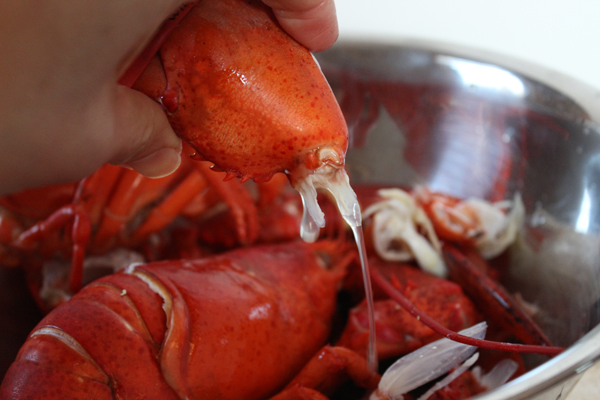 It's a very good idea to have a large bowl for the discarded shells and the liquid.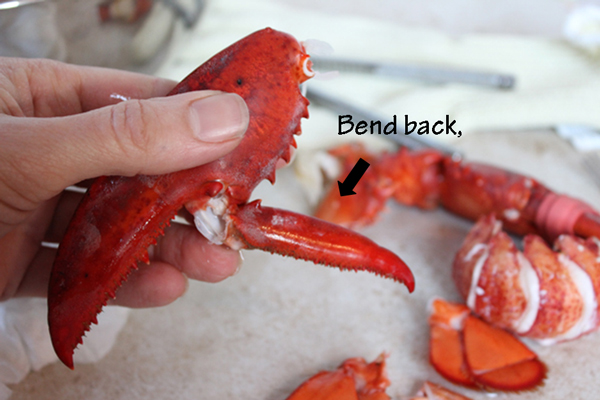 5.  Bend back the bottom of the pincer and remove it.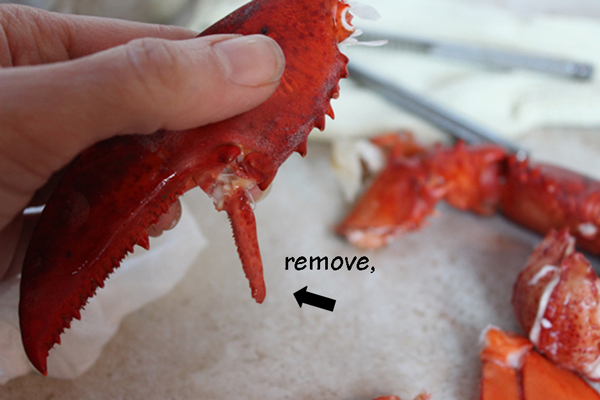 Now you can grab your cracker and…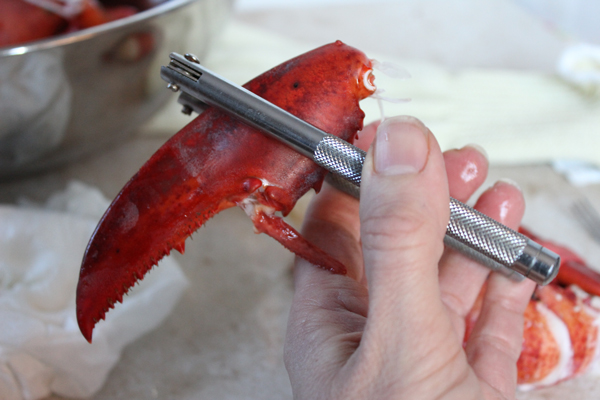 6.  Crack the shell to remove the meat.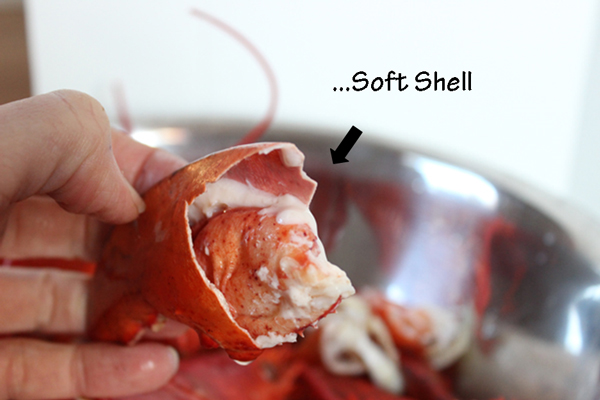 I think the jury is still out on whether hard shell or soft shell is better.  I'll take either!  🙂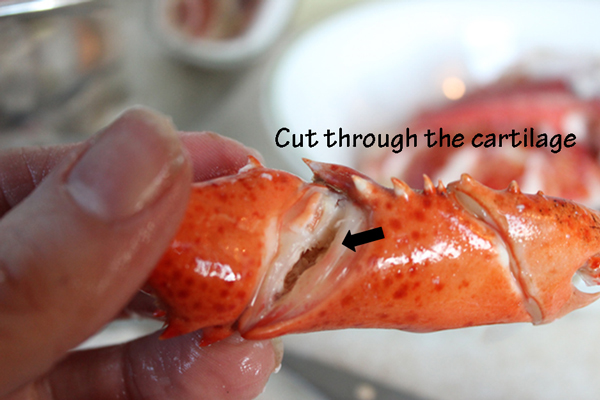 For the knuckles it helps to use a knife to carefully cut through the cartilage in the joints.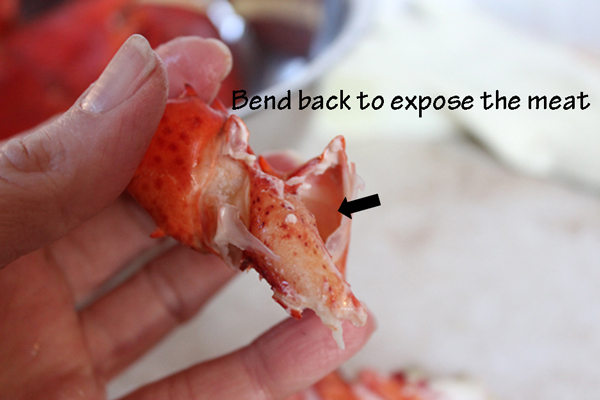 The body has some meat as well as the tiny legs if you are feeling adventuresome.  You can eat as you clean, or clean and then eat or…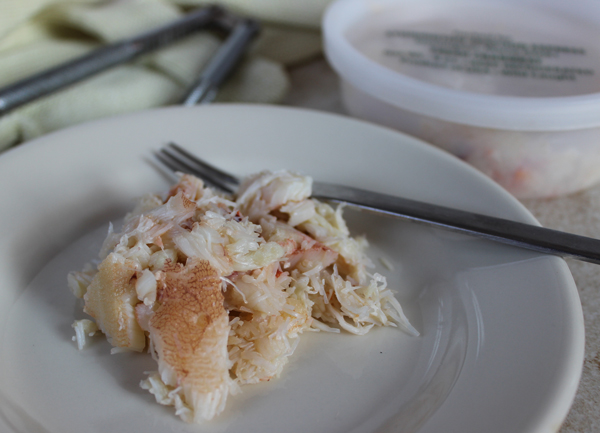 …clean then add some fresh lump crab meat, Bearnaise sauce and asparagus to "Oscar" it up!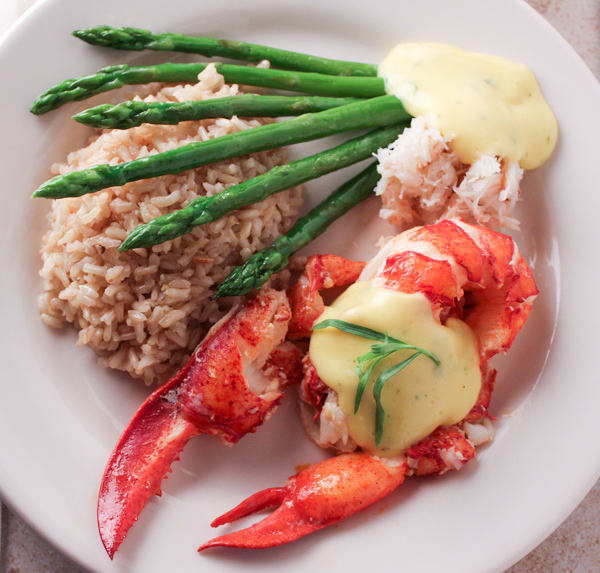 Now we're talking!!  Lobster never had it so good!
If you are "from away" and make a trip to Maine be sure to stop by a lobster pound, take in the scenery and enjoy a freshly boiled lobster.  If you are a native Mainer – lucky you! 😉
Trenton Bridge Lobster Pound was and still is one of my favorite lobster pounds on the east coast.
For a list of other places to buy and eat Maine lobster go to www.lobsterfrommaine.com
For a great pot or a set of Lobster Crackers

Print
Lobster Oscar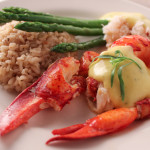 Fresh Maine Lobster with Lump Crabmeat, Asparagus and Bernaise Sauce
Author:

Cathy Speronis

Category:

Supper
Ingredients
4 fresh Maine lobster (of even weight)
Sea Salt
2 Tbsp. unsalted butter
1/2 bunch of steamed asparagus
1/2 lb. fresh lump crabmeat
2 cups cooked rice
1 cup Bearnaise Sauce (recipe link to follow)
Instructions
Bring a large 4-gallon pot of water to a boil.
When the water comes to a boil, stir and add 1 Tbsp. sea salt. Quickly drop the lobster in and cook for 8 minutes per pound. (Cook according to weight of individual lobster NOT the total weight of all lobster.)
When lobster are done, carefully remove from pot and set aside to cool so that they can be handled.
Clean lobster, removing meat and set aside.
When all lobster have been cleaned place butter in large skillet over low heat and melt. Add the lobster meat and gently heat through.
Assemble each plate with lobster meat, top with crabmeat and Bearnaise sauce. Serve alongside cooked rice and asparagus.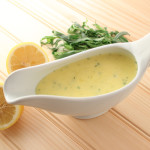 Bearnaise Sauce
Related posts: