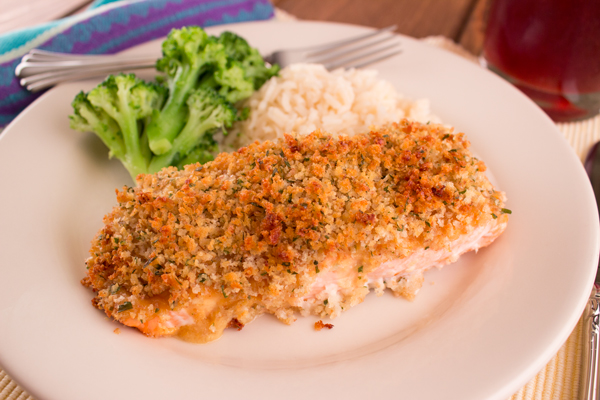 So, anyone who knows me knows that I've been trying to stay fit by working out and eating things that are a bit healthier.  Don't get me wrong, I will never turn down a treat (like a chocolate milkshake or chocolate chip cookies) once in a while, but, there needs to be balance.  This dish is all about that balance.  Beautiful salmon fillets are dressed up and baked in a way that makes them decadent.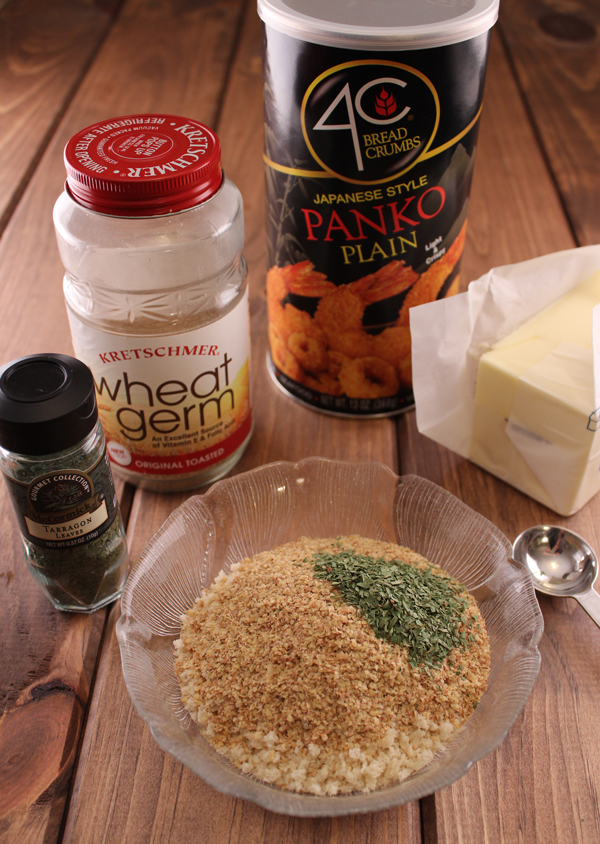 Panko!  It's the best breading choice if you are looking for some "crunch", however, it lacks a bit in flavor so let's add a few ingredients to improve upon that.  Wheatgerm adds a few things – flavor, nutrition and more "crunch!"  Dried Tarragon – if you haven't tried this herb – YOU MUST!  It has a clean flavor reminiscent of anise and pairs perfectly with fish.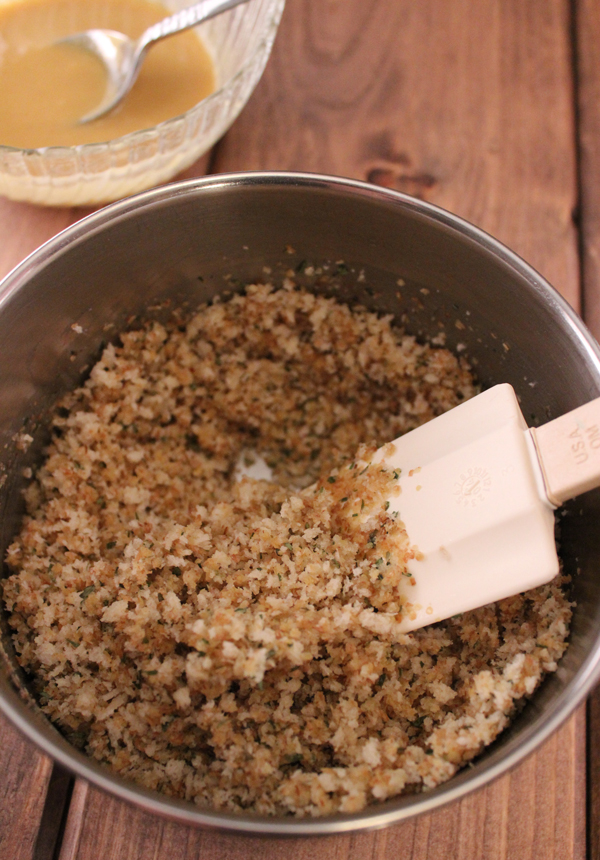 And then there is the butter – unsalted, it's what holds the breading together and helps it to brown.  If you want, you can substitute olive oil.  I'm going for the butter! 😉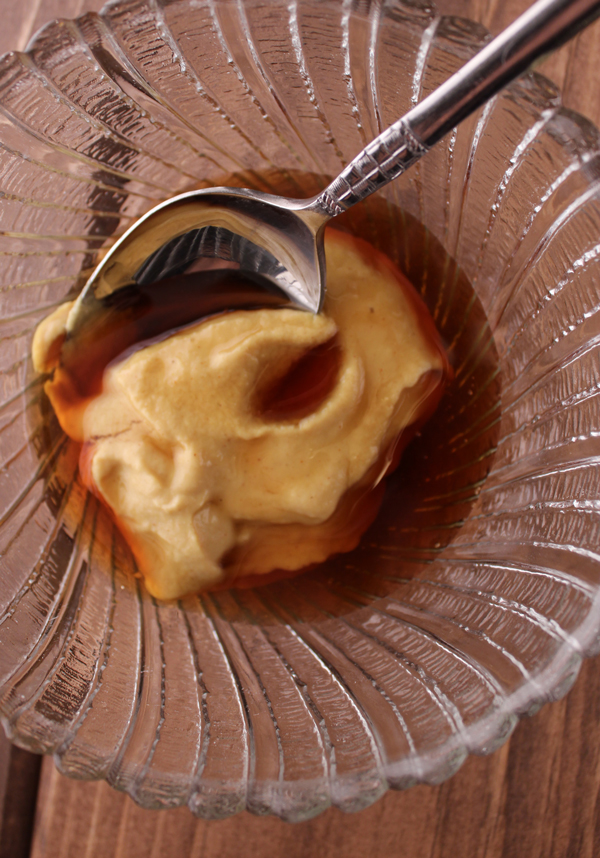 How does that wonderful, crunchy, tasty breading stay on top of the fish?  With some Maple Mustard – M-m-m-m-m!! So easy to make!  A bit of Dijon mustard, some quality maple syrup and…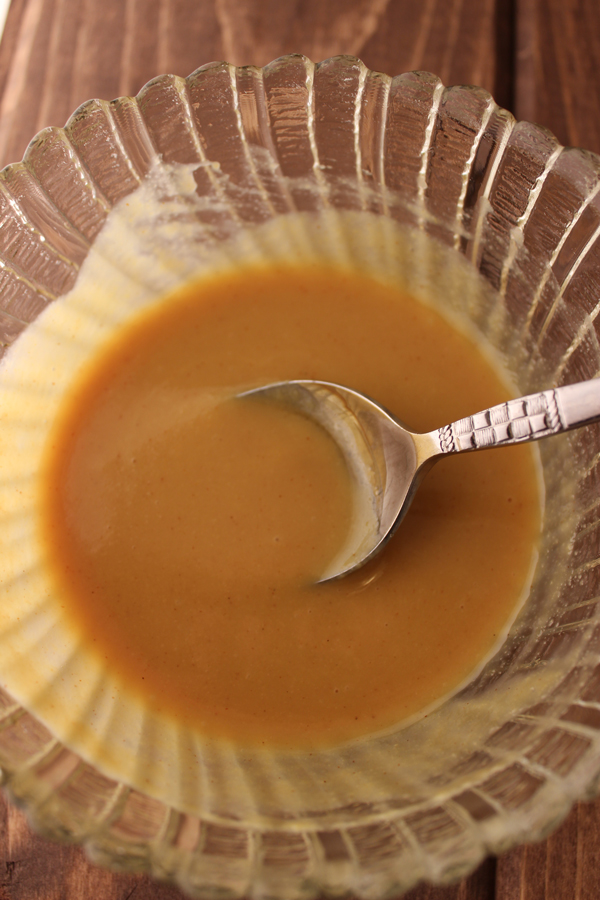 …there you have it!  This could also be used on chicken or as a base for a salad dressing (more posts to come.)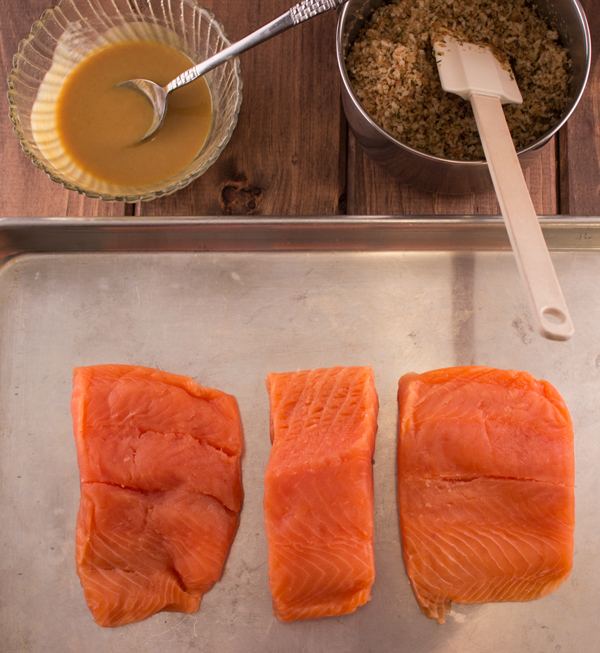 Place the salmon fillets on a rimmed sheet pan.  (BTW – you're not seeing things. There are only three fillets – the recipe says 4. My daughter doesn't like salmon so I only made three.)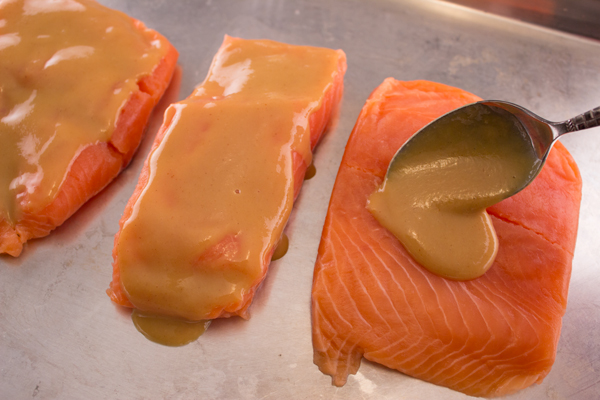 Coat them thoroughly with that Maple Mustard.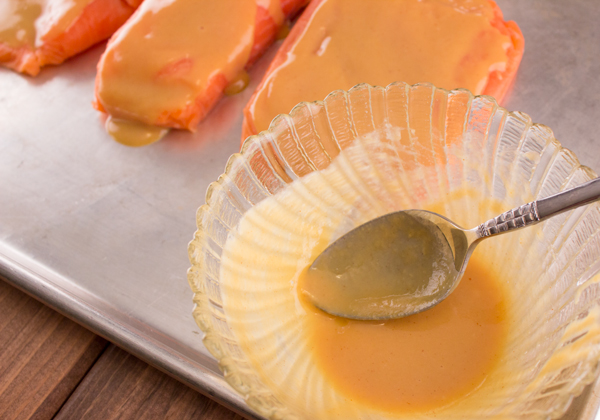 Extra for that 4th fillet or more for ours 😉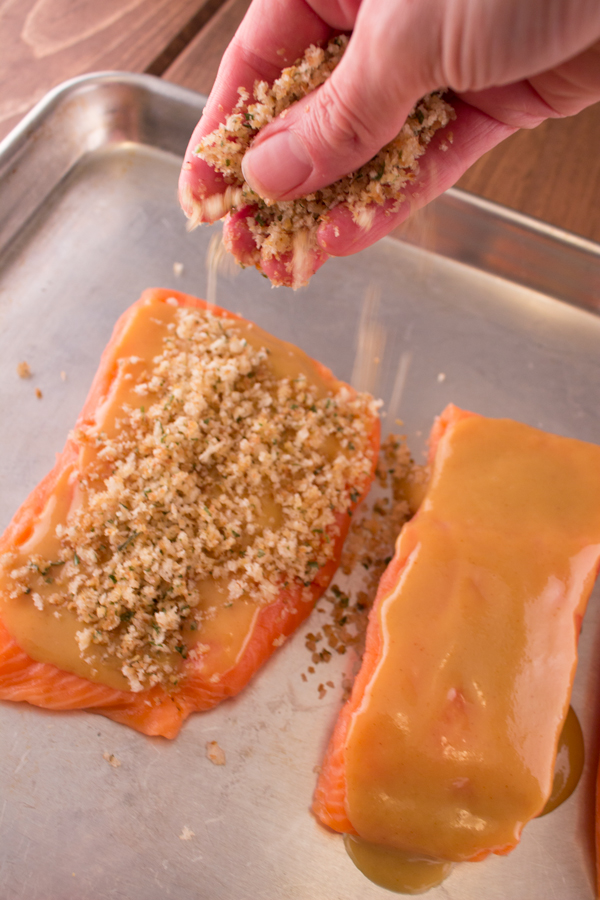 Top with the panko mixture.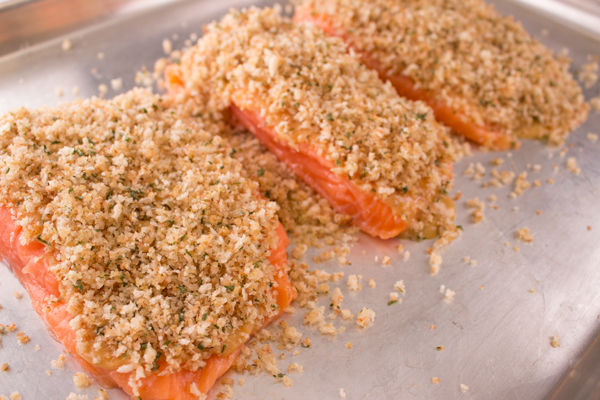 Ready for the oven.  In about 15 minutes you will have the most amazing Maple Mustard Baked Salmon fillet you've ever tasted.  Honestly!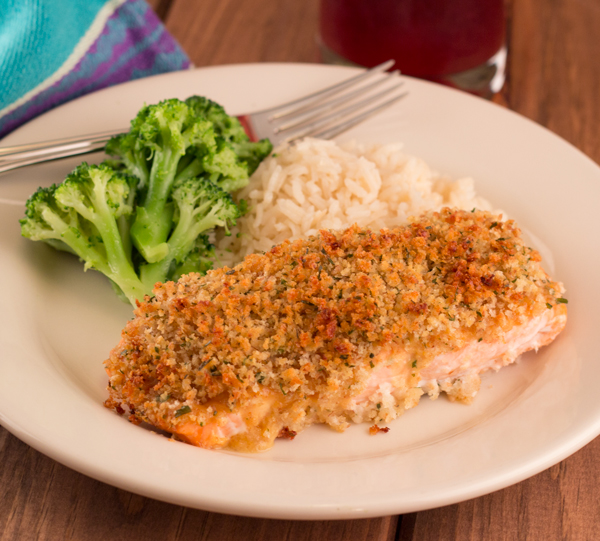 An incredible dish that's Quick, Easy and Delicious!
Print
Maple Mustard Baked Salmon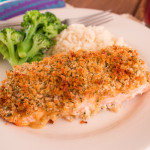 Author:

Cathy Speronis

Category:

Supper
Ingredients
4 salmon fillets, fresh or frozen (thawed)
3/4 cup Panko breadcrumbs
1/4 cup Wheatgerm
2 tsp. dried tarragon
3 Tbsp. unsalted butter, melted
1/4 cup Dijon mustard
1 Tbsp & 2 tsp. premium maple syrup
Kosher salt and pepper to taste
Instructions
Preheat oven to 375* F.
Place fillets on a rimmed baking sheet and set aside.
Combine panko, wheatgerm and tarragon in a small bowl. Add the melted butter and mix until the breadcrumbs are well coated; set aside.
Combine Dijon mustard and maple syrup in a small bowl.
Season the fillets with salt and pepper to taste then coat the fillets evenly with the Maple Mustard.
Sprinkle the fillets evenly with the panko topping.
Place in center of oven and bake until the salmon is opaque and flakes easily with a fork – 12 – 15 minutes.
Serve immediately.
Related posts: