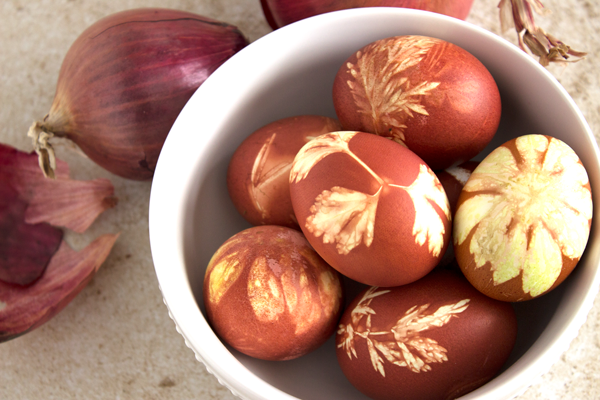 Onion Dyed Easter Eggs – my new favorite thing! 🙂
Happy Easter to all who celebrate!
My family and I are actually celebrating Easter on May 1st this year because we are Greek Orthodox, but, I couldn't wait until then to share this gem of an idea.  The funny thing is I really didn't believe it would actually work!  Onion skins actually create dye?  Now, maybe red onions because I've peeled a few of those and ended up with purple hands, but, white onions?  Yep! It works! And well at that!!  Now, I used both red and white onion skins as the red skins make for a darker color and if you know anything about Greek Easter Eggs they are a Deep Vibrant Red.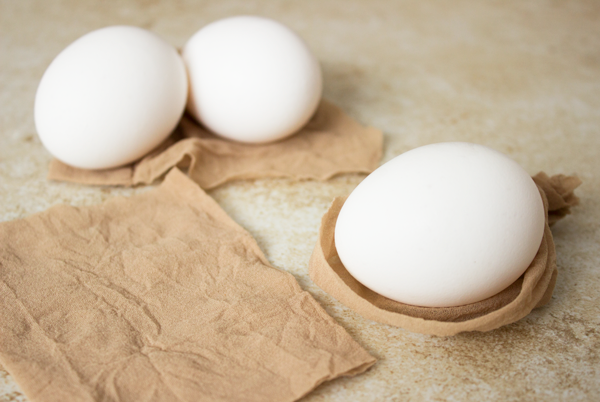 I also like the idea of creating a design on the eggs.  In order to do this you need to apply something to the egg to prevent the dye from completely coloring the eggs.  Enter NYLONS!  Yes, a clean pair of pantyhose will help secure your designs and allow the dye to work through to the rest of the egg.  L'eggs for eggs!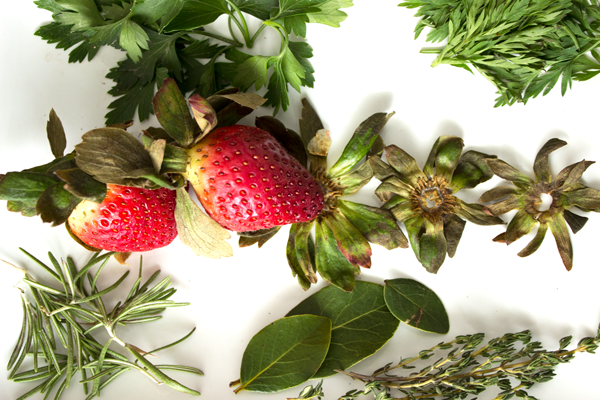 You can choose from a variety of things to make your designs.  Since we are staying with the "Natural" theme I picked a variety of herbs and even some strawberry tops.  They make a beautiful design!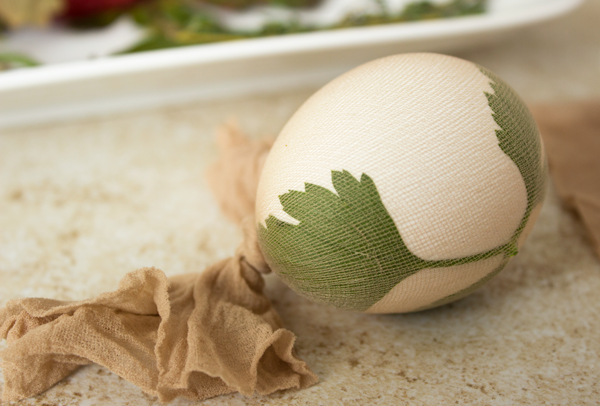 Whatever you are using, dampen the egg with a bit of water as it helps everything stick.  Wrap it tightly in the nylon being careful not to break the egg. (The eggs are uncooked at this point.)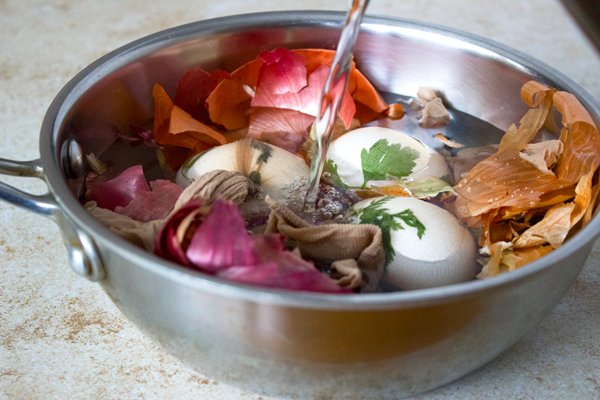 Place the eggs in a saucepan along with the onion skins.  Use whatever size you need to allow the prepared eggs to be completely covered in water.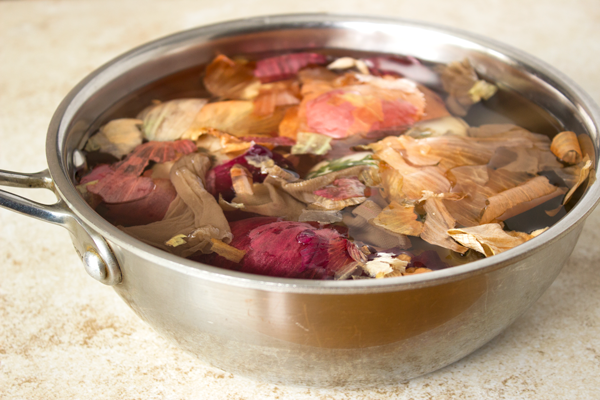 Now place the pan over medium-high heat,  bring to a boil and simmer for 20 minutes.  That's it!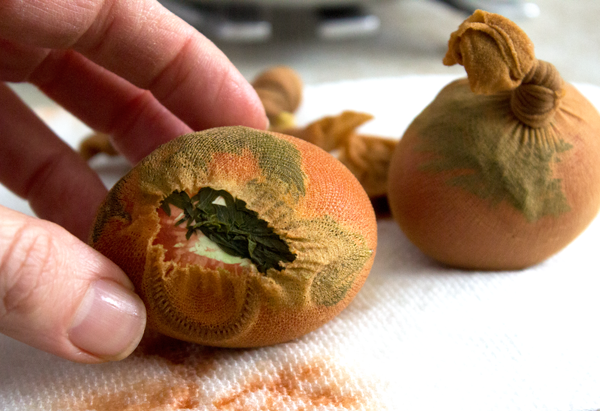 Remove the pan from the heat and carefully pull out the eggs.  They will be very hot so take precautions.  You can actually allow them to cool a bit before this step – I couldn't wait!  Cut off the nylons…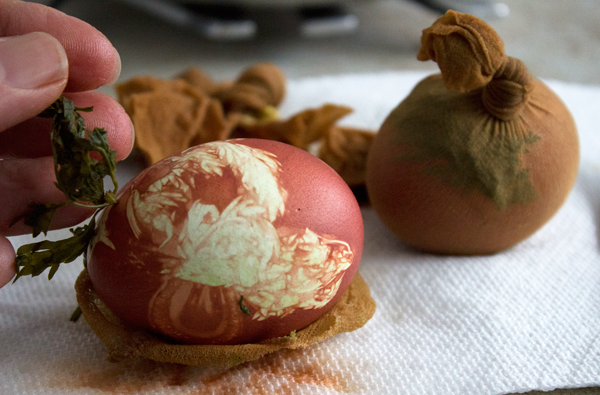 …then pull the herbs off of the eggs leaving behind the design transfer.  Isn't that SO COOL?!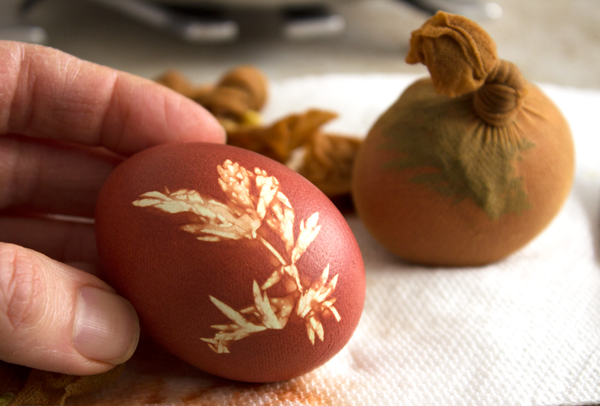 Different herbs make different patterns.  These eggs had the fronds of a fresh carrot attached.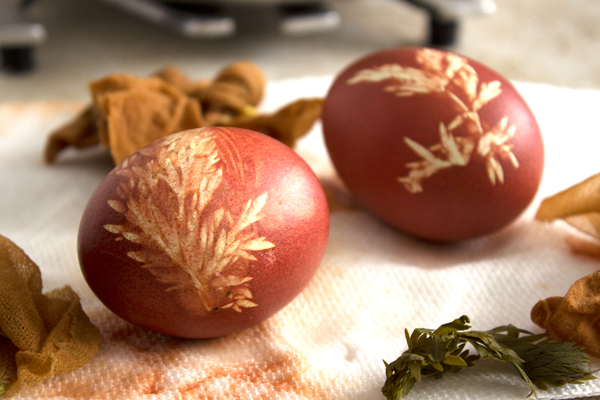 Blot the dyed eggs with some clean paper towels and buff with a little oil to create a shine.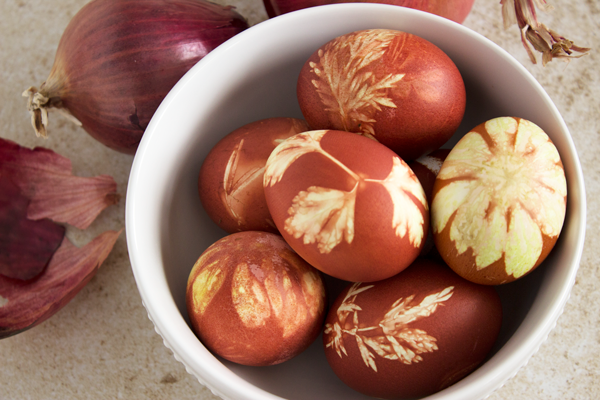 I really don't think I can dye my eggs any other way.  They are so beautiful and so unique!
Guess I'm going to have to start saving my onion skins for Greek Easter!! 😉
Print
Onion Dyed Easter Eggs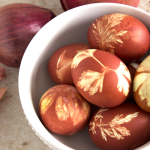 An All Natural way to dye Easter Eggs
Ingredients
1 dozen eggs
Skins from 10 onions
2 Tbsp. red wine vinegar
Clean nylon stockings cut into 4" pieces
Herbs, flours and/or leaves to decorate
Instructions
Place onion skins in large stockpot.
Make sure eggs are clean. Wet eggs slightly and apply leaves/flours to decorate. Place inside of piece of stocking and tie both ends. Make sure the egg is wrapped tightly so that the decoration stays in place.
Place prepared eggs into the pot with the onion skins.
Cover with water so that it is 1" above eggs. Add the vinegar and place the pot over medium-high heat.
Bring to a boil, lower heat and simmer for 20 minutes.
Check eggs for desired color.
When ready, carefully remove eggs. Allow to cool slightly then remove the stockings and design pieces. Dry off and oil if desired for shine.
Related posts: