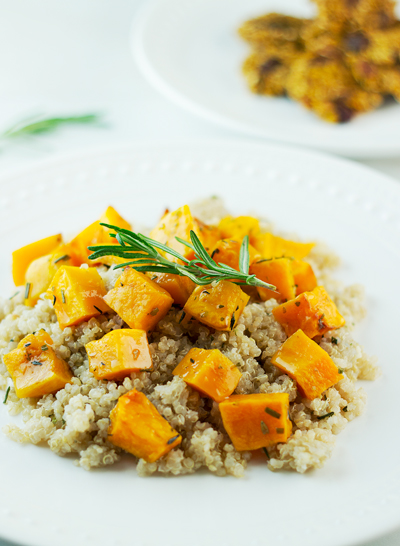 Herb Roasted Butternut Squash Quinoa is the perfect way to start off the fall season.
The leaves are changing, there is a slight chill in the air and the winter squash have made their way to the produce section once again. I LOVE FALL!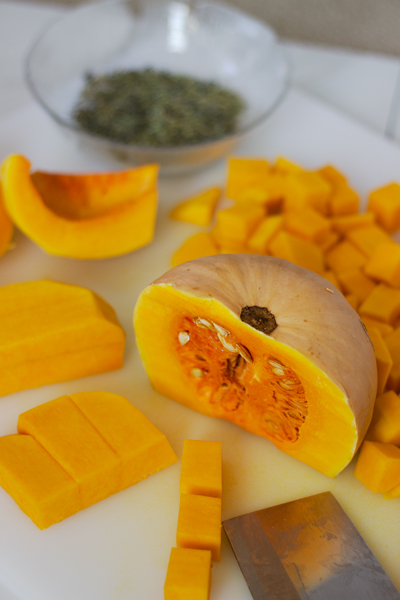 Roasting = Awesomeness
If you really want to bring out concentrated flavor in Butternut Squash then roasting is the way to go. The high heat of the oven caramelizes the natural sugars and brings out it's inherent sweetness. If your family doesn't do squash then this is clever way to get those who are not too keen on eating squash an opportunity to try them and maybe even like them. "Hey honey, want some squash?" 😉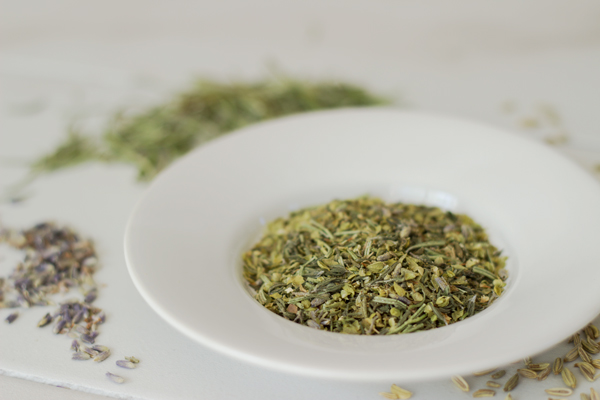 Herbs that Elevate
For this dish I added the extra flavoring of Herbes de Provence. This is a mixture of different herbs originating from the Provence region of France. You can get it in the spice aisle of your local grocery store, or if you have a variety of spices in your cupboard like I do, then you can make your own blend. I used dried oregano, rosemary, fennel, lavender and sage to create mine. A little lavender adds a nice floral note. Just be sure not to add too much or your Herbes de Provence will be more like perfume.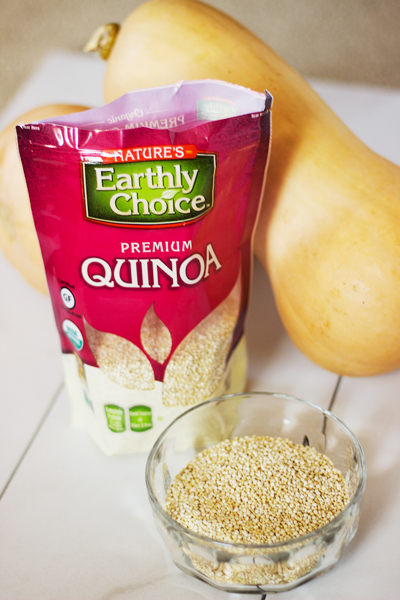 An Ancient Grain You Have to Try!
Quinoa is an ancient grain which has a ton of healthful benefits. It contains protein, fiber, essential amino acids, vitamins and minerals as well as trace nutrients. Another great thing is that Quinoa is Gluten Free! It makes a fantastic side especially accompanied by herb roasted butternut squash. Just be sure to rinse your quinoa off well. The seeds have a coating on them called saponin which can make them quite bitter. A little FYI – saponin does have some benefits.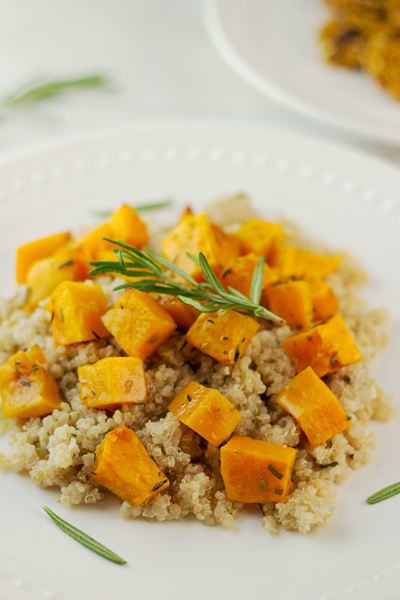 Good For You Food that Tastes Good!
I recently took part in a Health Fair at the Cross Insurance Center in Bangor, Maine for the City of Bangor employees. They had me demonstrate a few healthy recipes. It was so inspiring to see so many different companies from our city promoting health and wellness. It is so important to have balance in your life! I find this to be especially true with diet.
Be sure to check out some of my other "Healthy" recipes.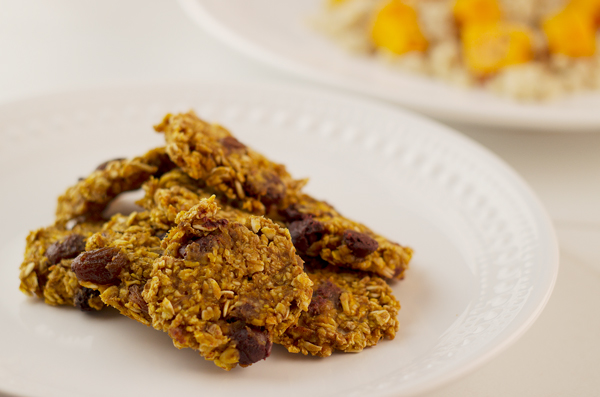 For those seeking the recipe for the Pumpkin Banana Oatmeal Cookies that I made at the fair I have it posted below the Herb Roasted Butternut Squash Quinoa recipe in this post.
Print
Herb Roasted Butternut Squash Quinoa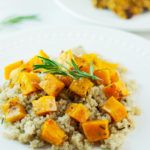 Sweet Herb Roasted Butternut Squash Quinoa makes a delicious side or complete Vegan meal!
Ingredients
One – 3 lb. butternut squash, peeled, seeded and cubed

2 Tbsp. olive oil

1 Tbsp. Herbes de Provence

1 tsp. kosher salt

1 3/4 cup water

1 cup Quinoa, rinsed well

1/2 tsp. salt

1/4 cup olive oil

3 cloves garlic sliced

2 tsp. fresh chopped rosemary

salt, pepper and extra olive oil to taste
Instructions
Preheat oven to 425° F.

Place cubed squash on a rimmed baking sheet. Toss with 2 Tbsp. olive oil, Herbs de Provence and 2 tsp. kosher salt. Place in preheated oven and bake for 15 minutes.

Using a spatula turn the cubes over and return pan to oven. Bake an additional 10 minutes until squash starts to brown and becomes tender.

Meanwhile in a 1 quart pot bring the water to a boil.

Add the 1/2 tsp. salt and rinsed quinoa. Bring back to a boil over medium-high heat.

Reduce heat to low, cover and cook for 15 minutes or until all of the water is absorbed and quinoa is tender.

In a small saute pan heat the 1/4 olive oil over low heat. When shimmering add the garlic slices and cook until they turn golden brown.

Remove the garlic from the oil with a slotted spoon and immediately add in the rosemary. Turn off the heat.

The cooked garlic can be minced or pressed and added back to the oil.

Pour the herbed oil over the cooked quinoa and toss to coat well.

To serve top the quinoa with the prepared Herb Roasted Butternut Squash. Season with additional olive oil, salt and pepper to taste.
Print
Pumpkin Banana Oatmeal Cookies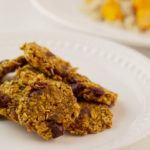 Quick and Easy Vegan Cookie
Ingredients
4 cups rolled oats

2 ripe bananas

1 cup pumpkin puree

1/2 cup raisins*

2 Tbsp. pure maple syrup

1 tsp. pure vanilla extract

3/4 tsp. ground cinnamon

1/2 tsp. ground ginger

1/4 tsp. ground nutmeg

1/8 tsp. ground cloves

pinch of salt
Instructions
Preheat oven to 350° F.

In the bowl of a food processor, process 3 cups of the oats until coarsely ground; set aside.

Using a separate large bowl mash the bananas until smooth.

Add in the remaining ingredients including the ground oats and 1 cup whole oats.

Mix well to combine.

Using a small scoop portion out cookies onto a parchment lined baking tray leaving space between them. Recipe will yield about 50 small cookies.

Take a small cup, moisten the bottom with water and press the cookies to about 1/4 thickness.

Bake the cookies for 7 minutes until they are set.

Cool and serve.
Notes
*chocolate chips and/or nuts can be substituted for the raisins.
Related posts: