I never thought I'd say this, but, I have gone "Low-Carb!" Crazy, right?!
I mean, after all they do call me the "Pie Lady" and the "Cake Lady" and I am well known for my baked goods. So how could I do such a thing?!
Well, I am going to have to blame this one on my kids. Now mind you I am not mad about it. (Not denying that it has been a bit tough :/) We are doing it for reasons of health and fitness so that is a good thing (insert smile face even though I'm craving Artisan breads and cupcakes like crazy here: 🙂 )
The Ketogenic Diet
The most wonderful side benefit of this temporary 40 day diet is that I am learning a lot about the Ketogenic Diet and carbohydrate counting. I am also beginning to realize the struggle of having to be on a strict diet and learning how to read labels. It is truly amazing discovering what is actually in our food. Scary!
So Low Carbs also means NO PASTA! Say what?! I'm Italian for crying out loud! No worries there is a food that can actually substitute nicely for spaghetti.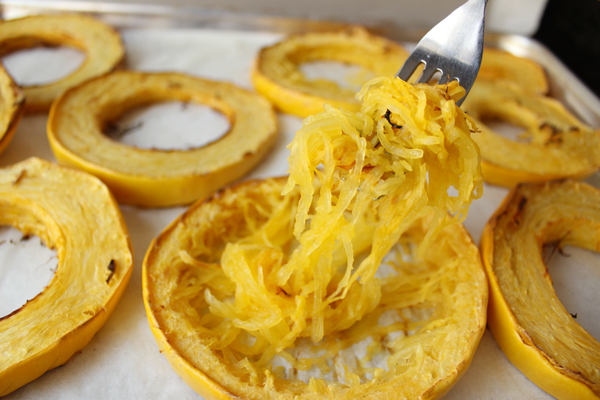 Roasted Spaghetti Squash with Pesto to the rescue!
Now, not for nothing, but, I'm all about the sauce. I mean a pasta without sauce is like peanut butter without jelly, like bread without butter, like Ginger without Fred. I think I just dated myself there 😉 You get what I'm saying. Its ALL ABOUT THE SAUCE.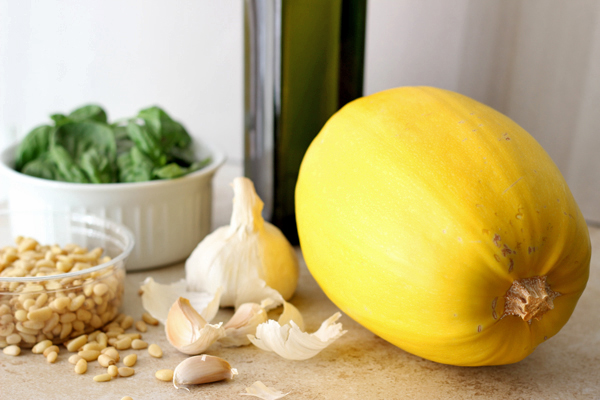 Pesto is my favorite sauce. It is good on so many things and now it's good on Spaghetti Squash! The only kind of pesto that I like is the kind that is made fresh. And the easiest way to make fresh pesto is in a blender. But, being that it is so quick to make let's get started on roasting that squash and bringing out it's roasted, sweet goodness!
How to Bake Spaghetti Squash
A friend in my fitness group (thanks Traci!) shared this recipe for roasting spaghetti squash with me. It is literally the easiest and quickest way to get it done. The recipe is from Empowered Sustenance and following is the link for the video along with the recipe.
The one thing that I do have to add is that you should be Extremely Careful when slicing through the squash. Score the squash with the knife first before trying to cut completely through it.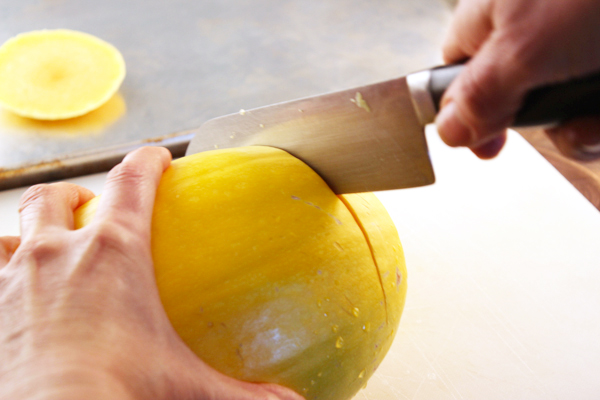 Once you get a piece off and can set it down on one end you can do this with the flat side down to prevent the squash from slipping. You can also use a piece of drawer liner pictured here to keep it in place.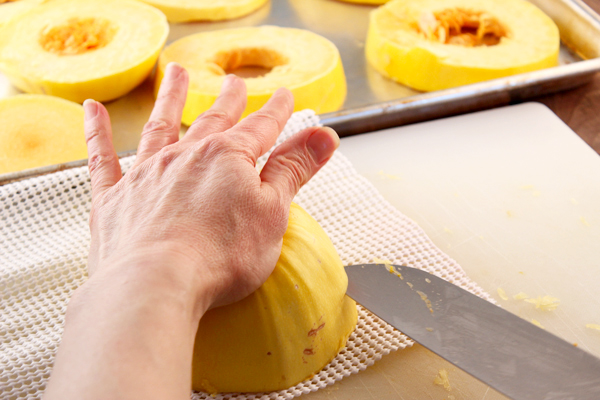 If the thought of using a big knife scares you then you can always resort to using a pumpkin carving tool.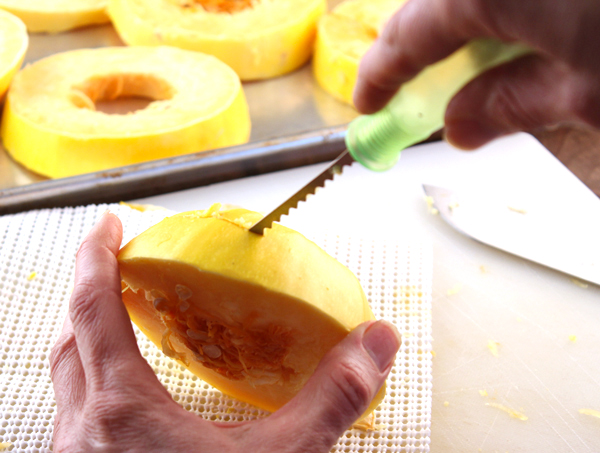 Stock up on these in October.
They are great little tools for jobs like this. I cut my squash a little thinner so it won't need to cook for quite as long to get to that perfect Al Dente stage of doneness.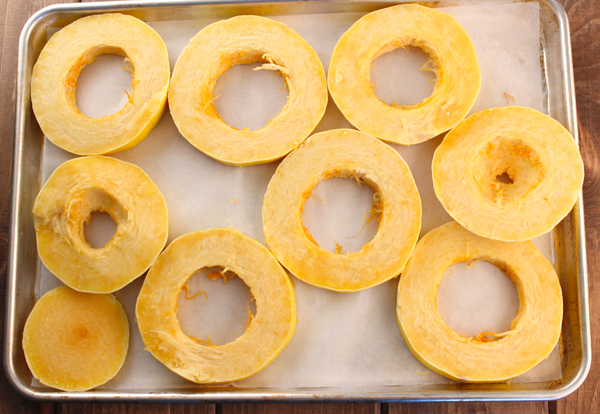 When you put the squash into the oven it's time to make that beautiful, fragrant, emerald green Pesto Sauce – YUM!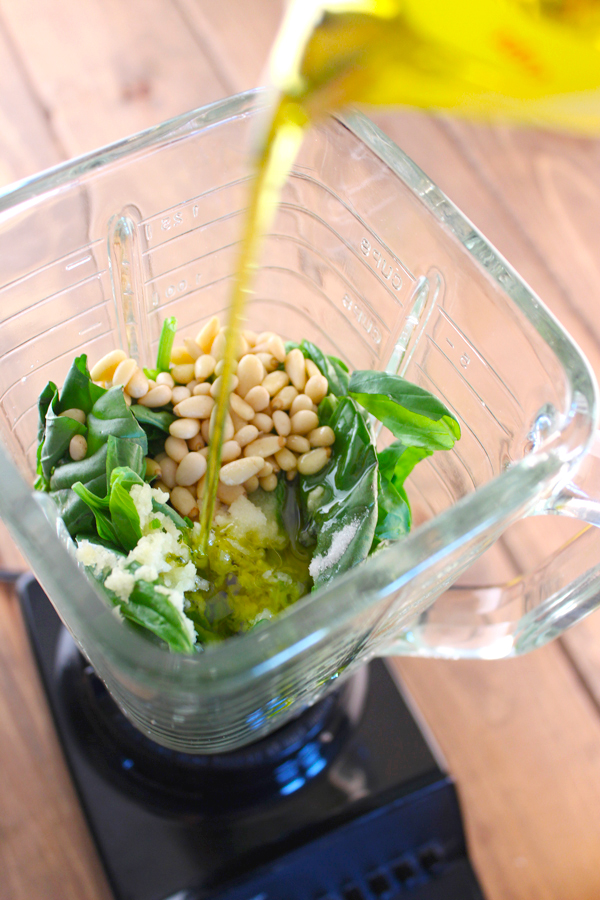 All pesto ingredients, except the warm melted butter, go into the blender including the olive oil. I used some top quality Extra Virgin olive oil that I got at Fiore when we were recently down in Rockland, Maine. It's called Manzanillo and I use it on all my vegetables, salads and on my warm, toasted slices of freshly made multi-grain Artisan bread when I can have it again – Ugh!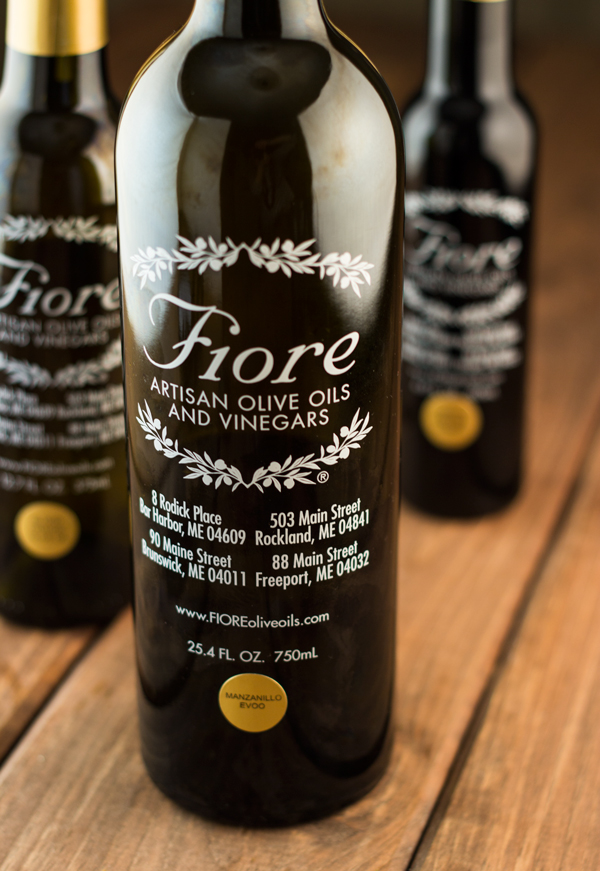 This oil is truly The Bomb! And it boasts an extremely high level of Polyphenols! Check out Special Report: Olive Oil Health Benefits here.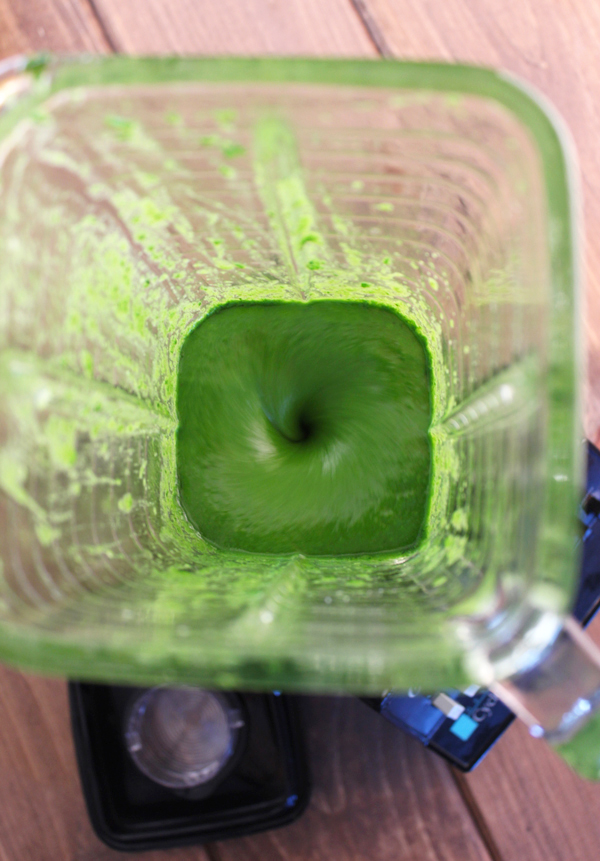 Blend the pesto until it is nice and smooth! And please, No Utensils or fingers in the blender while its running. I can't believe I actually saw a chef do that once. Jeezum Crow!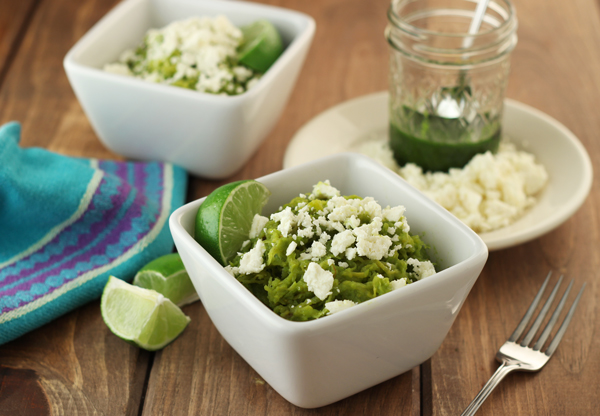 When the squash comes out of the oven use a fork to remove the strands, toss with the pesto, top with some fresh, crumbled feta and a squeeze of lime juice and enjoy! Whoever knew low carb could be so good? 🙂
Print
Roasted Spaghetti Squash with Pesto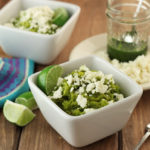 Fragrant Pesto Coated Spaghetti Squash will have you seeing squash in a new light!
Author:

Cathy Speronis

Prep Time:

50 minutes

Cook Time:

30 minutes

Total Time:

1 hour 20 minutes

Yield:

4 - 6 oz. servings

Category:

Side Dish
Ingredients
3 lb. Spaghetti Squash

For Pesto:

1.5 oz. baby spinach

.5 oz. fresh basil leaves, cleaned and dried

2 Tbsp pine nuts

2 garlic cloves, pressed

1/4 cup extra virgin olive oil

1/4 cup olive oil

1/2 tsp. salt

1 oz. unsalted butter, melted & warm

To Garnish:

2 oz. crumbled feta cheese

1 lime, cut into wedges
Instructions
Preheat oven to 400 degrees F.

Carefully cut spaghetti crosswise into 1″ circular pieces. Remove the seeds from the inside of the squash pieces and discard. Place squash rounds cut side down on parchment lined baking sheet.

Bake squash in oven until tender or al dente, about 30 to 40 minutes.

While squash is baking prepare pesto. Put spinach, basil, pine nuts, garlic, olive oil and salt into a blender. Process until pesto is smooth stopping and scraping down sides as needed; set aside.

When squash is done remove from oven. Using a fork carefully remove the stands of squash separating them from the squash skin and place in a large bowl. Discard the skins.

Immediately pour the warm, melted butter and pesto over the squash and toss to coat well.

Serve with crumbled feta and lime slices.
Related posts: