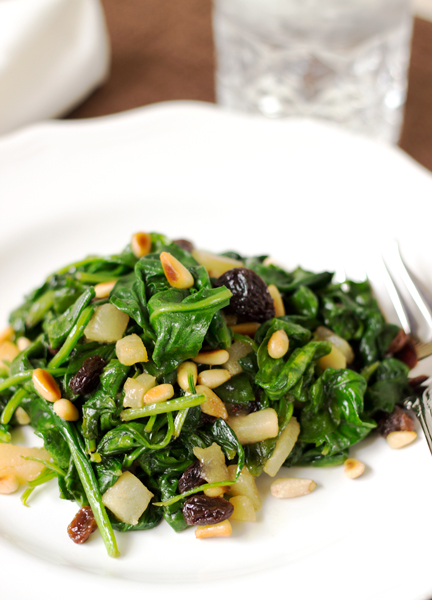 Popeye's "Canned Spinach" has nothing on this!
Sauteed Spinach, Pears and Raisins is a dish inspired by "Techniques of Healthy Cooking", a cookbook by the Culinary Institute of America. Now, if you have been following me on Facebook you know that am having a lot of fun doing my Facebook Livestreams. 🙂 I have been making dishes from this cookbook explaining the recipes, techniques and adding in a few of my own tips. (For more information check out the page 100 Days with the CIA – A Cooking Journey)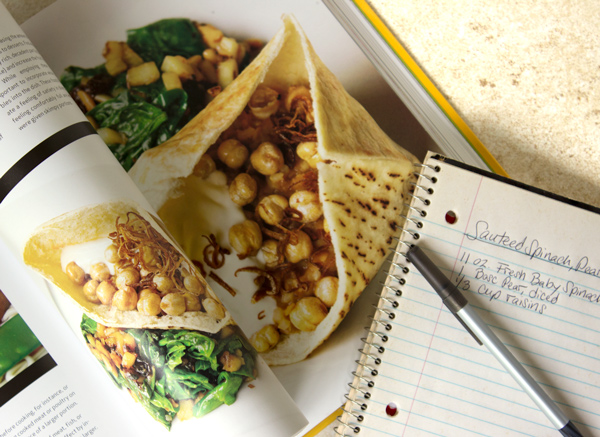 Nice Photos! Hey, where is the Recipe?
Imagine my disappointment when photos in the book showed a side dish that has no recipe. What's up with that? It looks so good too!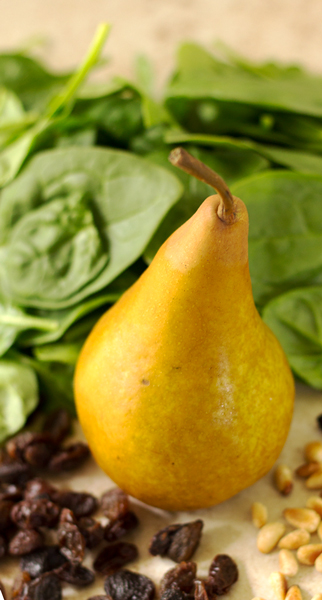 The Power of Creativity!
No worries! When we can't find what we want or need, we Create! Yes, that is just what we will do. Luckily this is a pretty simple recipe to create. All you need is some fresh Baby Spinach, a Bosc Pear, some Raisins and a few toasted Pine Nuts for added crunch and nuttiness. Nuttiness – I just love that word, LOL.
I guess you can call me a food geek. I always find myself looking at recipe photos and trying to figure out the ingredients before looking at the actual recipe. Tell me if you think I'm wrong, but, do those little yellow things in the photos from the cookbook look like raisins to you?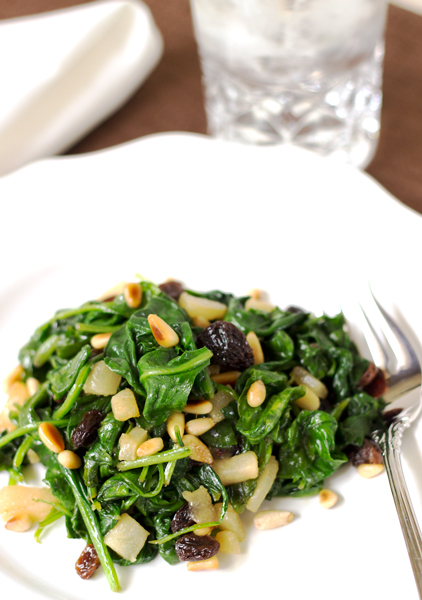 The Sweet, the Savory and the Pinenutty
I am thinking that the answer to the question is probably "No!" I am not really sure if they are apple, or pineapple or pear, but, we're going with pear since it's not too sweet or acidic. Also, if I am not mistaken, I swear I see some toasted pine nuts hidden among the wilted spinach. Either that or just call me nutty – Pun intended. 😉
So to recap – Sauteed Spinach, Pears and Raisins. Oh, lets' not forget the Pine Nuts, unless you are allergic. BTW – Did you know there is such a thing as "Pine Mouth?" If you experience this avoid pine nuts at all cost! Feel free to substitute with walnuts. I won't tell anybody. 😉
Print
Sauteed Spinach, Pears and Raisins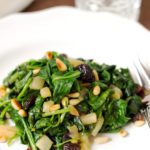 A sweet and savory side dish to accompany any main dish!
Ingredients
11 oz. baby spinach

1 Bosc Pear peeled, cored and diced

1/3 cup raisins

2 Tbsp. Toasted Pine Nuts

2 Tbsp. Extra Virgin Olive Oil

1 Tbsp. Unsalted Butter

1 Tbsp. Olive Oil

Salt and pepper to season
Instructions
In a large saute pan melt the butter and 1 Tbsp. Olive Oil over medium heat.

Add the diced pears and saute them until softened and just starting to caramelize about 3 – 5 minutes.

Add the raisins and saute for 1 minute to soften.

All at once add the baby spinach. Continue to saute turning the spinach with a pair of tongs until wilted and cooked.

Remove from heat, drizzle with the Extra Virgin Olive Oil.

Season with salt and pepper to taste and serve.
Related posts: