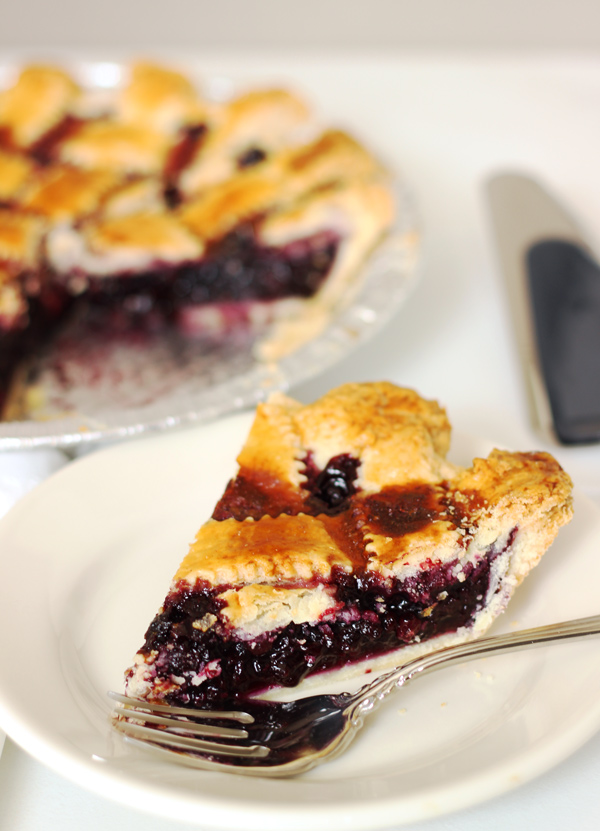 I have to let you know that one of my first memories in Maine is eating blueberry pie. Now, I don't mean just any blueberry pie. I mean
Wild Maine Blueberry Pie

!
Now that I think about it, what other kind is there? Beautiful, round, petite, dark blueberries packed with flavor and natural sweetness. These are the only kind that I use for my Wild Maine Blueberry Pie. Yes, I do live in Maine and yes, I can get wild Maine blueberries any time of the year. In fact I buy them in 30 lb. boxes fresh-frozen. Good thing for me we have a large chest freezer in our basement 😉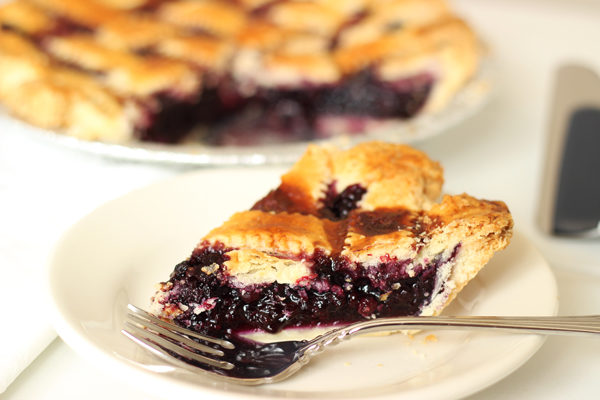 Wild Maine Blueberry Pie for Everyone!
Well, I have some good news! You can get Wild Maine Blueberries just about anywhere in the USA! Wyman's of Maine has their Fresh-Frozen Wild Blueberries in a store near you!  Wyman's of Maine have been around since 1874 and they are the leaders in growing and marketing the little blue gems. In fact they also supply a variety of other frozen berries as well as frozen mangoes – looking forward to using those in a future recipe 🙂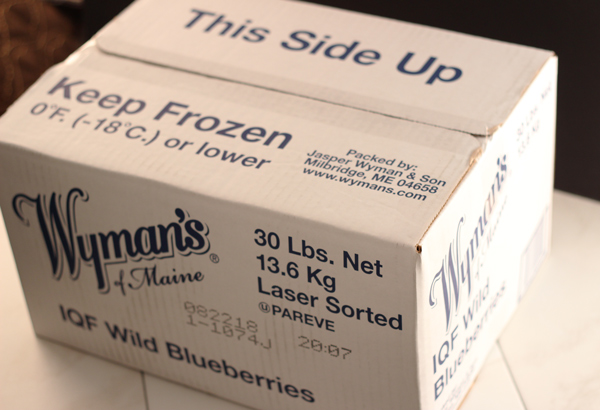 This is what a 30 lb. box looks like!
You can find them in your local grocery store. The stores carry 15 oz. and 3 lb. packages. (If you want a large box see the link at the bottom of the page.)
Wyman's has also taken a National Leadership Role in the effort to save the honey bees. Thank you Wyman's! Without honey bees we are in danger of losing wild berries not to mention more than half the world's food supply. To find out how you can do your part to help the bees check out this link found on the Wyman's website.
Well, you have some Wild Maine Blueberries – now what?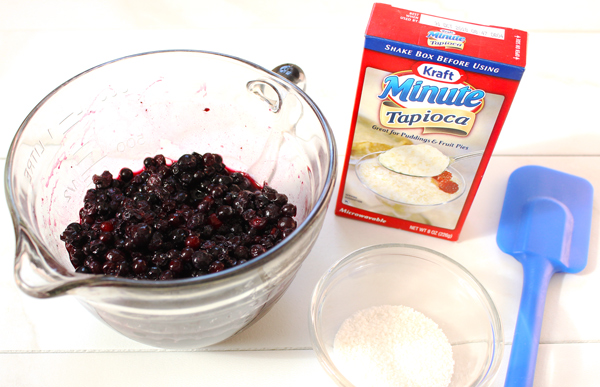 Well, turn those little blue beauties into a pie I'd say! I like to use a bit of instant tapioca as a thickener for my berry pies as well as a little bit of cornstarch. It helps to add some structure without becoming too jellified. Jellified – is that even a word? It is now!
A bit of sugar, some warm spices and a little lemon juice to make those berries POP! All of this encased in a flaky, golden crust and baked to perfection.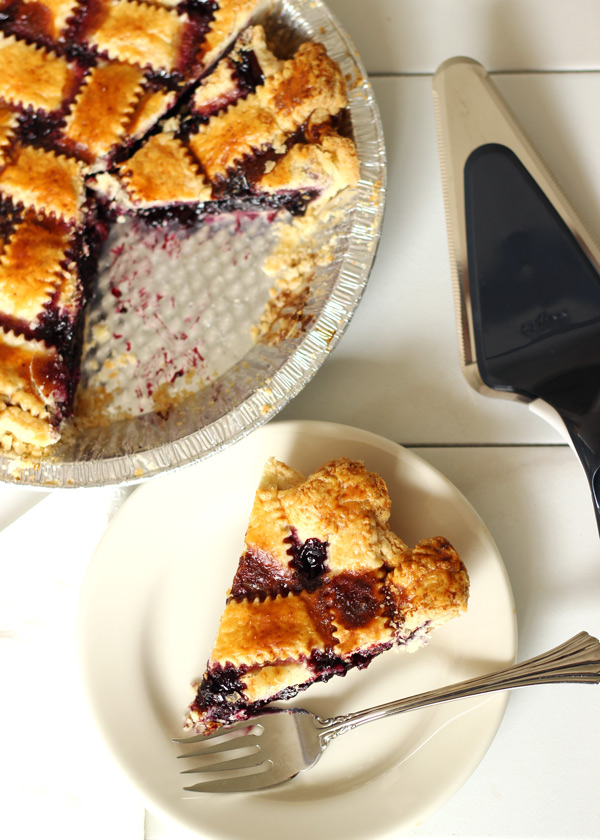 I guess you can tell I do LOVE my Wild Maine Blueberry Pie! When you pick up some Wyman's Wild Blueberries and follow my recipe – YOU CAN TOO!
Oh, and for that Awesome Zyliss Pie Server in the photo above! Click the image below to Buy Now!

Print
Wild Maine Blueberry Pie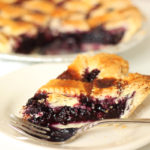 Sweet, juicy Wild Maine Blueberries baked into a flaky, buttery, golden pie crust.
Ingredients
Pie Crust:
2 1/4 cups all-purpose flour

2 Tbsp. sugar

1 tsp. salt

11 Tbsp. unsalted butter, chilled & cut into 1/2″ pieces

4 Tbsp. vegetable shortening, chilled & cut into 1/2″ pieces

3 – 5 Tbsp. cold water

Filling:
1 lb. frozen Wyman's Wild Blueberries, defrosted

2 Tbsp. Minute instant tapioca pudding

3/4 cup granulated sugar

1 Tbsp. cornstarch

1/2 tsp. ground cinnamon

1/8 tsp. ground nutmeg

2 tsp. lemon juice

Eggwash:
1 egg beaten with 1 tsp. water
Instructions
Toss the defrosted blueberries with the tapioca and set aside.
Prepare pie crust:
In the bowl of a food processor combine flour, sugar and salt. Process for 30 seconds.  Distribute the butter pieces evenly over the flour mixture.  Pulse 4 times.  Distribute the shortening pieces over the flour mixture.  Pulse 8 more times.  Place mixture in a large bowl.
Add the cold water in a tablespoon at a time and use a fork to blend until mixture starts to come together and is no longer dry (do not make too wet.)  Divide dough in half and flatten into two round discs. Wrap one of the discs and refrigerate.
Flour your board and rolling pin. Roll out one of the discs into a rough circle big enough to line a 10″ pie pan. Carefully place into the pan pressing into the bottom and sides then trim the crust even with the edges of the pan; set aside.
Roll out second disc the same size as the first. Using a knife or pastry wheel cut the pastry into 10 – 1″ thick lattice strips; set aside.
Combine the sugar, cornstarch, cinnamon and nutmeg. Fold into the berry/tapioca mixture. Add the lemon juice and mix well.
Pour the filling mixture into the bottom crust. Place 5 lattice strips vertically and evenly over top of filling making sure edges overlap the edges of the pie tin. Alternately lift three of the pieces folding them over themselves halfway. Place a long lattice strip horizontally over middle of pie overlapping the two unfolded lattice strips. Now, pull the folded strips back over to their original positions. Then fold the alternating two strips over the horizontal strip. Place another strip horizontally overlapping the three unfolded lattice strips. Pull those folded strips back over and repeat the process for the last piece of lattice. Rotate the pie 180 degrees and use the same process to weave the lattice strips starting with two alternating strips of lattice. When all 10 strips have been placed, fold the edges over and under the bottom pie crust then flute the edges of the pie.
Carefully brush the top of the lattice strips with egg wash, cover  the edges of the pie with a foil band and bake for 35 to 40 minutes until the top is golden brown and blueberries are just beginning to bubble. You can place a piece of foil on the rack below the pie to catch any drippings.
Remove from oven and cool.
Serve and enjoy plain or with some vanilla ice cream.
If you can't find those berries in a store near you then you can buy a large box of 8 – 3 lb. packages –

Click the bag of Wyman's Below
 
Related posts: